Leading export industry bodies—impacted by Beijing's economic coercion tactics over the past year— have welcomed the signing of the Australia-UK free trade deal on Wednesday.
Tony Battaglene, CEO of Australian Grape and Wine, congratulated the federal government's efforts and hailed the free trade agreement as a "key milestone."
"The United Kingdom is an incredibly important market for Australia's grape and wine businesses, and British consumers are some of the most enthusiastic Australian wine aficionados," Battaglene said in a statement (pdf).
"The value of Australia's wine exports to the UK grew by 33 percent to $461 million in the year to Mar. 31, 2021, representing more than 17 percent of the total value of our exports over this period, and there is plenty of room to grow in the coming years."
The newly minted Australia-UK Free Trade Agreement (A-UK FTA) will see tariffs on wine into the UK removed, a move likely to assist Australia's burgeoning presence in the market.
"Other areas we are hoping to see progress on include simpler certification requirements and improvements in our ability to further process and package Australian wines in the UK market, which will drive innovation, create jobs here and in the UK, and reduce our carbon footprint," he added.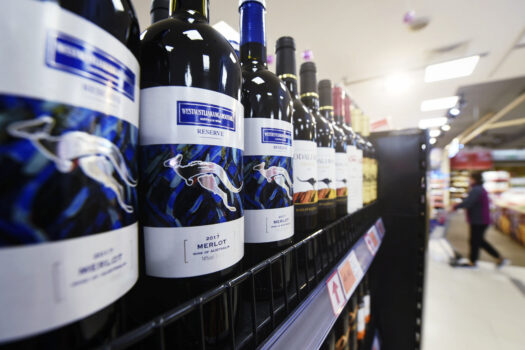 The Australian wine was one of many industries impacted by Beijing's economic coercion campaign launched in April last year in response to calls for an independent investigation into the origins of COVID-19, the disease caused by the CCP (Chinese Communist Party) virus.
The wine sector was hit hard by tariffs implemented in March by Beijing's Ministry of Commerce, ranging from 116 to 218 percent.
In May, data from Wine Australia revealed that wine exports to China plummeted 96 percent as a result, from $325 million in sales (December to March 2020) to just $12 million (December to March 2021).
However, this loss was offset by a 10 percent increase in sales to alternative markets worldwide.
Sales to the UK increased 33 percent, overtaking the United States to become the second-largest export market for Australian winemakers.
This was followed by the United States (up 4 percent to $432 million), Canada (up 9 percent to $195 million), Hong Kong (up 55 percent to $148 million), and New Zealand (up 10 percent to $104 million).
The meat industry, which has also endured economic strikes from Beijing, has also welcomed the signing of the FTA.

Six large Australian abattoirs last year had their exports to China suspended by Chinese customs authorities.
Under the trade deal, tariffs on beef and lamb will be phased out over a ten-year period. Initially, exporters will have immediate access to a duty-free quota of 35,000 tonnes (beef) and 25,000 tonnes (lamb). The number will gradually increase over the decade to 110,000 tonnes and 75,000 tonnes, respectively.
"Australia and the UK have shared values when it comes to the production of high-quality red meat," according to Andrew McDonald, chair of the A-UK Red Meat Market Access Taskforce.
"While our ability to service the market has previously been constrained by a highly restrictive UK (and prior to 2021, European Union) import regime, the A-UK FTA will facilitate an easier response to British consumers seeking to 'buy Aussie'—should they wish to do so," he said in a statement.
"The securing of this phase of the A-UK FTA signals a new chapter in our bilateral relations and an opportunity for us to work collaboratively for years to come."