Australian Immigration Minister Alex Hawke has cancelled the visas of two German climate change activists following three days of protests which disrupted the country's busiest port.
At the same time, New South Wales (NSW) police have launched a strike force to deal with further unauthorised protests, which have caused millions of dollars in lost economic value thus far.
Blockade Australia, the "direct action" group behind the protests, began targeting the Port of Botany on March 22, starting with a blockade of Simblist Road with a seven-metre-high construct.
The following day a man named Arno, 21, suspended himself off the side of Sirius Road Bridge—which leads into the port—with a bipod structure, while livestreaming himself.
"Australia is built to exploit and that's never going to change unless we get in the way," he said.
Two more individuals blockaded Penryhn Road with two trucks causing a "significant economic bottleneck," according to the group's website. While another man dangled himself off a nine-metre-high pole whilst blocking Friendship Road.
On March 24, a 33-year-old man named Tom suspended himself from a pole on a train line blocking trains running to-and-from the Port of Botany.
Minister Hawke cancelled the visas of Tom and Arno on "good order grounds" under Section 133C (3) of the Migration Act—the same power used to cancel the visa for tennis star Novak Djokovic.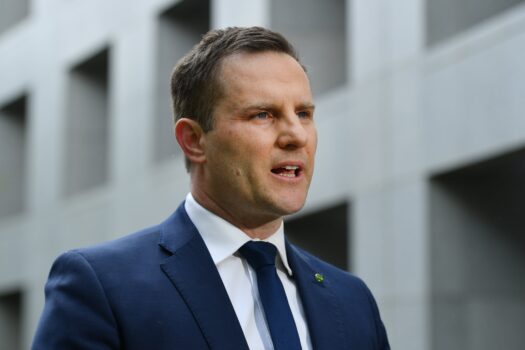 "In making this decision, I carefully considered information provided to me by the Department of Home Affairs and the Australian Border Force," he said in a statement obtained by Sky News Australia.
"Families going about their business, driving to school or work, do not deserve to be disrupted by the attention-seeking stunts of unlawful protesters.
"Australians expect guests in our country to comply with our laws. Under the Morrison government, non-citizens who violate our laws will be considered for visa cancellation," he said.
NSW's Acting Premier and Minister for Police Paul Toole announced on March 24 that the new strike force would be tasked with investigating, preventing, and disrupting any future actions.
"I have been clear from the start; we will not stand for this kind of blatant disregard for the law and its impact on the livelihoods of all workers and business owners impacted by these foolish acts," Toole said in a statement.
"Strike Force Guard will ensure police are always one step ahead of the protesters to make sure we crack down on this economic vandalism."
NSW Police have arrested and charged five people—three men and two women.
The Strike Force will also carry out visible patrols around significant infrastructure in Sydney and will work with NSW Ports, and the port authority to prevent further disruptions.
Peter Cotter, assistant commissioner of Central Metropolitan Region, said police will deploy the "full force of the law" to target individuals involved in criminal activity.
"It is the reckless activities, like dangling over the water or railway tracks that cause the greatest concern," he said. "These people are putting themselves—and those tasked to rescue them—in dangerous situations and it will not be tolerated."
"Further, police will take action against anyone engaged in activity that impacts on or hinders the ability for the community to go about their lives."
The Strike Force will include detectives from Central Metropolitan Region, analysts from State Intelligence Command, and operatives from the Operations Support Group and the Riot Squad.
Blockade Australia is preparing for major disruptions in Sydney in June this year saying that "materially impacting the flow of Australia's busiest metropolis, means the people in power begin to take us seriously."
The movement's tactics echo that of U.S. para-communist Saul Alinsky to wear down governments and organisations by using long-running protest actions or threats.