Five Australian jurisdictions have agreed on a new definition for a COVID-19 "close contact," which will relieve PCR testing clinics from overwhelming queues and help keep the economy running.
Prime Minister Scott Morrison announced that from midnight of Dec. 31, New South Wales, Victoria, Queensland, South Australia, and the Australian Capital Territory will change their definition of a close contact and follow-up procedures.
"Except in exceptional circumstances, a close contact is a household contact … of a confirmed case only," Morrison said. "A household contact is someone who lives with a case or has spent more than four hours with them in a house, accommodation, or care facility setting."
"You are only a close contact if you are effectively living with someone or have been in an accommodation setting with someone for more than four hours … who has actually got COVID-19. Not someone who is in contact with someone who has had COVID—it' s with someone specifically who has COVID."
Individuals confirmed with COVID-19 will now be required to isolate for seven days from the date they receive a positive test.
On Dec. 31, the prime minister announced a further update to the new isolation rules, scrapping the previous RAT, or rapid antigen test requirement on day six of isolation for confirmed cases.
"If confirmed cases remain symptomatic, they should remain in isolation," Morrison said in a statement. "Anyone with symptoms will continue to seek a PCR test."
Under the new rules, symptomatic close contacts will be required to take a PCR test, while asymptomatic close contacts must take a RAT test, and if positive, take a PCR test.
"Close contacts that return a negative test, they must remain isolated for those seven days because symptoms and other things can present later," Morrison said.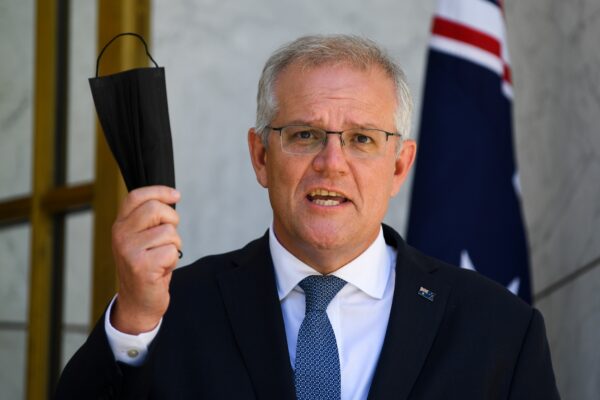 The prime minister said Australians who are asymptomatic and do not fall under the definition of close contact should not go out and queue for a PCR test.
"You should go home, go to the beach, go and do what you want to do … Follow all the normal, common sense things that you would do," he said. "Monitor your symptoms, follow the COVID-safe practices, make sure you have booked for your booster, do all of those sorts of things, but there is no need for you to be in that line."
Morrison said these changes would reduce pressure on testing centres, which allow people to receive their testing results faster and free up workforce to support other priorities.
Free testing will only be available to people who meet the above criteria, meaning everyone else, aside from vulnerable groups, will need to purchase their own RATs at the local pharmacy or supplier.
"For all other casual uses, you would just like to get a test or something like that, well that is what the private market is for," Morrison said.
Tasmania will follow the changes from Jan. 1, while the Northern Territory and Western Australia will make their own announcements within the coming days.
"I know this is a bit different to what you have been hearing over the last couple of years … but dealing with Delta is very different to dealing with Omicron, and to ensure that our public health systems work as effectively to keep as many people are safe as possible, that is why we need to make this change," Morrison said.
A combination of Christmas travel demand, testing requirements on domestic travellers, the emergence of the Omicron strain, and essentially free testing for residents (PCR testing is subsidised by the government), has seen hundreds of thousands of Australians line up at testing sites resulting in disruptions to the health system and travel plans.
Some individuals have reported being turned away from clinics, while others have been forced to wait hours in line. Some have had to wait days before receiving their results—forcing cancellation or postponing of travel plans.