Australia's projected population growth has taken a battering from COVID-19, which will see migration slow and future economic growth struggle.
Treasurer Josh Frydenberg handed down the 2021 Intergenerational Report (IGR) on June 28 as the subject of his address to the Committee for Economic Development of Australia (CEDA).
The IGR reports, which former Liberal Treasurer Peter Costello first introduced in 2002, provides a 40-year outlook on the country's economy and its impact on the budget.
The report found that Australia's population would reach 38.8 million by 2060-61, in contrast to earlier predictions—according to the last report in 2015—that Australia's population would reach 40 million by 2054-55.
It also found that the federal budget would remain in deficit for the next four decades, while net debt would continue to hover between 30 to 40 percent of GDP.
"This is the first time there has been a downward revision of the long-term population projections in an intergenerational report," Frydenberg told CEDA.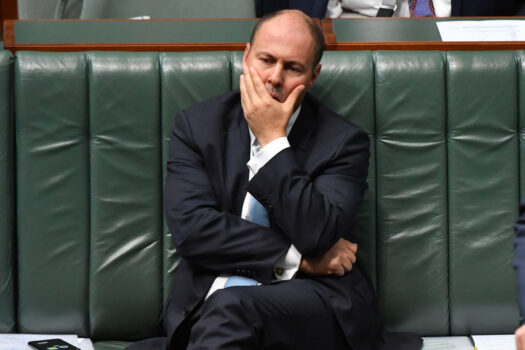 "This means the economy will be smaller, and Australia's population will be older than it otherwise would have been, with flow-on implications for our economic and fiscal outcomes."
Australia's economic growth is reliant on maintaining population numbers, generally via migration.
However, lower population numbers in the future suggest fewer workers and less national productivity support for future public expenditures, including health, education, welfare, and aged care.
In fact, the IGR report predicts that by 2060-61, there will only be 2.7 working individuals for every person over the age of 65. In contrast, there are now four working people for every person over 65, and back in 1981-82 there were 6.6 individuals.
Healthcare and aged care spending is projected to increase as well, while fertility rates are expected to remain steady.
The Australian Industry (AI) Group, the country's peak industry body, said immigration was still the key to bolstering economic growth and addressing skill shortages.
"Skills remains one of our biggest national challenges and the generational shortcomings exposed in the IGR emphasise once again that we have to get our approach to skills and training right," Innes Willox, CEO of the AI Group said in a statement.
"Immigration is part of the solution to our skilling challenges. A reopening of our national borders which will enable a return to pre-COVID immigration levels and a return to recent levels and age-profile of net immigration can slow the pace of population ageing," he added.
Cian Hussey, research fellow at the Institute of Public Affairs said Australia's reliance on mass migration had no "noticeable improvement" to the lifestyles of Australians.
"Rather than relying on rapid population growth underpinned by mass migration, governments must boost productivity through cutting taxes, cutting regulation, and engaging in genuine reform of the industrial relations system," he told The Epoch Times.
"This IGR demonstrates the extraordinary cost of Australian governments' responses to COVID-19," he added. "Lockdowns and the explosion in government debt incurred under the guise of an economic recovery mean that an Australian born today is unlikely to see a budget surplus in their lifetime."
Frydenberg sort to assure attendees that the IGR was not a "fixed picture of our fate."
"Instead, it provides us with guard rails to help guide for future government decisions. To set us up for tomorrow as we tackle the challenges of today," he said.
The treasurer expects economic growth to remain close to its historic performance—increasing at an average annual pace of 1.5 percent per person compared to 1.6 percent over the past 40 years.
Frydenberg said the focus would be on reforming the economy to make it more investment-friendly.
"That's not to say Australia doesn't continue to make important reforms to grow our economy. That's the key for our prosperity, and that's underlined in this report," he told the ABC.
"We want to continue to pursue reforms that encourage more investment by business, improve the provision of skills across the country and also ensure a more flexible workplace."