Australia's carbon emission estimates have fallen to their lowest point in the last 30 years, driven primarily by offsets from the nation's vast lands and forests.
Recently released data has shown that land containing forests and other vegetation—which absorb and store carbon dioxide—have played a critical role in directing Australia's drop in emissions.
The data was released as part of the December 2020 quarterly update of Australia's National Greenhouse Gas Inventory, an annual reporting requirement under the United Nations' Kyoto Protocol—the world's only legally binding contract to reduce emissions.
Unlike other sectors, management of land—also known as "land use, land-use change, and forestry" (LULUCF)—can allow for the removal of carbon dioxide from the atmosphere and act as a carbon "sink."
Since peaking at 638 Mt (megatonnes, or million tonnes) in 2007, Australia's overall emissions fell by 21.7 percent to a new low of 499 Mt in 2020. Of this decline, 83 percent came directly from LULUCF.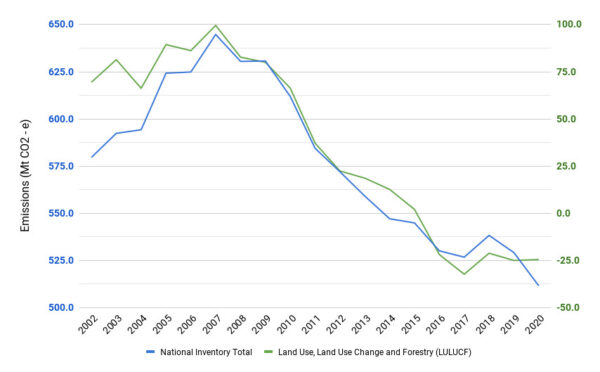 In particular, the report outlined that significant contributions to lowered emissions came from reductions in land clearing operations and native forest harvesting.
It also attributed improvements in "soil carbon" by encouraging farmers to employ strategies that help maximise carbon absorption and retention within agricultural soil.
The Australian government has listed soil carbon as one of five pathways in its Low Emissions Technology Statement, and it is banking on the land sector to further reducing emissions after estimates revealed that between 2011 and 2016, the sector had offset 3.5 percent of total human-induced emissions across all sectors.
It has also recently pledged $36.7 million towards further research in the form of the National Soil Carbon Innovation Challenge.
Other minor sources of emissions reduction include energy following a transition from coal to gas, wind, and solar and most recently plummeting transport demand following COVID-19.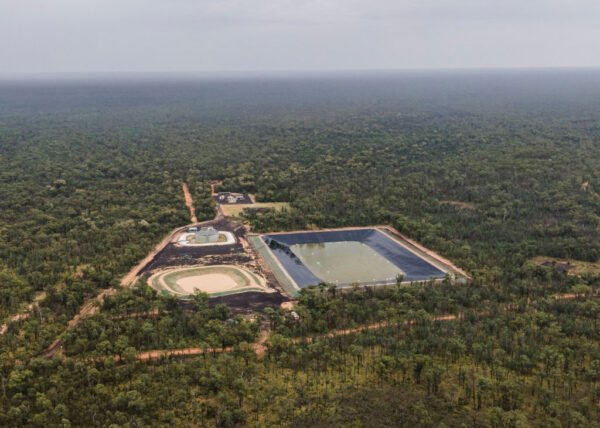 This all means that current carbon emission data now place Australia as producing 499 Mt of emission in 2020, which is a reduction of 19.9 percent below 2005 levels. If this trend continues, the forecasts predict Australia will meet or even surpass the requirements of the Kyoto Protocol—to reduce emissions by 5 percent below 2000 levels by 2020—and the Paris Agreement—to reduce emissions by 26 to 28 percent below 2005 levels by 2030.
However, the peak body for climate change in Australia, the Climate Council, believes the government has not done enough.
"Australia's progress is nowhere near what's needed. Recent analysis shows that excluding land-use change emissions (which the Federal government has virtually no control over), our emissions are 7 percent higher than 2005 levels," the Climate Council said.
"Every quarter, the Federal Government tries to take credit for emissions reductions it has made zero contribution to. Instead, it is holding back progress on the scale and pace of emissions reductions we need," Climate Council researcher Tim Baxter said.
"Meanwhile, the Federal Government has not introduced a single climate policy that has demonstrably reduced emissions: be it developing renewable energy technology to support a transition away from fossil fuel; or incentivising electric vehicle purchases."
Minister for Energy and Emissions Reduction Angus Taylor said that the nation would prioritise investing in low emissions technologies to meet targets, part of Australia's "technology not taxes" approach.
"The Government has a comprehensive suite of policies to meet its emissions reduction commitments, encourage innovation and back new and emerging low emissions technologies," Taylor said.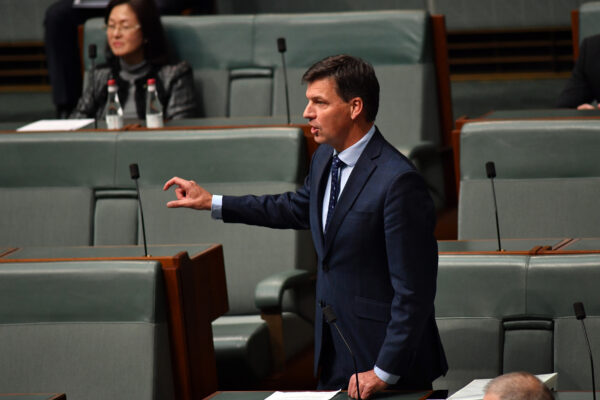 "The Government has announced, as part of the 2021-22 Budget, a further $1.6 billion to bolster Australia's position as a leader in low emissions technologies and to meet Australia's emissions reduction targets, taking our total expected investment to more than $20 billion over the decade to 2030.
This includes $540 million towards hydrogen and carbon capture technology, as well as $100 million towards blue carbon ocean ecosystems.
The Australian Government has also targeted gas as a key source of reliable energy in the transition to renewables, a decision that has frequently been met with criticism from climate activist groups.
Australia's largest aluminium smelter was forced to power down several times in a month after energy prices skyrocketed by 18,000 percent after coal plant outages forced the grid to rely largely on renewable energy sources.
Angus Taylor had previously said that the push against gas did not support a reduction in greenhouse gas emissions and only served to disadvantage Australian families and businesses.
According to a report by CSIRO (pdf), compared with coal, domestic gas use for power generation will reduce emissions by an estimated 31 or 50 percent, depending on the type of gas turbine used.
"The ironic thing about gas is that a lot of the anti-gas activists say, 'well, it's important to get rid of gas because of the emissions,'" he said. "Frankly, more gas in our system right now will bring down emissions."
"What we've got is these activists who are acting against the interests of Australia, against the interests of Australian manufacturing, against the interests of Australian small businesses and households," Taylor said.