Australia will be supporting the research and development of ultra low-cost solar energy, a technology that has become a priority in the nation's bid to reach net zero emissions by 2050.
The Australian Renewable Energy Agency (ARENA) will allocate $40 million out of its $2.5 billion budget for the program with the eventual hope to reach "Solar 30 30 30″—a goal to create 30 percent solar module efficiency at a cost of 30 cents per watt, all by 2030.
This means drastically shaving the cost of solar down to around a third of its current cost, or just $15 per MWh (megawatt-hours)—a price which, according to taxpayer-funded CSIRO, is considerably less than the $100 per MWh figure typically seen for coal and gas power.
Importantly, the Australian government is banking on cheaper solar to help drive a technological revolution, with hopes the advancement will cascade into a series of low-emissions innovations: affordable "green" hydrogen, and low emissions steel and aluminium.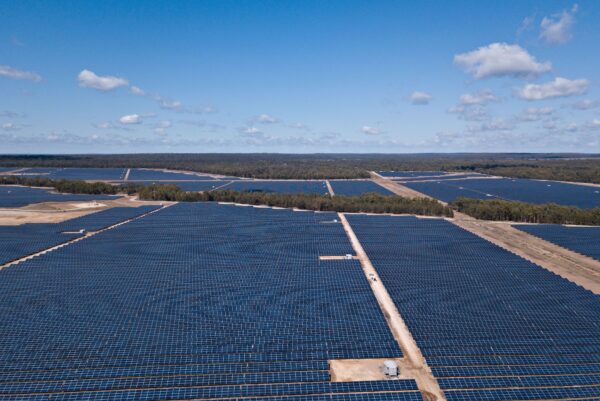 With cheaper solar power, the government is planning to lower the production cost of green hydrogen—made through "electrolysis," a process that involves passing an electrical current through water—down to a price that is on par with the cost of hydrogen made using coal.
Further, research into typical high-emission industries such as aluminium and steelmaking have seen ambitious new plans to one day replace coking coal with hydrogen. While no commercial-scale project of this sort exists, Australia plans on achieving this feat by 2040.
Energy and Emissions Minister Angus Taylor said that electricity generation creates around a third of Australia's carbon dioxide, the largest out of any sector.
"We are committed to reducing electricity sector emissions and unlocking the potential of other low emissions technologies like clean hydrogen," Taylor said.
The investment itself comes as part of a major move to help reduce emissions through "technology, not taxes", by making breakthroughs in research that can be applied in both Australia and the world's biggest emitters, including China.
Of the allocated $40 million, half will go to technical innovation in solar cells, with the other half towards improvements in the overall costs of the system, operations, and maintenance.
ARENA CEO Darren Miller believes Australian solar researchers will continue to create world-leading innovations given previous advancements made in the field, including Australian billionaire Mike Cannon-Brookes-backed startup company, SunDrive.
"Australia's solar researchers have been leading the world for decades. Thirty years ago, UNSW (University of New South Wales) researchers invented the PERC silicon solar cell, technology which today is the foundation of more than 80 percent of the world's solar panels," Miller said.
"That great work continues through ACAP, our universities and CSIRO as well as clean energy startups. Just a few months ago, SunDrive—a startup founded by former UNSW students and now based in Sydney—created the world's most efficient solar cell."
While Australia's research in developing solar tech stands tall on the global stage, the same cannot be said about Australia solar manufacturing capabilities.
Despite almost one in four homes and non-residential buildings carrying solar panels on their roof, the sun-laden nation does not have the capability to manufacture its own solar cells and instead imports 90 percent of its solar panels from China.