Australia Bans China-made Toy After Children Fall Ill
November 8, 2007 12:00 am Last Updated: November 8, 2007 12:00 am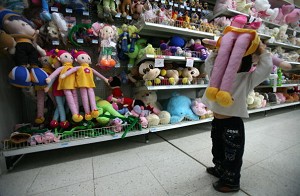 SYDNEY—Australia announced a nationwide ban on Wednesday on a Chinese-made toy which investigations showed contained a chemical which metabolises into a "date rape" style drug when swallowed.
The ban across Australia's six states and two territories came after three children became severely ill after they swallowed the toy beads called "Bindeez."
Toy importer Moose Enterprise issued a voluntary recall of "Bindeez", named Australia's 2007 Toy of the Year, saying some batches of the beads did not match the approved formula.
More than 20 million toys made in China have been recalled worldwide over the past four months due to potentially dangerous levels of lead and hazards posed by small magnets.
Advertisements telling the public of the Australia-wide ban would run later this week, said Linda Burney, fair trading minister in Australia's most populous state New South Wales.
"There is also a voluntary recall which the company is cooperating with. A refund will be in place," Burney told reporters. She said the refund could cost millions of dollars.
Three Australian children suffered seizures and needed intensive hospital care in the past two weeks after eating the plastic beads, which scientists discovered contain a chemical that breaks down into a potentially fatal recreational drug.
Burney said an investigation was under way into how the dangerous chemical 1,4-butanediol came to replace the safe chemical 1,5-pentanediol in the manufacturing process.
"The issue of how a dangerous substance was used in these beads and not the non-toxic substance … that is going to take us a few more days to uncover," she said.
Moose Enterprise said tests had shown some batches of the beads did not "exactly match the laboratory tested and approved formula".
Moose Enterprise said it was trying to determine which "Bindeez" batches had been affected. It said when the toy was eventually returned to shop shelves the beads will be coated with Bitrex to try and stop children swallowing them.
"This is a foul tasting ingredient which will ensure children do not in future eat multiple beads. All replacement beads and new shipments will include this ingredient," it said.