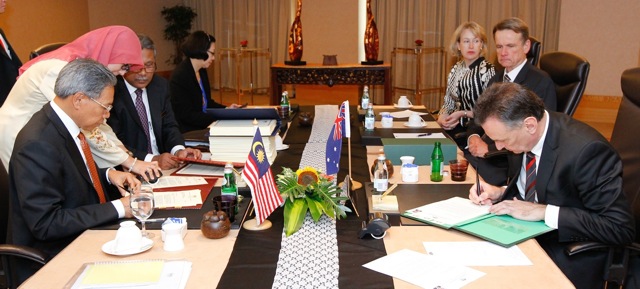 Australia and Malaysia have signed a free trade agreement seven years in the making that will allow for duty free exports and improved investment opportunities between the two countries.
The Malaysia-Australia Free Trade Agreement (MAFTA) signed on May 22 in Kuala Lumpur will take effect on Jan 1 next year.
MAFTA is a result of seven years of negotiations, and builds on the 2010 ASEAN-Australia-New Zealand Free Trade Agreement.
According to Australia's Department of Foreign Affairs and Trade, the agreement will "open avenues for Australian goods and services into the dynamic Malaysian market" allowing Malaysia, Australia's 10th largest trading partner, to export all goods duty free into Australia.
Australia's Trade Minister Craig Emerson called MAFTA a 'platinum' agreement. "I don't know if they're awarding platinum medals at the London Olympics but I think we've achieved it in trade liberalisation," he said at the signing ceremony.
Both countries will cut tariffs earlier than previously agreed and for a wider range of goods. Tariffs on Australian goods entering Malaysia will be reduced on 97.6 percent, expected to increase to 99 percent by 2017.
The improved market access should benefit Australian exporters of automotive parts, iron, steel and dairy products.
Many industries in Malaysia will also benefit from the agreement. "The major beneficiaries [in Malaysia] will be people in iron and steel, in plastics, in textiles, including in wood and furniture to name a few," said Mustapa Mohamed, Malaysia's Minister of International Trade and Industry.
Mohamed said that Australia will receive tariff reductions that have not been offered to Malaysia's other FTA partners.
Malaysia will allow 100 percent equity holdings by Australian groups in Malaysia's education and telecommunication sectors, and up to 70 percent in the insurance and investment-banking sectors.
Australia will be offering a range of benefits to Malaysia's medical sector by allowing investors to participate in hospital services and by helping companies establish traditional and complementary medical services.
Furthermore, Australia is also providing Malaysia with a three-year package of up to 21 short and long-term scholarships, fellowships, awards and exchanges to support Malaysia's economic reform efforts.
This is 'unprecedented', says Mohamed. "We have not signed any FTA agreement where the agreement is accompanied by good offer of scholarships."
The scholarships are "the best investment that we can make as Ministers and as Governments … in our young people," said Emerson. "They become ambassadors for Malaysia, ambassadors for Australia, right through their lives and we've gone some way in further strengthening that relationship.
"This is a testament of the strength and the warmth of the relationship between Australia and Malaysia," he added.
The Epoch Times publishes in 35 countries and in 19 languages. Subscribe to our e-newsletter.