Australia and China have held a meeting between trade ministers for the first time in three years as the two sides seek to resume the normal trade relationship after a period of tension.
On Feb. 6, Australian Trade Minister Don Farrell joined a virtual meeting with Chinese Commerce Minister Wang Wentao to discuss the removal of China's trade restrictions on many key commodities of Australia.
In the opening remarks, Farrell said trade and investment had always been part of the "bedrock" of the relationship between the two countries as China continued to be Australia's largest trading partner and an important source of investment.
The minister also said the Australian government was determined to cooperate with China while standing firm on the country's national interest.
While there were disagreements between the two sides on many issues, the Australian government believed the differences should be resolved via dialogues.
On China's side, Wang invited Farrell to visit China at a convenient time for further discussion, saying the trip would give him "a different impression" of the country.
While the Chinese commerce minister said he would like to work together with Farrel to bring economic cooperation between Australia and China back on track, Wang noted that the meeting was not likely to resolve all of the issues.
He also then suggested the meeting focus on building trust and finding a way to resolve the differences but stressed that China would not back down on "principled issues."
The Meeting's Result
While the meeting, which lasted for about 90 minutes, did not bring about any breakthrough, Farrell said it was another critical step in the stabilisation of Australia's relations with China.
"Our discussion covered a range of trade and investment issues, including the need for resumption of unimpeded trade for Australian exporters so that Chinese consumers can continue to benefit from high-quality Australian products," Farrell said in a statement after the meeting.
"Minister Wang and I agreed to enhance dialogue at all levels, including between officials, as a pathway towards the timely and full resumption of trade."
Farrell also noted that he and Wang discussed the potential of cooperation between the two countries on several issues other than trade, such as climate change and support for business delegations.
As the Chinese regime lifted its international travel restriction in January, Farrell said Australia looked forward to seeing Chinese tourists and students return to the country.
The Australian trade minister also accepted Wang's invitation to travel to Beijing to continue their "productive dialogue".
Meanwhile, Chinese state-run media Xinhua reported that during the meeting, Wang expressed the Chinese regime's concerns about Australia's tightened security review of Chinese companies' investment and operations in the country.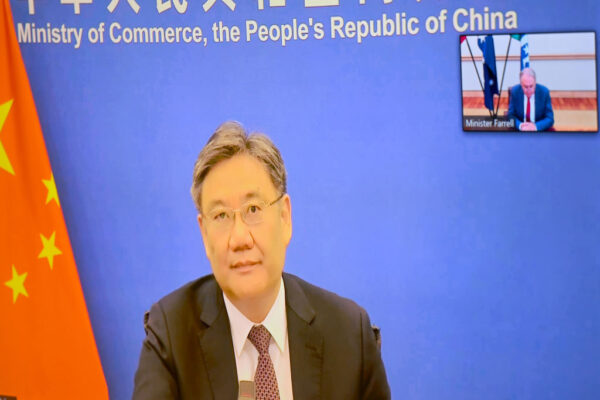 Wang also hoped that Australia could handle the above issue "appropriately" and provide a "fair, open, and equal" business environment for Chinese companies.
Wang's remarks came as the Australian government has signalled that it would be more cautious over foreign ownership of critical mineral resources such as lithium.
The meeting between Farrell and Wang is Australia's latest attempt to resume the normal trade relation with China after Foreign Minister Penny Wong's trip to Beijing in December 2022.
China's Trade Ban
In 2020, Beijing unofficially imposed restrictions on a wide range of Australian commodities after tension escalated between the two countries due to several political and public health matters.
The tension started in 2018 when Australia banned Huawei from participating in the country's 5G network and later became worse when Canberra called for an investigation into the origin of the COVID-19 virus, which attracted protests from the Chinese regime.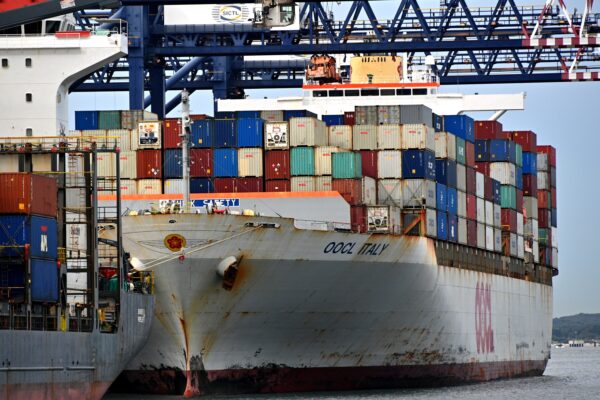 As a result, the Chinese regime imposed a combined 80.5 percent anti-dumping tariff on Australian barley and up to 218 percent for some wine brands.
Australian coal and cotton exporters also suffered as Chinese companies were reportedly told to avoid importing those commodities.
Other affected goods include Australian timber, beef and lobster, as they were subject to lengthy delays at Chinese customs clearing and enhanced inspection.
While the trade restrictions significantly impacted many Australian commodities, the Australian coal industry has found alternative long-term markets and is no longer dependent on China.
Meanwhile, the Chinese regime has shown signs of willingness to remove the trade bans, with reports emerging about the possibility of resuming coal trade relations with Australia in early January.
Some experts on China explained that China was now in a deep economic crisis due to the collapsing real estate sector and shrinking government finances, forcing the Chinese regime to improve its foreign relations to save the economy.