Chef David Santos must have been channeling Beethoven as he recently described what makes a great soup. "It's a symphony: You have the brass playing, the strings, you have layers and layers. In the end, it's a culmination of all your pieces and all your layering, and you have something beautiful," Santos said. "To me, it's the difference between a really great soup and something that's just thrown together, an afterthought."
Speaking of Beethoven, well, the composer considered himself to be somewhat of a connoisseur of soups. (One book calls him "a kind of oracle on the subject," and it's said that he once threw an unsatisfactory soup at a waiter.) Beethoven considered, of all things, the character of the cook to be an essential part of making soups. In 1817, he wrote in a letter about a servant who had once told him a white lie to spare his feelings. The servant was soon dismissed. "Whoever tells a lie cannot be pure in heart—and only the pure in heart can make a good soup," he wrote.
While pureness of heart is surely something between them and their maker, Santos and his business partner Ben LeBlanc, the founder and owner of Good Stock, must be doing the right thing. In addition to their location at the food hall Urbanspace Vanderbilt and their weekly pop-up in Dumbo, this week they've just opened a brick-and-mortar location in the West Village.
LeBlanc, a southern Louisiana native, left a career in finance (he liked his work, he said, but it wasn't his calling) to head into the soup business, and he did it with eyes wide open.
He knew that going into the restaurant business was going to be risky, and that "a focus within that is probably even riskier," he said. He knew that if it was going to work, Good Stock had to offer the best soups possible. "We're not going to do anything that we're not going to be incredibly, incredibly proud of," he added.
LeBlanc's first choice of soup was a most contentious one: gumbo, around which in his native state there are plenty of intense debates and endless comparisons. "No one's gumbo is as good as my uncle's, my Grandma's. My mom makes the best. … Uncle Jerry's is better than this."
"You have it at Christmas, at tailgates, at the fishing camp, at graduation—it's a very emotionally connected food," he said.
He knows when he gets Louisiana folks eyeing the menu because they look dubious. "You're from Louisiana, aren't you?" he asks them and gets nods. "You don't think the gumbo will be any good, do you?" he then asks. More nods.
You can't really fault them, though, because as LeBlanc will tell you, it's very, very hard outside of its home state or places like Charleston to get a good gumbo. LeBlanc's version, tested endlessly and approved by Louisiana family and friends, is more Cajun than Creole, and it is made with a super-dark roux made with the chicken fat used to fry the chicken. Yes, there is fried chicken in this gumbo, in addition to andouille sausage and rice. And it has won over those skeptical visitors from Louisiana.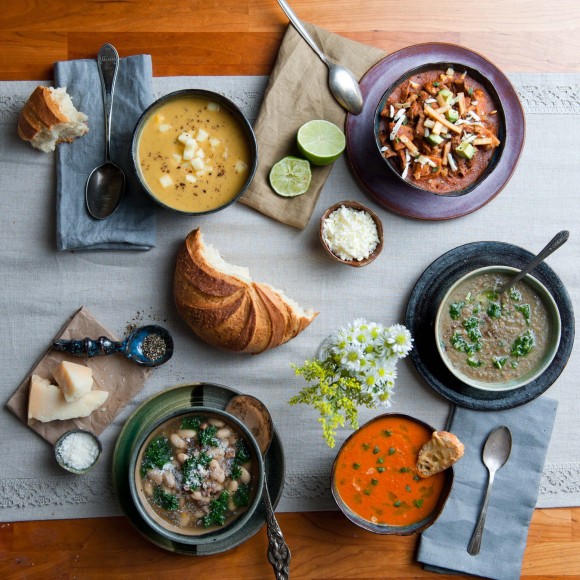 Santos and LeBlanc are in essence soul, er, soup brothers, united by a common philosophy to make the best food they can. LeBlanc, who was running Good Stock by himself and sorely in need of help, found a chef-partner in Santos, after the latter had to close his restaurant Louro. In the kitchen, Santos, who's always been prone to experimentation, famously kept a perpetual stew going, named "Stu," fed by the day's leftovers and in turn offering rich flavor in dishes, from his garlic soup to his lobster chawanmushi. (For those who are solicitous: About a pint of Stu is cryogenically preserved until the time comes to revive him.)
Santos is all about technique. Even in something as simple as tomato soup, the tomatoes and onions get a nice roasting to draw out their sweetness first. And "using the best ingredients you can buy will always make a difference," Santos said.
"Ingredients and technique," added LeBlanc. "But even before that, you have to care enough to buy better products; you have to care enough to spend 10 hours to make chili."
They do the math: It turns out that, with the soaking of the beans—amazingly toothsome heirlooms from Rancho Gordo in California—combined with the de-stemming, de-seeding, and roasting of three to four different kind of chilies, the searing of the short ribs, and the braising to bring it all together, the process adds up to three days. The result is of such complexity, the flavors bloom in succession in your mouth, while slow, complex heat unfolds over bites of savory short rib. May music lovers forgive me, but it truly does taste like a symphony.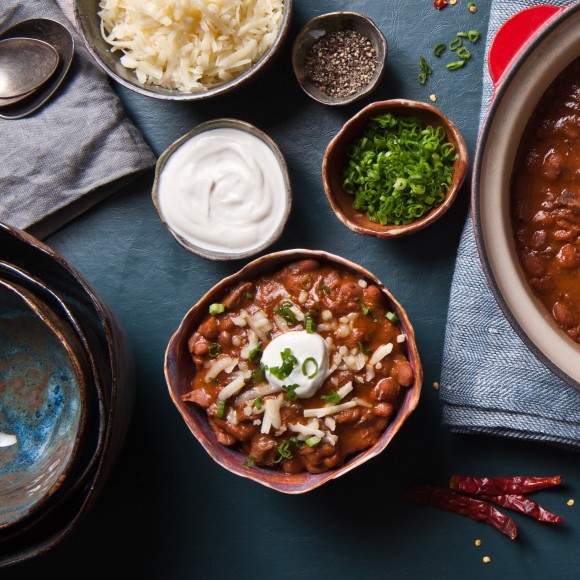 When asked for some tips for making soups, Santos, in a sort of eerie echo of Beethoven, said that if you don't care, "there's no direction on earth that will help you. It's the plain and simple of it. You gotta care to make something good."
Of course, there's that emotional tie. People often pick what has an emotional appeal—a memory of soups past, perhaps, and first-timers often spring for the chili, tomato soup, or gumbo. Those three are always on the menu. And then there are two rotating soups, and that's where LeBlanc and Santos experiment a bit, from pepper pot soup, to a rabbit pot pie soup with a drop biscuit over the top.
It might have been the Louisianians' gumbo to my Southeast Asian-raised taste buds, but I had a flashback when I had the coconut chicken soup. It was so familiar, but about 100 times more elevated—a beautiful revelation of liquid comfort, mingling chilies, soy sauce, mirin, and fish sauce all together, into something greater than the sum of its parts.
Good Stock
GoodStockSoups.com
31 Carmine St. (between Bedford and Bleecker streets)
West Village
Urbanspace Vanderbilt
E. 45th St. & Vanderbilt Avenue
North of Grand Central Station
West Elm pop-up
Mondays & Thursdays
Noon–2:30 p.m.
75 Front St. (at Main Street)
Dumbo, Brooklyn