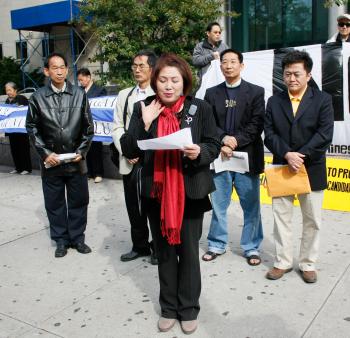 NEW YORK—A Chinese woman capturing a scene of harassment on film herself became a target of violence and bigotry. Now, the pieces are being picked up in court.
The Queens Criminal Court began court hearings on Oct. 13 regarding an alleged assault that took place last year in Flushing, part of a string of incidents of violence and discrimination against Falun Gong practitioners in the area.
Zhang Derong, a practitioner of the Falun Gong spiritual discipline, spoke about the case before entering the court at midday.
Last year on Oct. 4, Zhang was in Flushing and witnessed Democratic District Leader Martha Flores-Vazquez being harassed by Chinese men. The men, who are accused of being part of an organized campaign to intimidate and attack Falun Gong practitioners in Flushing during that time, apparently had mistaken Flores-Vazquez herself for a Falun Gong practitioner and began harassing her.
Seeing the scene, Zhang began filming and in the course of events was attacked by He Xu, the defendant in the case heard on Tuesday.
Zhang believes the men have an association with the Chinese Communist Party (CCP), which continues to persecute Falun Gong in China.

"He ran at me, swinging his jacket, fists, and pulling my camera down," she said outside the court. One of the cables in her camera was broken in the process, and she says some of the fingers on her left hand are permanently numb. She was sent to the hospital in an ambulance, and He Xu was charged with third-degree assault.
She said she was hopeful about the case. "Of course, I believe that the U.S. is a country ruled by law. So there is justice, and the courts will deal with these issues openly and fairly."
Zhang said that according to court rules, she was not allowed to talk about the details of the proceedings.
Fellow practitioners of Falun Gong, a Chinese spiritual practice based on the principles of truthfulness, compassion, forbearance, came to the courthouse in a show of support, holding banners and distributing information about the incidents surrounding the attack.
Zhang's friend, Sun Zhenyu, also spoke about her own experience of discrimination for her Falun Gong beliefs. She was thrown out of a restaurant last year and consequently awarded a $7,000 settlement earlier this month. (Please see $21K Awarded in NYC Restaurant Discrimination Case) "It's because those people have listened to the CCP's propaganda against us," she said, referring to the CCP's media campaign to vilify Falun Gong in mainland China and abroad.
A string of speakers also turned out to support the case and speak more generally about the persecution of Falun Gong, which began in China in 1999. That the persecution has extended overseas is obvious, they said, as evident in the cases of Sun and Zhang.
Judy Chen, another Falun Gong practitioner who was harassed last year, drew a connection between the incidents in Flushing and New York City Councilmember John Liu, who is accused of harboring ties with the Communist Party. (Please see John Liu Supports Pro-Communist Criminals in His District)
Zhang rounded things off by emphasizing her belief in the American legal system. "I think the judge is treating this [case] very fairly. I believe they'll make a neutral decision and investigation," she said.
"No matter how bad these guys are, in front of justice, people will realize that the law in American is fair and equal. I have faith in this."