Ashli Babbitt was so upset about the escalating attack on the Speaker's Lobby at the U.S. Capitol on Jan. 6, 2021, she grabbed one of the primary rioters and punched him in the face seconds before she climbed through a broken window and was fatally shot by police, a new video reveals.
Ashli's husband, Aaron Babbitt of San Diego, said the video provides crucial new details on what happened to his wife leading up to her killing.
"As we keep seeing these videos and it's all coming into play and it's literally laying out everything I've said from day one, that she's a good person, that she loved this country, she was law enforcement, pro-law enforcement, wasn't breaking anything, didn't hurt anybody—we're seeing it now," Babbitt told The Epoch Times.
"We're going to get to the bottom of it. We're going to get it out there."
The video is yet another blow to the media narrative that Babbitt was an angry insurrectionist rioter determined to prevent the certification of Electoral College votes by the U.S. Congress on Jan. 6, 2021.
For several minutes before she was shot, Babbitt implored the rioters to stop vandalizing the Capitol. She shouted at police guarding the double doors to call for backup, according to an analysis of footage shot by three cameramen.
A previously un-aired section of video shot by Sam Montoya for InfoWars shows rioter Zachary J. Alam repeatedly smashing the glass in one of the doors and the window to the right side of the doors. He used a black riot helmet as a cudgel.
As Alam pounded on the glass in the right door, Babbitt shouted, "Stop it!" The entire pane of glass then fell forward into the Speaker's Lobby. Alam then turned attention to the side window and pounded until it, too, fell into the lobby, the video shows.
Babbitt then stepped toward the corner, grabbed Alam's backpack, and delivered a left hook to his nose, knocking his glasses off, the video shows.
As Alam fumbled to put his glasses back on, Babbitt climbed into the window, where she was shot by U.S. Capitol Police Lt. Michael Byrd. She fell backward to the floor, mortally wounded. Alam turned around, saw Babbitt prone on the floor, flinched, and ran off-camera.
The .40-caliber bullet fired from Byrd's Glock 22 pistol struck Babbitt in the left shoulder and ricocheted to her right shoulder, causing massive internal damage.
Babbitt's punch not only stopped Alam from continuing his assault, it likely saved his life. Witnesses said they believe he was preparing to climb through the window when Babbitt cut in front of him.
Full Picture Coming Together
"That was a missing piece of the puzzle that just puts it all together," Aaron Babbitt said of the video. "It shows what we've been saying all along based on my interpretation of what's going on in that room.
"I could see the distress on her face. I could see her yell at the cops."
Another video shot by journalist Tayler Hansen shows Babbitt berating the three police officers guarding the door for allowing the vandalism to continue.
"Call [expletive] help!" she said. "We're allowed to be here!" When police did not react, Babbitt shouted, "You're a fraud! You're a [expletive] fraud! You're wrong!"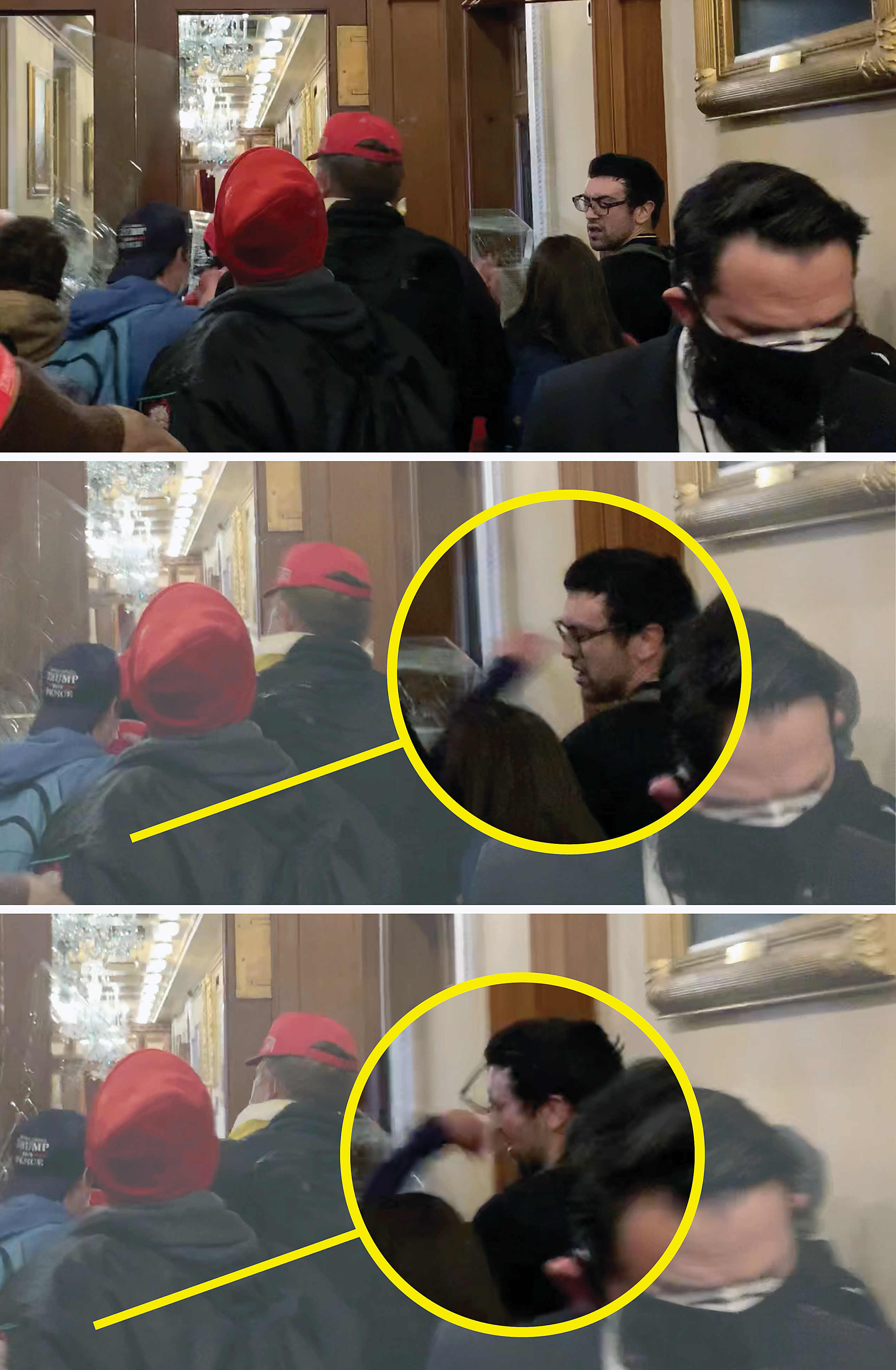 Shortly after Babbitt shouted at the police, she is heard yelling, "Stop!" As Montoya's video cuts to show a SWAT team ascending the stairs, Babbitt is heard repeating, "No!" as Alam continues to pound the glass. As the crowd chants "break it down," she yells, "Stop that!"
Audio from Montoya's video, shot from farther back in the hallway than other videos, shows that Babbitt was not the person who screamed, "Take it down," as previously reported.
A woman's voice is heard shouting, "Break it down!" The crowd started a "break it down" chant a few seconds before. The woman was standing along the south wall, opposite of where Babbitt stood.
Babbitt stood along the north wall even after the police officers moved aside from the doors. She repeatedly shouted at the rioters as they stepped up their assault on the doors, the video shows.
"To me if I was in that situation, I was looking back and I was like, 'There's a lot of people here. This is a volatile situation. This is a powder keg,' " Aaron Babbitt said. " 'I've been yelling at the police to do something and they just moved away and are letting these idiots do this,' and that's when she punches him, out of frustration and anger and fear."
Fight or flight. She did a little bit of both. That's Ashli, she's going to stand up for herself.
Babbitt said the new video reinforces his belief that his wife saw the open window as her only escape from the mayhem. A SWAT team was at the top of the stairs behind her, and the rest of the hallway was packed with demonstrators.
"I think she just realized she was in a bad spot, something wasn't right. It didn't smell right," Babbitt said. "She had her wits about her. The frustration came out when she punched him in the face, because he deserved it. He deserved it from a man, not the little woman there in that small hallway.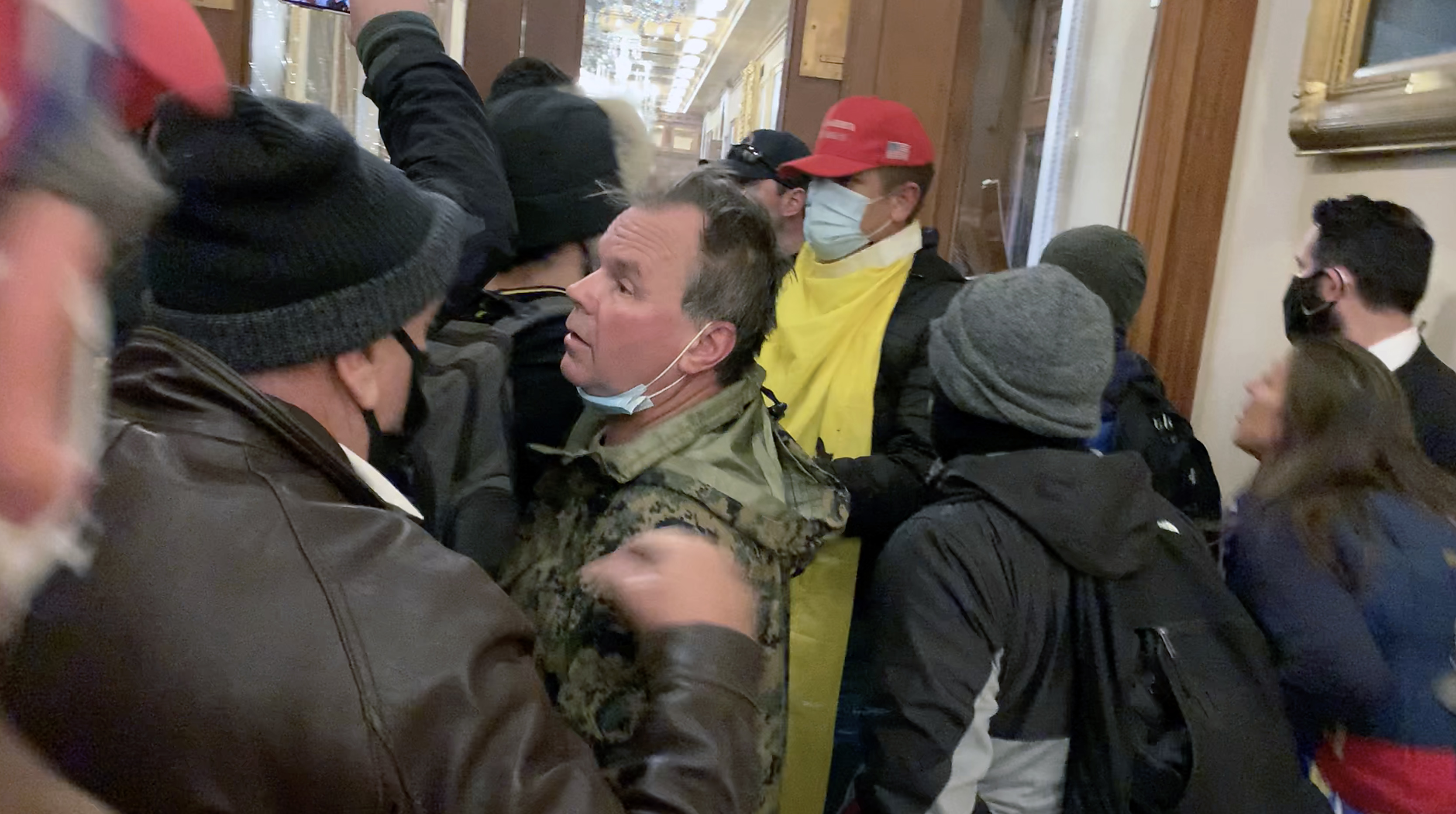 "He deserved it from a cop, but none of that was happening," Babbitt said. "For a former law enforcement person to be seeing this happening is like mass confusion, 'What is going on here right now?'"
Ashli Babbitt served as a military police officer in the U.S. Air Force and the National Guard for 14 years, enlisting at age 17. She served in the District of Columbia National Guard, which is tasked with defending the nation's capital.
Aaron Babbitt said his wife was claustrophobic. "Looking at the new footage, it's clear the way she entered that area at first was now clogged with a large amount of people. She did not like large crowds," he said. "We've left events in the past due to large packed crowds."
Montoya said he never saw the punch before in all the times he reviewed his Jan. 6 video footage.
"It's crazy," he told The Epoch Times. "I just never saw her throw that punch."
"That's some powerful stuff. Your article changes the narrative for me in a very massive way. …The fact that I saw Ashli actually punching Zach, for me that changes the way I was seeing her interaction quite a bit," Montoya said.
"With balance of what was going on, it's obvious she wasn't there to be an agitator. It's even more evident now that she was trying to stop these people from being agitators."
Hansen said Montoya's video is more proof Babbitt died trying to do good.
"The latest analysis of the footage proving she was actively trying to stop Zachary Alam comes with a great feeling of weight lifted from my shoulders," Hansen told The Epoch Times. "She was not a terrorist, she was a vehement supporter of law enforcement who took major issue with those who didn't do their jobs on January 6th. The family should be heavily compensated by the mainstream media and the government for the propaganda they've pushed surrounding Ashli."
Not His First Hit
Babbitt's punch was not the first hit to the face Alam experienced at the Capitol on Jan. 6. Earlier in the Rotunda, an older man slapped Alam on the right side of the head after Alam began loudly shouting, "Hey! Hey! Hey!"
That incident was captured on video shot by John Sullivan, also known online as Jayden X. Sullivan also recorded the Babbitt shooting later in the day.
On the video, Alam walks into the crowd from behind the police line in the Rotunda. Police officers push him away from their line and he launches into shouting the same cheer, "Hey!" that he utters later in the Speaker's Lobby hallway.
The elderly man reaches out and slaps Alam on the right side of his face and head. He is restrained by police as he wags his finger at the younger man. "Shut up," the older man says. Alam replies: "Who are you?"
"He's an idiot," someone in the crowd shouts at Alam. "You're a moron," another intones.
Alam was arrested Jan. 30, 2021. The U.S. Department of Justice issued a superseding indictment in November, charging him with 11 counts, including assaulting, resisting, or impeding police using a dangerous weapon; civil disorder; and destruction of government property.
Alam is due in court in February for a status conference. His attorney did not return a message from The Epoch Times.
Shooting Causes Bedlam
After the shot that killed Babbitt rang out, the hallway turned chaotic, the video shows. Several men tried to render aid to Babbitt, while the crowd screamed at police. Police shouted for the protesters to get back so they have room to give medical aid.
"Get back! We can't save her," one officer shouted. "Get the [expletive] back!
"You [expletive] shot her!" a protester shouted.
"We did not shoot!" another officer called out.
Montoya described the events while filming: "Ladies and gentlemen, a lady was just shot! She might be dying right now.
"We cannot get enough people to move for the police to get her out of the building," Montoya said. "She's bleeding out on the floor. You saw the footage. She's bleeding out on the floor. She might be dead. I'm hearing reports that she's dead."
Sullivan paused his filming and describes what he saw for Montoya's video. "I saw the light go out in her eyes," he said. "She climbed in the window and then she got shot right here in the neck (pointing). I got it all. I saw that [expletive], all of it."