America's love of meat is about to get more expensive.
Market forecasts predict consumers will pay more across the board for beef, pork, and chicken due to factors like rising feed costs and acute labor shortages.
Overall, food prices have soared 8.8 percent since March 2021.
At the beginning of this year, the United States Department of Agriculture (USDA) had a more optimistic outlook on inflated meat prices. However, its tune quickly changed at the beginning of the second quarter.
Now consumers can expect to pay 6–7 percent more for beef and veal this year. Pork products will increase 4–5 percent, and poultry prices could shoot up more than 8 percent due to historically low stocks in frozen storage, 
according
 to the USDA.
Additionally, the cost of eating at restaurants and take-out food will climb upwards of 6.5 percent this year.
In Texas, the president of the 145-year-old Texas and Southwestern Cattle Raisers Association (TSCRA), Arthur Uhl, told The Epoch Times there's no easy solution to high beef prices.
"The key components in our business are labor, fuel, feed, and fertilizer, and everything is going up in price," Uhl said.
He explained it's an incredibly challenging time for cattle ranchers in every facet of the industry, from the producers, to feed lots, and the processors and packers. Everyone is feeling the pinch of severe inflation.
Uhl also noted that while prices for beef in stores are increasing, it doesn't reflect any additional profits on the rancher's end. It all goes to cover higher operating costs.
Pork producers point to higher feed costs as one of the leading drivers behind the spike in meat prices. Soybean meal futures in March this year shot up to $462 per short ton from $330 in October 2021.
This trend may persist since soybeans also reached historic highs in March at more than $17 per bushel.
Consequently, farmers chose to plant more soy this growing season and less corn, which has benefits like being more drought resistant and requiring less fertilizer.
The latter is paramount since fertilizer prices have soared this year while Russia's conflict in Ukraine is compounding existing scarcity issues.
Farmers intend to plant a record-high 91 million acres of soybeans in 2022, according to a
 USDA survey
.
However, the downside to this planting shift is shortfalls in corn harvests amidst diminishing stockpiles. This has been a significant price driver for the grain in 2022.
U.S. corn prices touched multi-year highs during 
April-May
 this year. The March 2022 corn futures contract on the Chicago Board of Trade reached $6.405 per bushel.
High corn prices have hit the poultry industry particularly hard, which has suffered some of the worst setbacks from inflated feed costs.
Of the raw materials that comprise animal feed, corn grain is the primary component. It constitutes between 50 and 70 percent of the diets of monogastric animals, which are mainly chickens and pigs.
In April, the president and CEO of Tyson Foods, Donnie King, delivered a testimony to the U.S. House of Representatives Committee on Agriculture about the devastating effects of inflation on the American meat industry.
King asserted inflation is climbing to "the highest level in generations."
"Since March 2020, the cost of corn is up 127 percent, soybeans are up 90 percent, and soybean meal is up 54 percent. Year over year, soy crush plant margins are up 168 percent, with key fertilizers like nitrogen, potassium, and phosphorus going up between 115 percent to 246 percent in that timeframe."
He added an unfortunate combination of constrained supply, high consumer demand, and continued unforeseen disruptions to the global supply chains caused by COVID-19 and geopolitical unrest are exacerbating inflation.
Meanwhile, labor shortage holdovers from the pandemic are among the foremost challenges facing America's meat industry.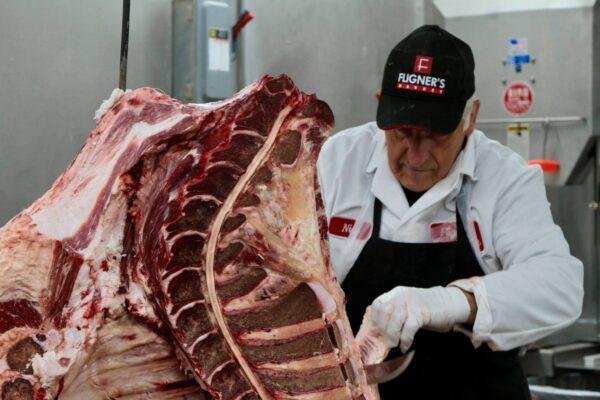 "There have been labor shortages on account of COVID. We don't have enough people working in the plants, and that's a problem," Uhl said.
In November 2021, the North American Meat Institute fired back at President Joe Biden's administration, which attempted to dump the responsibility of inflation on the doorstep of U.S. businesses.
"Just six weeks ago, the Biden administration tried to blame the meat and poultry industry for the rising cost of food," said Julie Anna Potts, president and CEO of the institute.
"Congress will hear from other food manufacturers, shippers, input suppliers, growers and retailers enduring the same labor shortages up and down the food supply chain that are driving the record cost," Potts asserted.
Shortages of meat processing and packaging workers have hit every corner of the industry in the United States, leaving many independent processors booked out months in advance due to reduced operating capacity.
In January this year, the Biden administration pledged to invest $1 billion to expand independent meat processing capacity in the United States.
The financial life raft will happen in stages. First, the USDA will provide financing grants up to $375 million in two phases. The first will invest $150 million in an estimated 15 projects with the best projected near term impact. The additional $225 million will be distributed secondary as further assistance by summer 2022.
Jeremy Fuchs, a spokesperson at TSCRA shares the sentiment regarding worker shortage woes in the beef industry.
"The biggest issue right now that we have, with respect to beef prices and how different they are than live cattle prices, is a bottleneck at the meat processing and packer level," Fuchs told The Epoch Times.
Fuchs explained an insufficient workforce at the packer level is why there's currently an oversupply of cattle, but an undersupply of beef on the shelves in stores.
"What we do is critical to this nation's food security," King told U.S. Representatives in April.
Uhl said it's easy to take things like food and grain for granted, adding that it's been so plentiful in the United States for so long and at a reasonable cost.
"I think the public has really taken that for granted. And it's really being challenged now for man-made reasons and natural reasons. We're living in strange times. "