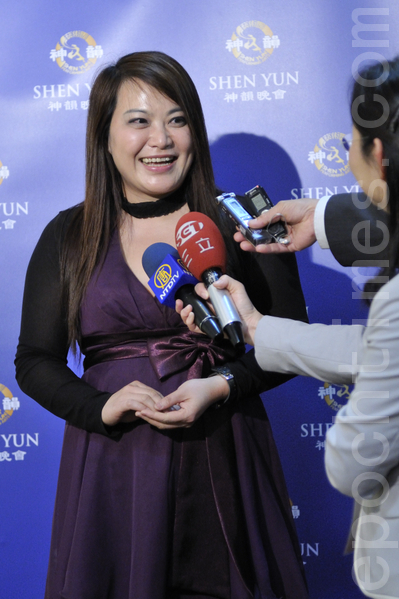 TAICHUNG, Taiwan—After watching Shen Yun Performing Art New York Company's second performance in Taichung, Chen Li-Jen, executive producer of Xaing Yun Art Center, said with joy and excitement, "It brings people hope and inspires the goodness in them."
New York-based Shen Yun travels the world reviving classical Chinese culture, which was profoundly influenced by the three main religions of Buddhism, Taoism, and Confucianism, spawning a rich and profound system of values, says the company's website.
Ms. Chen said she particularly enjoyed the program Snow Flakes Welcoming Spring, seeing winter turn into spring and "everything becomes alive!" "It's incredible! It gives one hope."
She was fascinated how Shen Yun could condense traditional Chinese folk stories, such as Crazy Ji Saves the Day, in just a few minutes on stage. The ancient stories brought back memories for her of the folk stories she used to hear all the time, which she believes can inspire goodness in people.
"These are wonderful stories that teach people to be kind. Because of money and personal interests, many people nowadays have forgotten that there is a need for compassion. We need to rediscover our kind hearts quickly," she said.
Ms. Chen believes that it is a "magnificent thing" that Shen Yun is spreading the 5,000 years of traditional Chinese divine stories to the world. She said that is why she brought a group of elementary students and their parents to see the performance today.
"It's helpful for my students to see Joyful Little Monks and other folk and ethnic dances and music. I also want them to see how the music and dances can blend perfectly with the background projection," said Ms. Chen.
"Art can inspire people to be kind and encourage people to be better. Shen Yun is an eye-opener for my students," she said.
Reporting by Lo Chien-Ting and Lin Hsin-Yi.
Shen Yun Performing Arts, based in New York, tours the world on a mission to revive traditional Chinese culture. Shen Yun Performing Arts New York Company will perform in seven cities in Taiwan until April 8 and then continue to top venues in Australia and New Zealand.
For more information visit ShenYunPerformingArts.org
Read original Chinese article