Army Tattoo Ban: Military to Ban Ink Below Knees, Elbows
September 24, 2013 8:13 pm Last Updated: July 18, 2015 5:18 pm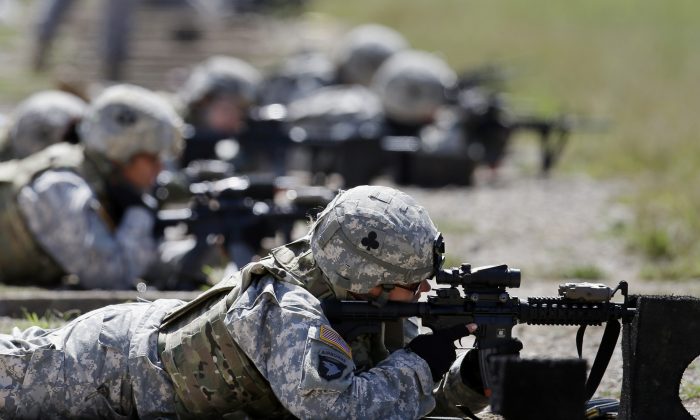 An Army tattoo ban would not allow ink to appear below the knees or elbows of new recruits, according to a report over the weekend.
Sgt. Maj. of the Army Raymond Chandler told the Stars and Stripes website over the weekend that the ban would be effected soon. It would also encompass tattoos that appear above the neck.
However, people with existing tattoos that contravene the ban will be allowed.
Chandler said that the ban, along with other grooming measures, has to be signed by Secretary of the Army John McHugh.
"We're just waiting for the secretary to sign," Chandler said, according to the publication. He made the comment while meeting with soldiers at 4th Combat Brigade Team, 10th Mountain Division, at Forward Operating Base Gamberi in Afghanistan.
The policy would also require soldiers to "sit down with their unit leaders and 'self identify' each tattoo," said Chandler, according to Stars and Stripes.
Offering some reasoning, Chandler notes that when he hears of a soldier getting a tattoo on his neck, he wonders why.
"I question 'Why there?' Are you trying to stand out?" Chandler said.
According to a forum on Military.com, soldiers appear to favor tattoos below the elbows and knees.
The Stars and Stripes report said that the Army Regulation 670-1 policy that regulates tattoos states that while "commanders may not order the removal of a tattoo or brand," they can "counsel soldiers and afford them the opportunity to seek medical advice about removal or alteration of the tattoo or brand." It will essentially alow commanders to order the removal of offensive tattoos that are visible.