Ark Church Members Distribute Free Food to Petitioners
July 18, 2006 12:00 am Last Updated: July 18, 2006 12:00 am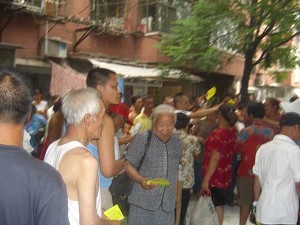 Members of the Beijing-based Ark (Fangzhou) Church visited the "petitioners' village" near the Beijing South Railroad Station at about 4 p.m. on July 16 and offered approximately 330 pounds of free food. Over 100 petitioners received assistance. They were encouraged by the Ark's generosity and again called for the government to respect civil rights and eliminate corruption.
The petitioners individually traveled to Beijing to appeal to the central government when they felt that the local and provincial government did not treat them fairly. Due to a lack of funds, they often stay in an impoverished area near the Beijing South Railroad Station. The area is now nicknamed "petitioners' village."
The "petitioners' village" is often harassed and raided by local police, administrative staff, and thugs. In early 2006, the government said they needed to acquire land for the Olympic Games and demolished all the houses in the "petitioners' village." The homeless petitioners built temporary sheds and tents at the same location. Many of them are hungry, wear tattered clothes, and panhandle to survive. The poor sanitary condition caused many to fall ill. Some have died in the streets due to illnesses.
The petitioners were excited and grateful to receive the food, thanking the Ark Church for their contribution. They also read out loud from a piece of paper detailing the human and civil rights abuses they experienced. They hoped one day the government would correct the wrongs.
Ark Church collected donations during its prayer meeting on June 26 to rescue blind human rights activist Chen Guangcheng, who was wrongfully detained. Ark Church is a house church formed by a number of attorneys and writers who advocate for civil rights, including Gao Zhisheng, Fan Yafeng, Li Baiguang, Wang Guangze, Yu Jie, and Bei Cun.
On January 8, 2006, the police harassed the Ark Church and accused the members of conducting "illegal activities." The police's action was met with strong resistance from the members.
Qi Zhiyong and Jiao Guobiao from Ark Church. (The Epoch Times)

Petitioners gather to call for an end to corruption. (The Epoch Times)

A young petitioner holds a sign reading, "I want to go to school." (The Epoch Times)