Arab Color Revolutions a Source of Concern to Chinese Regime
February 8, 2011 1:42 am Last Updated: October 1, 2015 5:45 pm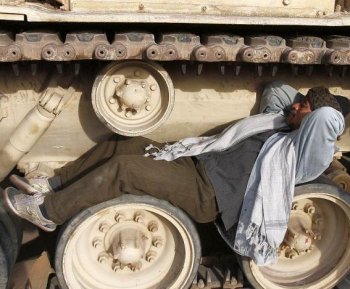 The popular revolutions in Egypt and in Tunisia have triggered a chain reaction. Citizens of Algeria, Jordan, and Yemen are also holding street protests condemning government corruption and demanding political rights. The response from Chinese state media indicates that communist party leaders may be worried that the wave of color revolution will expand to China—concerns that they have expressed for years.
Chinese state-run media has been reporting negatively on the democracy revolutions in Egypt and Tunisia while Chinese authorities have blocked information on the Internet.
The Chinese regime has been downplaying world news headlines of Egyptians demanding that their dictator step down. Chinese state media never mentioned that the cause of the protest is people's dissatisfaction with their authoritarian government. Instead, it has been depicting Egyptian President Hosni Mubarak as a hero, and has been deliberately painting a picture of chaos in Egypt by focusing attention on burning vehicles and vandalism, and calling the democracy protesters "mobs who beat, smash, loot, and burn."
Chinese media reports have also highlighted efforts by the regime to rescue and evacuate expatriate Chinese from Egypt.
In a Jan. 30 editorial called "Color Revolutions Will Not Bring About Real Democracy," the regime's mouthpiece, Global Times, argued that it is questionable whether the democratic system really works, as more and more "failed examples" arise. What and where those failed examples are, the article did not say.
Another mouthpiece media, People's Daily, published an article "Chaos in Region 'Stabilizer' Egypt Harms Everyone" on Jan. 28. It said Egypt is "a country that cannot afford chaos" and quoted the Egyptian government saying, it "would punish those who undermine national security and social stability according to the law."
Beijing Reason to Fear
In a Radio Free Asia report "What the Middle East Has Taught China," political commentator Hu Shaojiang said Zhongnanhai, the Communist Party's leadership compound, has reasons to fear.
Hu said: "The collapse of authoritarianism in the Middle East and the beginnings of political reform there means Beijing is more and more isolated in its practice of opposing democracy and of suppressing human rights. It also means that its argument of denying the universal values of democracy and freedom to developing countries because these countries are special cases, has once again been proven false."
According to Hu, substantial economic growth has been observed in Egypt and Tunisia, with economic growth rates in the past three years being 7.2, 4.6, and 5.3 percent in Egypt, and 4.6, 3, and 3.4 percent in Tunisia. In regard to purchasing power, both countries have similar per capita income as China, with Tunisia's being nearly 30 percent higher than China's. "But this does not give the rulers the legitimacy for ruling," Hu said.
Hu said the Middle East is teaching China a lesson: economic growth is an important condition for social stability in a modern country, but definitely not a sufficient condition. As long as there's a lack of modern political civilization, social stability can never be a fair one, nor can it be stable or long lasting.