In the weeks leading up to the protests against the Chinese regime's harsh COVID-19 policies, Apple had restricted access to the popular file-sharing tool AirDrop.
On Nov. 9, Apple published a new version of its mobile operating system to users everywhere: iOS 16.1.1. The tech firm noted that the "update includes bug fixes and security updates and is recommended for all users." But Chinese readers of 9to5Mac noticed an interesting change in the update that applies only to iPhones sold in mainland China.
Following the updated operating system, AirDrop can only be configured to receive messages from everyone for just 10 minutes before switching off. Typically, AirDrop users could choose to receive files from everyone—contacts and non-contacts—for an unlimited time. Before the changes were completed, the "everyone" setting could have been turned on permanently on Chinese iPhones.
The file-sharing feature, which is available on iPhones and other Apple devices, has been a critical tool for protesters to avoid censorship in authoritarian states. Hong Kong protesters employed the communication tool to bypass China's so-called Great Firewall so that they could deliver crucial messages to the public and ensure that other protesters stayed in touch.
AirDrop was designed to be a program that depends on direct connections between phones, which forms a local network of devices without relying on the internet to communicate.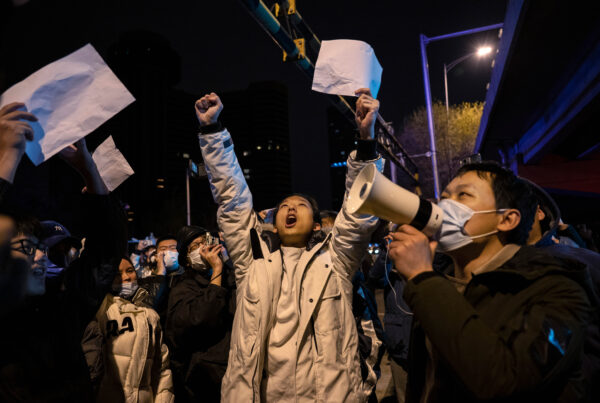 According to Bloomberg, Apple plans to introduce the "everyone for 10 minutes" update for global users sometime next year. But it remains unclear as to why the world's largest company by market capitalization focused on China first.
Experts have posited that it may have had to do with Xi Jinping receiving a third term as China's leader. After Xi secured his third term, there was widespread public dissent, a rarity under the regime of the Chinese Communist Party (CCP). Across the Chinese internet, many users referenced a protest banner that stated, "Go on strike at school and work, remove dictator and national traitor Xi Jinping." These posts were censored, but images had been successfully transmitted through private channels.
Chinese Protests Hurting Apple's Bottom Line?
The protests that have occurred across the country may financially impact Apple. It has been estimated that the company could lose as much as $8 billion in revenues because of production shortfalls that could total as many as 8 million units in the December quarter, according to Evercore ISI.
Seventy percent of Apple's global iPhone production occurs at the Zhengzhou factory, where Foxconn assembles the smartphone. For days, employees have been clashing with security personnel, prompting Foxconn to offer higher wages and large bonuses to incentivize workers to return to the plant.
"Apple is struggling to overcome a combination of shutdowns and worker protests at a key production facility in Zhengzhou, China, that resulted in Apple negatively pre-announcing on Nov. 6," Evercore ISI analyst Amit Daryanani wrote in a note on Nov. 29. "Protests in China against the lockdowns are growing, it's entirely possible the situation gets worse and actually hurts end demand in China. So far, we think demand implications are minimal the bigger challenge is iPhone production."
Since the COVID-19 pandemic, Apple has started diversifying its supply chain away from China, turning to the neighboring India and Vietnam markets to produce iPhones and other Apple products. But a September Bloomberg Intelligence estimate suggested that it would take roughly eight years to move even 10 percent of Apple's production capacity out of China.
Apple shares have slumped on the heels of the political upheaval in the world's second-largest economy, tumbling by about 4 percent in the first two trading sessions of the week. Year to date, the stock is down by 22 percent.
Elon Musk, Twitter, and Censorship
Twitter owner Elon Musk accused Apple of online censorship, claiming that the Cupertino-based company has "threatened to withhold Twitter from its App Store" without explaining why.
"Apple has mostly stopped advertising on Twitter. Do they hate free speech in America?" Musk wrote in a tweet. "What's going on here @tim_cook?"
Musk also published a poll asking if "Apple should publish all censorship actions it has taken that affect its customers." After more than 2.2 million votes, 85 percent voted, "Yes."
"This is a battle for the future of civilization. If free speech is lost even in America, tyranny is all that lies ahead," Musk said.
The social media giant stopped enforcing its COVID-19 "misleading information" policy on Nov. 23, with the company reporting that nearly 100,000 pieces of content were removed from the platform with more than 11,000 account suspensions.
Musk said on Nov. 29 that Twitter's internal files on the company's "free speech suppression" will be revealed "soon," raising expectations that light will be shed on the firm's opaque actions in blocking content and banning accounts.
Industry observers say that Apple's app review department might be paying close attention to Twitter. App Store guidelines mandate that apps with user-generated content must maintain strong content moderation systems, which allowed Apple to ditch conservative social networks Gab and Parler. Since taking over Twitter, Musk has significantly reduced the content moderation team and overhauled policies.
Moreover, Musk called out Apple's rule that requires app developers to pay between 15 percent and 30 percent for digital purchases. If he tries to circumvent this fee, which others have done in the past to no avail, Apple could remove Twitter from the App Store.
"Did you know Apple puts a secret 30 percent tax on everything you buy through their App Store?" Musk commented in a tweet.