It's imperative for children to receive a sound education, and more importantly, a moral compass to guide them in life.
A child's environment plays a huge role in their upbringing, as kids are greatly influenced by their surroundings and the people they come into contact with, whether that be at home, school, or elsewhere in society where they spend a considerable amount of time.

Here we focus on two elementary schools in Buenos Aires, Argentina, in which the students went from having "serious behavioral problems," difficulty concentrating in class, to being calm, focused, and caring children.
What brought about this unexpected outcome?
The secret is a little ancient wisdom from China, which the schools introduced through a program they've been running since June 2018.

After the principal of one school learned about the positive changes students at a school in Uruguay underwent after practicing Falun Dafa, this principal decided to introduce Falun Dafa to her students via a special program.
Falun Dafa (also known as Falun Gong) is a cultivation practice system from China involving four slow-moving, gentle standing exercises, and a fifth, tranquil meditation exercise.
Many who practice report improvement to their mental and physical health, which is what led to the practice's immense popularity after being introduced to the public in 1992. Previously, it had only been passed down from one disciple to the next.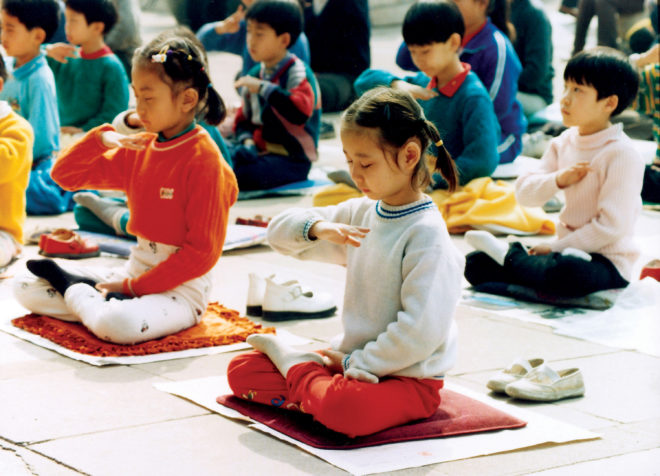 As the principal had just returned from a workshop that was attended by the heads of more than 2,000 schools in the region, with the aim of improving students' behavior, performance, and reduce bullying, the time was ripe to give Falun Dafa a go.
And the results have been better than she ever expected, which is why the principal of a nearby school in Solano introduced Falun Dafa to her students too, a cause for celebration for all the children's teachers and parents.
"The children become so peaceful when they do the Falun Gong exercises," said one teacher at the school, reports Minghui.

The Falun Dafa practitioners who volunteer at the schools noticed that the kids not only enjoy the calming practice but are showing improvement in their behavior, bit by bit.
"The kids we are facing have serious behavioral problems. It was not easy to deal with hundreds of them, but we are seeing gradual changes in them," said a volunteer.
"It was difficult to get their attention at first and get them to calm down," she explained. "They were curious about us, but they simply could not focus."
With consistent practice, positive changes started to be revealed.
"The second time we went there, we noticed that some of them started to relax," another volunteer said. "They became more calm. We were really touched."
"Most of the children seemed to get calmer and more relaxed," says a third volunteer.

The students started to experience some interesting sensations whilst practicing as well.
"One time a girl shouted that her hands were hot, and then other students excitedly said that they had the same feeling," says a volunteer.
Putting into practice Falun Dafa's principles—"Truthfulness-Compassion-Forbearance"
After the winter break, however, the children returned to school and "started acting up."
"So we decided to discuss 'respect and forbearance' with them," a practitioner said.
"A student came forward and said that his brother was bullied constantly, and he was worried that the other children may even bully their mother. His eyes were full of tears. The other kids quietly listened."
It was quite a lesson, and the students proved themselves that the lesson didn't just go in one ear and out the other.
Calm and collected once again, the students were improving through real-life lessons.
"Later that day, a teacher told me that she was surprised that the other kids listened to his story, because that student had been bullied for a long time, and no one paid any attention to him," the practitioner recalled.
Like a lotus flower
In addition to learning how to practice Falun Dafa's five exercises, the volunteers devise other enjoyable activities centered around self-improvement, morality, traditional culture, and so on.

One activity involves making origami lotus flowers, which led to the children learning about the inner meaning of the lotus flower.
In traditional Chinese culture, the lotus flower represents purity, for they grow out of the water—rising above and beyond—to display their pristine brilliance, untainted by their muddy surrounds.
"So don't get dragged down by the harsh environment," a practitioner explained to the students.

It's not only in Argentina, but more schools, such as in Uruguay, Mexico, and around the world, are introducing their students to Falun Dafa, and reaping the benefits.
Speaking to Radio SOH, Principal Miriam Nava Cervantes of the Guasave Montessori School in Mexico said, "The Falun Dafa class is what children like the most, the practice of Falun Dafa in the Montessori School helps children to know each other, to be more tolerant, to think about the needs of others, to respect all forms of life, to resolve conflicts and to seek peace."

The headmistress of a state school in Montevideo, Uruguay, said after learning Falun Dafa, the students "benefited not only physically, but spiritually. They breathe and relax and come to the classroom focused and with a good attitude."
It is most parents' wish for their children to grow up healthily, both physically and mentally. Now that these students are benefiting greatly from Falun Dafa, let's hope they keep up the practice and continue to blossom.
Learn about the positive changes these school children in Mexico underwent thanks to Falun Dafa: