Anaheim is making way for affordable housing and retail space after demolishing the Americana Motel on Beach Boulevard on Oct. 12.
The 7.3-acre land where the 44-room motel sat and surrounding land will be transformed in the coming years to provide 100 affordable apartments, 134 townhomes, and a 5,000-square-foot retail center.
"This is our commitment to revitalizing west Anaheim in action," Mayor Harry Sidhu said in a statement. "This motel demolition will set the stage for more redevelopment along Beach Boulevard and ultimately, a better west Anaheim."
The motels on Beach Boulevard have turned into rooms for individuals with no permanent address, hubs for human trafficking and prostitution, and drugs, Anaheim spokesperson Mike Lyster said.
"These motels, unfortunately, enable all of that," Lyster told The Epoch Times. "We're starting because of all the problems that have been in this area, and the neighbors have had to put up with a lot of different situations. In its waning days, it operates as a sober living home, so it's not even serving travelers, it's not even serving folks who even use it as housing as a last resort."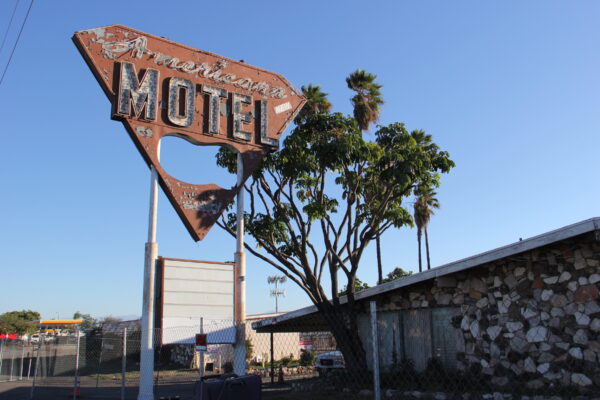 The former Americana Motel opened in 1958 and was one of about 15 motels on the boulevard.
In previous years, the motel was occupied by visitors on their way to Disneyland. But in recent years, the motel has been utilized as a sober living home.
Anaheim bought the Americana Motel along with the surrounding land including a gas station and carwash in 2019 for $14 million.
Lyster stated the redevelopment will bring about more opportunities for residents while lessening the concerns brought by the motels in recent years.
With affordable units and townhomes being built, Lyster said the new residential community may assist with revamping the area.
Affordable housing units will be available to potential residents who earn less than the county's median annual income of $106,7000.
Anaheim's plans for redevelopment aspire to continue past the old motel and onward on Beach Boulevard. The city anticipates turning 1.5 miles of the boulevard into a center with shops, dining, community gathering places, and residential units.
Construction of a residential townhome center on the corner of Beach and Lincoln is underway and is expected to be completed in 2022.
The city is also set to begin construction in 2022 of a retail center that will proceed in development for up to 10 years.
"I share in the joy of all west Anaheim in seeing the beginning of change at this site," Councilman Jose Diaz said in a statement. "Change cannot come fast enough, but this shows change is here."
Redevelopment on Beach Boulevard is not the only space in the city being revitalized. The redevelopment trend follows the reconstruction of the Anaheim Resort, downtown Anaheim, and the areas surrounding Angel Stadium and Honda Center.