REDDING, Calif.—Envision a stateside trip where every possible outdoor activity, whether hiking, biking, boating, or skiing, comes fully loaded with picturesque views. Now imagine stretching that long weekend you've budgeted for into a full week because the prices are that reasonable.
Push any preconceived notions of Californian pretense aside: This is the nation's premier outdoor adventure playground—unexploited, it's like having a year-round recess to yourself—with Redding serving as both activity hub and mountain biking sanctuary.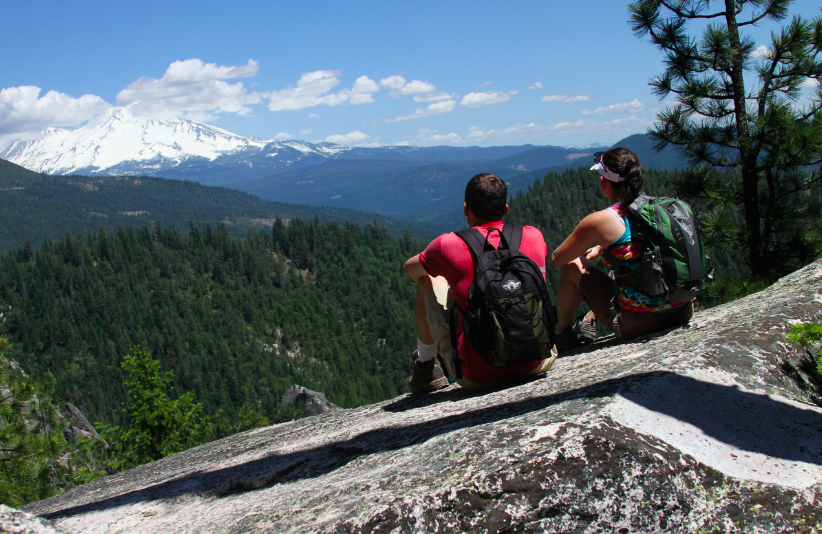 Trial by Fire
It's not about the fall, it's about getting back up and getting back to it. Bonus points for sporting a few wounds, a head-to-toe layer of dirt, and a huge smile.
I'm not referring to the gnarly fall I took off a cliff in early April: After collecting myself and the bike, I pedaled away with mere flesh wounds. I'm referring to the Carr Fire that burned for more than a month last summer in Shasta and Trinity counties in Northern California, blazing through a decent number of Redding's beloved mountain biking trails.
With the seventh-most destructive and seventh-largest wildfire in state history came quite a fall, but the community helped each other back up and the uplifting next chapter is being written beautifully, in part by the Redding Trail Alliance, the center of Northern California's mountain biking scene. I spent a week biking with and getting to know its members. Long before the fire, the group was devoted to creating and maintaining the world-class trails in the area that so few people seem to know about.
If trail creation is an art form, my riding companion on day one, Brian Sindt, is Bob Ross. He had a heavy hand in creating the bulk of Redding's trails, and members of the alliance started their trail careers working for him, still calling him their "Yoda." We had a long chat about what trail creation and maintenance entails.
It's no small task. It can take up to five years for a trail to come to fruition, a process involving multiple permits, biologists, archaeologists, all the "ists," and close work with the Bureau of Land Management. For example, a trail can be entirely diverted around an endangered species (that would be the Snail Trail).
Hitting the Trails
My first day of riding, the only one spent among the charred remains, was eerily beautiful. I couldn't keep this thought to myself for long. To my relief, Brian shared in the sentiment and we often stopped to photograph the colorful wildflowers and discuss our surroundings.
Fire is a natural part of a forest's regeneration system. Most forests need fire exposure every 50 to 100 years to invigorate new growth. Some seed germination is specifically cued to post-fire conditions. What once was suppressed by the shade is given new light. Cycling the golden-brown trails, alongside patches of new bright green grass, moss, and a rainbow of wildflowers among the singed, fallen tree trunks was just as breathtaking as the bluebird sky against the snow-capped mountains in the distance.
The fire that took so much contributed immensely to the beauty before my eyes. It also brought a community of people who share in the passion of the outdoors even closer. I admired and connected with the people I met in Redding and their well-cared-for trails. I began planning my return trip before I'd even left.
Mountain Biking
Curiosity over the Mayor's Mountain Biking Challenge (MMBC) is what initially lured me to Redding, as I'd put mountain biking on pause for 11 years. After extensively rehabilitating my balance after a head injury, mountain biking was the last activity I had yet to revisit. Anyone who can ride a bike can partake in the MMBC, that's the beauty of it, but the advanced and even some of the intermediate level trails require an amount of body awareness, anticipation, dexterity, and adaptability.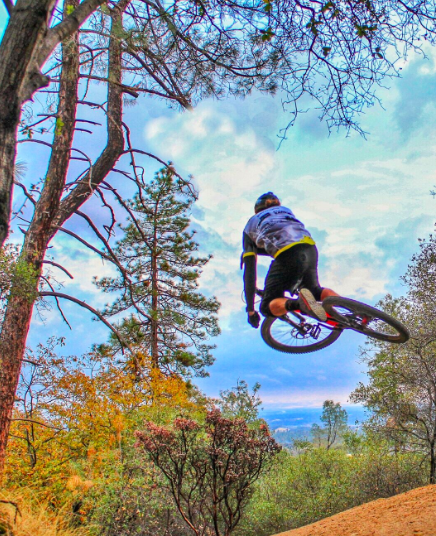 Whether visitor or resident, the challenge is hands down the best way to explore the beautiful and diverse backcountry trails, highlighting the incredible beauty of Redding and the surrounding areas. Participants check off rides completed on the beginner, intermediate, or advanced levels (or all three) in a passport. Prizes are involved, and the first 10 riders, five male and five female, to "blackout," or complete, all the trails receive a limited edition blackout jersey. It's crazy—in a good way—how prizes can elevate an event.
Sitting at Maxwell's Eatery, a popular downtown Redding restaurant, at a large table with some members of the trail alliance, I observed a young man who'd stopped by to wish one of the riders a happy birthday. He declined a beer, as he was heading back out to finish the last ride and "blackout"—at 10 p.m.! I was thoroughly impressed, but it didn't seem all that weird to anyone else.
Riders have all of April and May to complete the challenge, and as of the time of writing, in late April, the 10 blackout jerseys just finished being claimed.
The way the event draws the community together is utterly charming. I have exactly zero mountain-biker friends at home in New York City, and I now have a bunch to "roll with" in Redding. They'll receive you at their well-maintained trails with open arms, as they did for me.
Though I am a bona fide envelope-pusher, the trail that almost put me out of commission was just an "intermediate." No one has the time of her life while getting her butt kicked like me, but I'm no fool. After a day of physically wrecking myself, I dialed it back and enjoyed a few days of lighter mountain biking, hiking, and sightseeing. Choose your own adventure, activity level, and pace. For the best access to a wide variety of good eats and cold drinks, Redding is the place to stay.
Redding
Redding is located at the north end of the Sacramento Valley in Shasta County. With its own airport with direct flights from both San Francisco and Los Angeles, it's known as the hub city for outdoor recreation and adventure in the Shasta Cascade region.
But the city of Redding has plenty of attractions of its own. A signature landmark is the Sundial Bridge, a glass-decked suspension bridge and one of the world's largest working sundials, reaching 217 feet into the sky. The steel, glass, and granite span evokes a sense of weightlessness, and the translucent, non-skid decking provides for spectacular viewing at night, when the bridge is ethereally lit from beneath.
The Sundial Bridge links the north and south campuses of Turtle Bay Exploration Park and Museum, where families can spend hours learning about the interactions between humans and nature through interactive exhibits, activities, and experiments.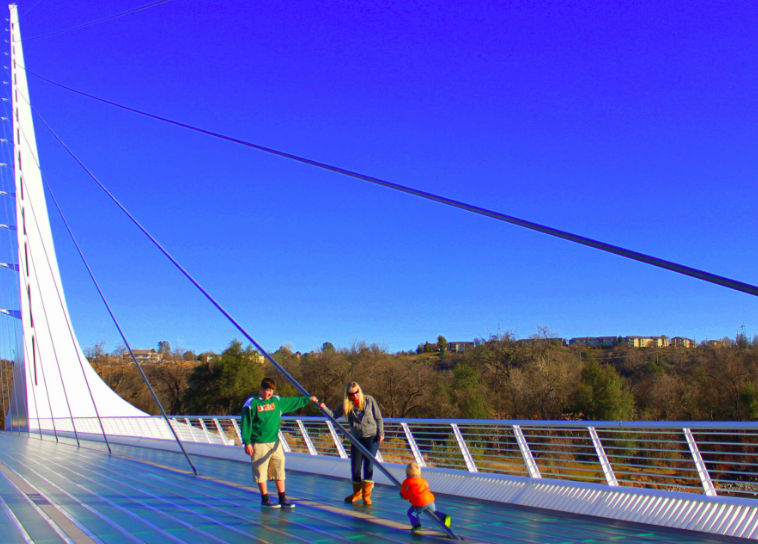 In the park is McConnell Arboretum and Botanical Garden, with its 200 acres of Mediterranean climate display gardens, children's garden, and two water features. This is a beautiful place to enjoy the sunset.
All these attractions are on one end of the Sacramento River National Recreation Trail, which stretches over 17 miles from the bridge to Shasta Dam, a winding trail perfect for bike rides, runs, or casual strolls. The bridge is getting an extension into nearby downtown Redding.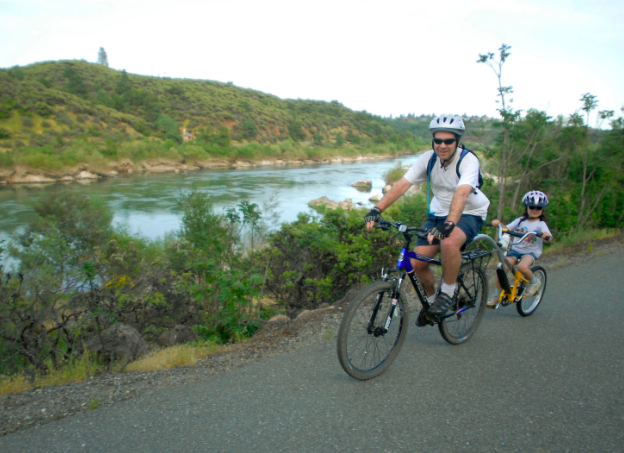 Over $200 million is to be invested into Redding's downtown, and the past few years have seen many renovations and new developments. There are no luxury hotel chains, but there are well over 2,000 rooms in the area. In addition to downtown attractions including my favorite, the 1930s Art Deco restored Cascade Theatre, and the various restaurants and breweries, the new Americana Lodge will open in mid-May, with an outdoor focus. The new hotel will have fire pits and bikes for customers to ride to their destinations and include easy access to the river trail. The new extension will come right up to the front of the building.
Redding once was focused on lumber and mining; the shift is now toward service. It's only a matter of time until Redding fully capitalizes on the endless outdoor bounty surrounding it. The city already is making great strides in accommodating adventure seekers in the most organic way possible—by taking care of their own outdoorsmen and women. Prices will eventually go up, but for now, the destination is easily and affordably yours.
Outdoor Fun
Spring is a splendid time to take in Northern California, and summer is just as beautiful, but hot. Thankfully it's a dry heat.
A short drive from Redding affords you every outdoor sport imaginable: Paragliding, road cycling, paddleboarding, kayaking, hiking, fly fishing, and Mount Shasta with its skiing, Nordic skiing, and mountaineering. The following outdoor activities cannot be missed:
Tour Lake Shasta and the Caverns: Ten miles north of Redding is Lake Shasta, popular for boating, water skiing, wakeboarding, house boating, and fishing, and made possible by Shasta Dam, which stretches across the Sacramento River. On a clear day, the Shasta Dam overlook offers a view of the dam, Lake Shasta, and Mount Shasta, all in one frame.
Crossing the emerald waters of the man-made lake is the only way to access the area's most unique natural wonder, Lake Shasta Caverns National Natural Landmark. The scenic catamaran cruise, winding bus ride, and the information-filled tour is an adventure the whole family can enjoy. It is not uncommon to see bald eagles, mountain lions, and black bears with their cubs on this two-hour tour. Many geologists consider the caverns to be the most beautiful limestone caves in the country, and no photo I've seen does justice to the wonder I felt among the stalactites and stalagmites.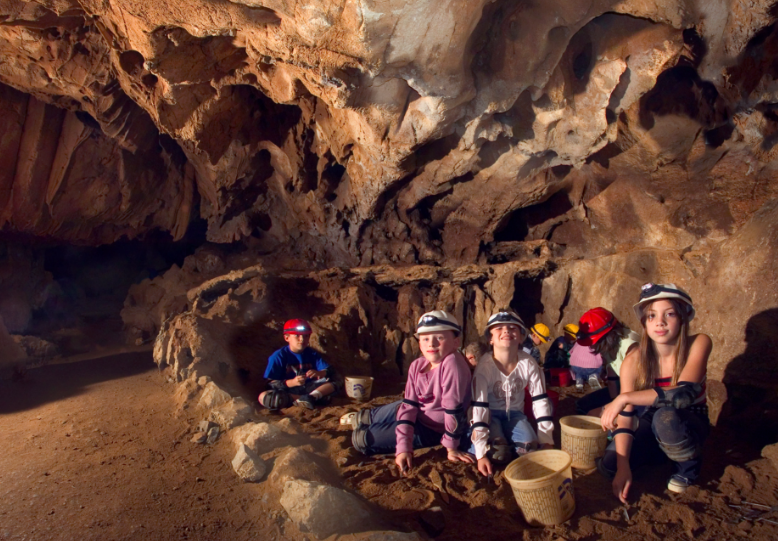 Roadtrip to the Waterfall Loop: For a day filled with postcard-worthy vistas, start with Hedge Creek Falls in Dunsmuir (and eat at Yaks). An easy 0.7-mile round trip hike leads to the falls, where the cave behind the waterfall allows you to go behind and view the cascading water from a different perspective. Next, drive or hike up to the pristine, clear waters of the alpine Castle Lake. The mountain oasis is the perfect place to swim in the warmer months, kayak, or paddleboard.
It's less than 30 miles to McCloud Falls, which actually consists of three waterfalls accessible to each other by short drives or two miles of hiking. Middle McCloud Falls is the largest and most impressive but Upper McCloud has a mesmerizing aquamarine pool.
Saving the best for last, visit McArthur-Burney Falls Memorial State Park, often referred to as the most beautiful waterfall in North America. Theodore Roosevelt called it the eighth wonder of the world. The falls flow year-round, from both over the top and through the rock face from underground springs.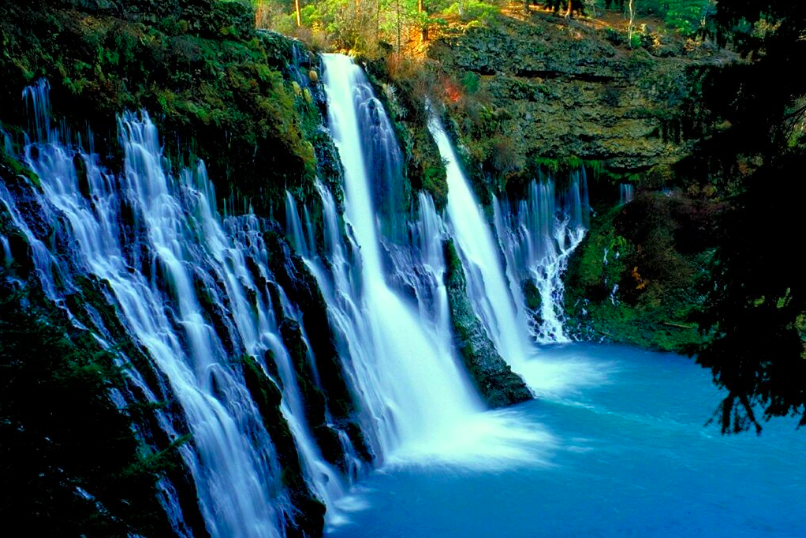 Visit Lassen Volcanic National Park: With incredible mountain scenery reminiscent of Yosemite and thermal wonders similar to Yellowstone, Lassen offers all the beauty with a fraction of the visitors to share it with.
Geology and earth science buffs take note: Lassen is home to all four types of volcanoes (shield, plug dome, cinder cone, and composite) with Lassen Peak being the largest plug dome volcano in the world. The road, reaching 8,512 feet and fully drivable May through November, will take you almost to the peak, making it the highest road in the Cascade Mountain range. Manzanita and Summit lakes, in all their picturesque glory, invite you to picnic, camp, fish, and kayak. Lassen is also a great place for hiking and mountain biking.
Where to Eat
With more than 300 restaurants, there's no shortage of food to fuel your adventures. These suggestions are a good start.
Mosaic: Serving up California cuisine, local and fresh, Mosaic is one of the newest eateries in town. The name is inspired by the mosaic tiles under the nearby Sundial Bridge. This is where I had the best dessert I've devoured in recent history, their chocolate pot de crème.
Woody's: The only thing better than tater tots are loaded tater tots, and Woody's has four clever topping configurations to choose from. I suggest the bacon and bleu cheese. (Note to tots fans: Maxwell's also has "tater tot nachos.") Also helpful for the non-committal, the brewery offers a beer sampler, with six five-ounce pours.
Jack's Grill: Legendary Jack's is one of the longest-running restaurants in the city. I didn't get a chance to stop in, my one regret of the trip, but everyone raved about Jack's steaks and the beautiful simplicity of meat, garlic bread, baked potato or fries, and salad. Next time, it's my first stop!
Yaks: The burgers I'd heard so much about lived up to the hype. I went with the garlic burger, with garlic fermented three weeks in white wine, and weeks later I can still smell it on my skin. That is to say, it was perfect. The baked goods, made in-house, are similarly delectable. I took a sticky bun for the road and days later, as I was eating at the airport, people knew I'd been to Yaks. I didn't share.
Amanda Burrill sees through an adventurous lens, typically focused on culinary and travel. Her education includes a bachelor's in archaeology, a master's in journalism, a culinary degree from Le Cordon Bleu, and wine and spirits credentials earned while living in Paris. She is a U.S. Navy veteran, Ironman triathlete, high-alpine mountaineer, and injury connoisseur who ruminates on UnchartedLifestyleMag.com