The oldest living veteran in America, who fought in World War II, died in Texas on Dec. 27.
Richard Overton was living at his home in Austin but was recently admitted to a hospital due to pneumonia, which he had been battling on and off this year.
A family member confirmed the death with the Fort Worth Star-Telegram.
Shirley Overton, whose husband was Richard's cousin and longtime caretaker, said that Overton was released from the hospital on Christmas Eve prior to the death.
"They had done all they could," she said.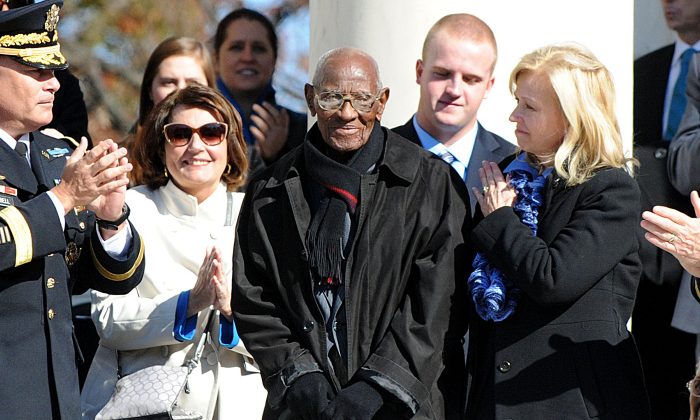 He died late Thursday in a rehab facility in Austin, she added.
In a statement, Texas Gov. Greg Abbott lauded Overton.
"Richard Overton is an American icon and a Texas legend. With his quick wit and kind spirit he touched the lives of so many, and I am deeply honored to have known him," Abbott said.
"Richard Overton made us proud to be Texans and proud to be Americans. We can never repay Richard Overton for his service to our nation and for his lasting impact on the Lone Star State."
He said he and his family would pray for Overton's family.
"Saluting Richard Overton for his service, spirit, and longevity. One of the last of our World War II vets has passed away at age 112," added Rep. Lloyd Doggett (R-Texas).
Born in 1906, Overton received increasing attention as he's gotten older, especially after becoming the oldest veteran in the United States. He's also believed to be the oldest man living in the country.
Overton went on his first private jet ride to Washington in April for a tour of the National Museum of African American History and Culture. In June, his identity was stolen and his personal bank account was drained, but the Bank of America later restored the funds. Volma Overton Jr., a cousin, said that the investigation into the hack is ongoing.
"What I do know now is that Richard just happened to be one of thousands that this has happened to and that this is much bigger than I could have imagined," he said.
Overton celebrated his 112th birthday in May, on his front porch which is known locally as his "stage." He built it in East Austin in 1945.
The World War II vet loves to smoke cigars, and regularly smokes a dozen a day, mostly on the porch.
The Dallas Morning News reported that strangers often stop by the house on Richard Overton Avenue, renamed after him last year, to take his picture or shake his hand. They can also go to a nearby mural that includes him in it.
Many of his family members had died, including his nine siblings, his wife, and his ex-wife. He never had any children.
From NTD News