Alberta Engineers Agree About Shen Yun: 'It was amazing'
March 29, 2011 5:32 pm Last Updated: October 1, 2015 5:15 pm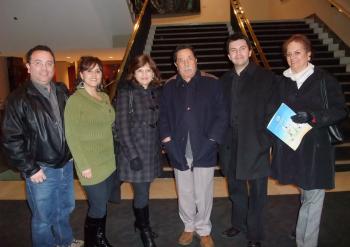 CALGARY, Canada—A happy group of friends celebrated the rebirth of an ancient culture at Shen Yun Performing Arts, which played at Calgary's Southern Alberta Jubilee Auditorium on March 27.
Luis Gomez, an engineer in the oil industry, was thoroughly charmed by the classical Chinese dance production.
"It was colourful, beautiful. The choreography was so amazing and really we enjoyed it. I really recommend it … I am impressed."
Mr. Gomez's wife, Stella, who works as an engineer at Jacobs, one of the world's largest providers of professional technical services, was delighted by Shen Yun's digital backdrops which display animated images and grand landscapes behind the dancers as they perform.
"It was really nice. Sometimes it was so real!" she said.
Shen Yun Performing Arts New York company is the world's premier classical Chinese dance and music company. The company is comprised of top overseas Chinese artists whose mission is to revive traditional Chinese culture, an ancient heritage that has been all but destroyed under the communist regime.
Mrs. Gomez appreciated gaining an insight into traditional Chinese culture from the story-based dances featured in Shen Yun.
"It was amazing. It was a good way to know about the Chinese culture, traditions," she said. "I loved it … choreography, synchronization—everything, I loved it."
The traditional Chinese instruments in Shen Yun's unique orchestra were a wonderful complement to the dances, Mrs. Gomez said.
"Everything, the music, I like the orchestra, … really nice."
The couple's parents and friends all shared the evening together, bringing home memories to last a lifetime. Friend Claudia even ranked the performance "six stars out of five!"
Jorge Castillo, friend and chief structural engineer at Tri Ocean Engineering Ltd., said Shen Yun showed a different side of China.
"I enjoyed … the history they were telling along the years, 5,000 years. There is a lot of history, and I love the stories and the costumes," he said.
"I think it was a very good show."
It was his first time to see the show and Mr. Castillo said he was glad to learn about classical Chinese dance.
"The instruments and the movements, the basic dancing … they have a lot of dance and special movements. I have never seen [classical Chinese dance] before, so it was a good experience. It was very, very well put together. And the synchronization was very, very good."
Mr. Castillo was ultimately inspired by the performance and felt the theme of the show was "to live peacefully."
Shen Yun will stage one more show in Calgary before finishing its Canadian dates in Vancouver. For more information visit ShenYunPerformingArts.org.