Marcus Arbery, the father of Ahmaud Arbery, who was fatally shot on a residential street last year, issued a message of unity following the guilty verdicts of three Georgia men on Wednesday, saying: "All lives matter."
"For real, all lives matter, not just blacks, we don't want to see nobody go through this," Marcus Arbery said outside the courtroom, shortly after a Georgia jury found all three men guilty in the killing of his son following two days of jury deliberations.
"I don't want no daddy to see their kid get shot down like that," he said. "So hey, let's keep fighting, let's keep doing it and making this place a better place for all human beings—all human beings. Everybody. Love everybody."
"All human beings should be treated equally," he added.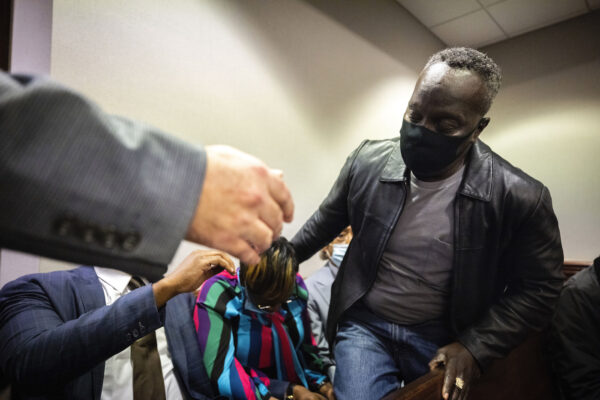 Moments earlier, the three men—a father and son Gregory McMichael, 65, and Travis McMichael, 35, and their neighbor William "Roddie" Bryan Jr., 52—were convicted of murder, with the jury dismissing a self-defense claim.
They faced nine counts each in Arbery's death, including malice murder, felony murder, and aggravated assault.
The younger McMichael was found guilty of all nine charges, while his father was found guilty of all but one charge, malice murder.
Bryan was found not guilty of one count of felony murder and one count of aggravated assault, but the jury found him guilty of three counts of felony murder and three other charges.
The three men now face maximum sentences of life in prison without the possibility of parole. They were also indicted on separate federal hate crime charges including attempted kidnapping and interference with rights.
Defense lawyers have said they will appeal.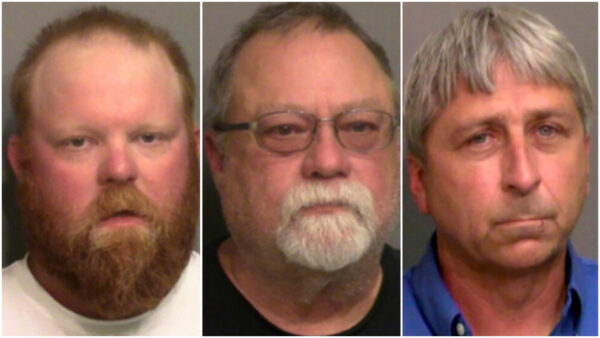 Reacting to the guilty verdicts, Arbery's mother, Wanda Cooper-Jones, expressed her relief in front of the courthouse.
"It's been a long fight, it's been a hard fight, but God is good," Cooper-Jones said. "Early in—to tell you the truth, I never saw this day back in 2020. I never thought this day would come, but God is good."
"You know him as Ahmaud, I know him as Quez, he will now rest in peace," she added.
President Joe Biden said in a statement that the convictions showed the U.S. criminal justice system is "doing its job," though Arbery's murder was "a devastating reminder of how far we have to go in the fight for racial justice in this country."
"Instead, we must recommit ourselves to building a future of unity and shared strength, where no one fears violence because of the color of their skin," Biden said.
Vice President Kamala Harris meanwhile accused the defense counsel of "setting a tone that cast the attendance of ministers at the trial as intimidation and dehumanized a young black man with racist tropes."
"The jury arrived at its verdicts despite these tactics," she said.
"Ahmaud Arbery was a son. He was a brother. He was a friend. His life had meaning. We will not forget him. We honor him best by continuing the fight for justice," Harris added.
Jack Phillips contributed to this report.