This Ethiopian tribeswoman holds the Guinness World Record for the biggest lip plate embellishment, which is nearly as big as her head. Her incredibly large lip plate, made out of clay, measures an unbelievable 59.5 centimeters in circumference and 19.5 centimeters in diameter, and is over twice the size of an average disc!
Her whopping facial decoration was discovered by an Australian film crew led by cinematographer Abrahem Joffe when they were making a documentary series for Canon Australia in October 2014.
Amazing picture of woman with mouth bigger than HEAD after fitting world's biggest lip disc http://t.co/jWJ4nWQrH5 pic.twitter.com/AJIZLweTc2

— Daily Mirror (@DailyMirror) October 10, 2014
While in the remote valleys of southern Ethiopia, the film crew chanced upon Ataye Eligidagne, a tribeswoman who was wearing a large disc adornment on her lower lip. The plate was almost the size of her head. They were astonished upon seeing this jaw-dropping embellishment, which was so large even the locals were impressed.
"We were taking a tour with some of the local guides. When they spotted the woman, they were absolutely bewildered," Joffe told Daily Mail Australia.
"I'm a big reader of Guinness World Records and I figured it was out of the ordinary, but you know you've found something special when the locals are amazed."
Filmmakers discover woman with the world's biggest lip disc http://t.co/sovtcjFGGe pic.twitter.com/jx54D8hvZ8

— Daily Mail Femail (@Femail) October 9, 2014
Through the help of a local guide, Joffe learned that Eligidagne had stretched her lip for three years and extracted two of her bottom front teeth in order to accommodate the humongous plate. Eligidagne told Joffe that it was not painful, nor had there been any adverse effects caused by the procedure, though she admitted that the discs might not be around forever, and there are fewer younger people wearing them today.
During their conversation, Joffe gave Eligidagne some Coca-Cola and was absolutely amazed by her reaction.
"Ataye poured it onto her tongue with the disc in place, and suddenly had this stunned expression. It was incredible," he said.
Wearing lip plates is a symbol of beauty and prestige for both the Suri and Mursi tribes, also known as Surma people, who reside in South Sudan and southwestern Ethiopia.
It is said that the bigger the lip plate a woman has, the better the wife she will make; thus, the larger the dowry of live cattle the woman's family would receive upon her getting married.
The women take pride in crafting and embellishing their own discs. Lips are normally pierced when the women are between the ages of 15 to 18 for those who choose to have the procedure done. The process of donning lip plates on the girl is usually taken up by their mother.
Usually, a ceramic disc is used to stretch the lip after the cut and will remain till this cut has been healed. This is then followed by placing a disc of slightly larger size. This is further continued until it is large enough to fit the first lip plate, as per The Guardian.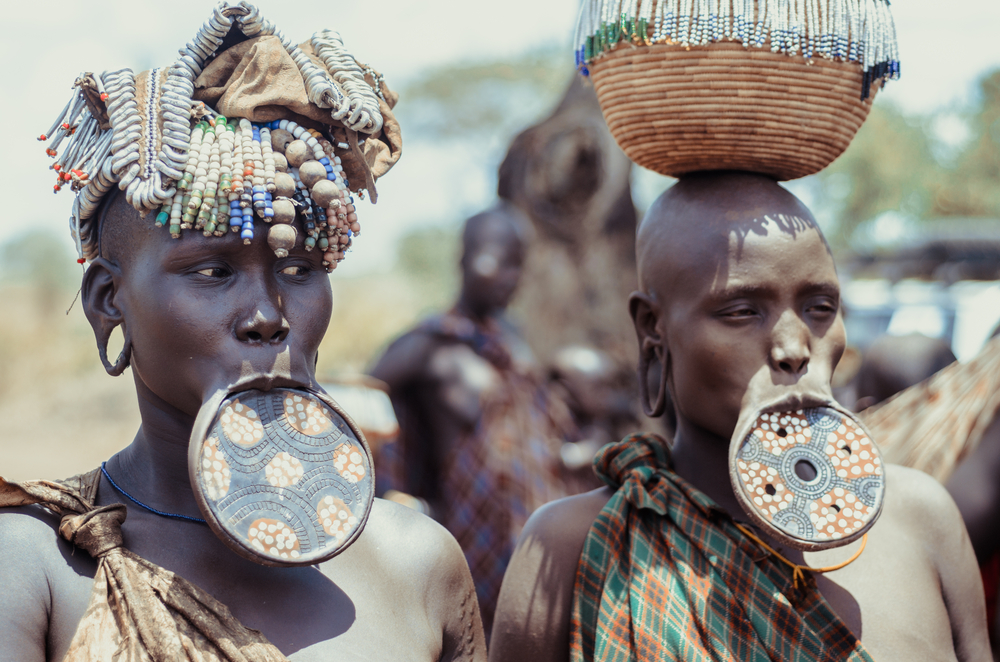 The lip plates are said to boost the self-confidence of the woman donning it. Due to the significance it has on a girl's self-esteem, some of them increase the size of their lip plate.
"I think that locally, it's a matter of pride," said Joffe.
Watch the video: