Part 1 of 2
In an era where fast fashion dominates, where can one find unique, high-quality garments? The answer is: in the past.
Whether it's a vintage designer scarf or a beautiful preloved cashmere sweater from Scotland (which are the absolute best—even new ones can't compare), these items prove that good craftsmanship can withstand the test of time. What's even better is that there's a good chance no one else will have the same item in their wardrobe.
The general consensus is that clothing dating back 20 years or more from present is considered vintage. (Yes, anything made before 1995 is now vintage.) Clothing more than 100 years old is considered to be antique.
Cool statement necklaces. Handbags in all kinds of shapes and colors. A funky novelty print 50s skirt.
"Throw on some ballet flats and a little white shirt—tie the shirt at the waist," suggests vintage connoisseur Theresa Campbell McKee. "Definite conversation starter. You can't find anything like it now."
Feeling the groove? Try a Hong Kong sweater tank with hand beaded designs, a popular piece from the 1960s. Designed to be a cocktail top, these sweater tanks are usually made out of a soft wool, with a label that reads "Made in Hong Kong."
"They look fabulous with pencil dresses, great even with skinny jeans," said McKee of the sweater tank. "There's so many ways to wear it, and nobody would have a top on like that."
"Once you learn more about it then you can get more adventurous," said McKee. "Find a maxi dress. Try finding an authentic vintage one. They'll be in prints and fabrics that you'll never see in a store—and new, so they'll stand out."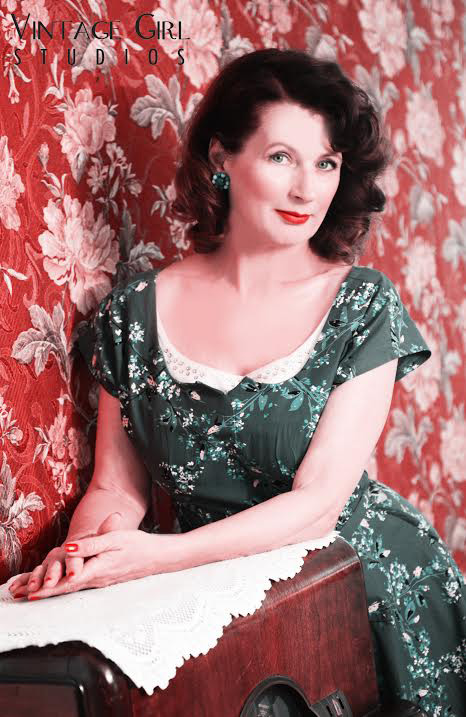 Luckily today, authentic vintage clothing is no longer a novelty limited to themed parties and Halloween. Because of shows like "Mad Men," "Boardwalk Empire," and even "Downton Abbey," the demand for authentic vintage items is higher than ever. A-list celebrities such as Taylor Swift and Alexa Chung are frequently seen rocking vintage skirts and dresses on the red carpet. We see a more retro look on the runway as well, with a 1970s theme dominating the Spring/Summer 2015 collections.
"Betty Draper in Mad Men—she looked like Grace Kelly. How can you not want to look like that?" said McKee, whose favorite era is the 1950s.
"When I put on a vintage dress, guaranteed, total strangers would come up to me and say, 'Oh my goodness, that dress is really nice, where did you get it?' A lot of it is very classic, but it's classic in a way that people know it's kind of different than what they're seeing now, but they can't put their finger on it, and they don't necessarily know it's vintage. They just know they like it. When you tell them how old it is, they can't conceive of that. [They say] 'It's 50 [years old] and it looks like that? It's in that perfect of condition?'"
Because of the high demand for authentic vintage items from the 1920s and the 1950s, prices for them have risen, especially for those that are in great condition. Authentic flapper dresses from the 1920s are at least several hundred and can get up into the thousands of dollars. Items from the 1950s are easier to find and are generally more affordable.
Only 15 percent of used clothing is recycled or donated in the United States.
Why Invest
So why invest in an authentic vintage item rather than buying an imitation or off the rack?
"Vintage is made better," said McKee, who is also the owner of online boutique Blue Velvet Vintage, featuring both authentic vintage items and vintage style clothing.
"If you want really well made clothes, sometimes it's better to spend more, have less, and have some beautiful pieces that you can incorporate into your wardrobe and that are going to last for years."
"There are some really nice things that you can pick up, for not huge money, but stuff that will last," said McKee.
"If you're picking up a piece that's 20, 40, 50, 60 years old, it's stood the test of time, obviously. I don't know how many new things you can buy nowadays [that can do that], unless you can afford very, very, expensive, high-end designers. Most of the things the average person will find in their store, that stuff is not going to be around in 40 years … It's definitely more expensive than what you'd get at H&M, but it's beautifully made."
Related Coverage
Americans now buy five times as much clothing as they did in the 1980s, and about 10.5 million tons of it goes into landfills each year, according to The Atlantic. Only 15 percent of used clothing is recycled or donated in the United States. Buying vintage, therefore, is a way to contribute less to textile waste.
"If you don't want it anymore, vintage has some value to it, so you can always sell it or you can hand it down to somebody else—a friend, or someone in your family," said McKee. "Usually it will last. You're not throwing it away. There's that part that I like about it too. It's recycling."
Appreciating the History
For a vintage enthusiast such as McKee, the story behind a garment makes it all the more interesting.
"It's like wearing a piece of history … It's one of a kind. A person actually wore it and had fun in it," she said. "When I wear a dress from the 1950s, a beautiful dress to a party or something, I'm thinking, what was the woman like and what kind of parties was she going to when she wore this dress in the '50s? To me it has a romantic factor to it as well."
McKee recalls the story behind one of her favorite vintage pieces: an Alfred Shaheen Hawaiian dress. She purchased it from a woman whose mother had worn the dress for her wedding in Hawaii.
"The fact that this woman got married in it and probably just wore it that one time—she had a Hawaiian wedding in the 50s," McKee said. "The woman who sold it to me was like, 'I'm so happy somebody will appreciate this. This is my mom's wedding dress.' It's things like that that excite me about vintage. Especially if you know who wore it and where they wore it."
So where is the best vintage found and what should you look out for when you're shopping for vintage online?
Check back later for Part 2.
About Theresa Campbell McKee:
Long before the days of "Mad Men," McKee was on the hunt for the best vintage pieces—first for herself, then for others.
She opened one of the first online vintage shops, Blue Velvet Vintage, back in 2002. For McKee, collecting authentic vintage clothing is more than a hobby—it's her passion and her career. She remembers being fascinated with her aunt's prom dresses and party dresses as a young girl in the early 1960s.
"I just always liked it," said McKee. "My whole life revolved around playing dress up, and I just carried that forward."
McKee comes from an accounting background and also spent time working as a chef on yachts. But in the back of her head, she was always thinking about how she could share her passion for vintage with others.
When her mother passed away from cancer, McKee decided that life was too short to not pursue her dream. The Internet had began to take off so she took the plunge and opened her own online store.
When she first began selling vintage, there were very few similar websites out there. Now, there are thousands of websites dedicated to vintage fashion, as well as countless sellers on the online marketplace Etsy.
As well as running her online store, McKee writes all about vintage fashion on her blog "Vintage Style Files." She welcomes questions about vintage from all readers and customers.