The group that oversees the Academy Awards on March 28 said it will carry out a "formal review" after actor Will Smith slapped comedian Chris Rock during the March 27 awards ceremony.
"The Academy condemns the actions of Mr. Smith at last night's show," said the Academy of Motion Picture Arts and Sciences in a statement. "We have officially started a formal review around the incident and will explore further action and consequences in accordance with our Bylaws, Standards of Conduct, and California law."
The statement comes after a late-night Twitter post in which the Academy wrote that it "does not condone violence in any form."
That investigation could see Smith ejected from the Academy of Motion Picture Arts and Sciences or suffer a suspension from the group and its events. It's not clear whether Smith will have to hand back his Best Actor Oscar for "King Richard," which he won just minutes after the alleged slapping incident.
Before the confrontation, Rock was delivering a monologue during a presentation and made a joke about Smith's wife Jada Pinkett Smith's shaved head. "Jada I love you, 'G.I. Jane 2,' can't wait to see it," Rock said as the camera cut to Pinkett Smith, who appeared to roll her eyes.
Then Smith appeared to slap the comedian before he returned to his seat and yelled, "Keep my wife's name out your [expletive] mouth."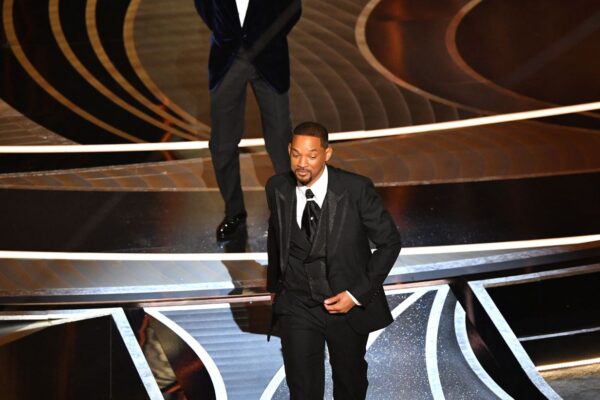 For his part, Rock declined to press charges against Smith over the incident, according to the Los Angeles Police Department.
"LAPD investigative entities are aware of an incident between two individuals during the Academy Awards program," the police department told CNN and other news outlets in a statement on March 28. "The incident involved one individual slapping another. The individual involved has declined to file a police report. If the involved party desires a police report at a later date, LAPD will be available to complete an investigative report."
Rock has not issued a public statement following the incident.
While it's not clear if the incident was staged, Smith issued an apology during his Oscar award acceptance speech. However, he didn't mention Rock or apologize to him.
Smith said: "I want to apologize to the Academy. I want to apologize to all of my fellow nominees. This is a beautiful moment and I'm not crying for winning an award. It's not about winning an award for me; it's about being able to shine a light on all of the people," the "Fresh Prince of Bel-Air" actor said.
"In this time in my life, in this moment, I am overwhelmed by what God is calling on me to do and be in this world. Making this film, I got to protect Aunjanue Ellis, who was one of the most strongest, most delicate people I ever met.
"I got to protect Saniyya [Sidney] and Demi [Singleton], the two actresses that played Venus and Serena. I'm being called on in my life to love people and to protect people and to be a river to my people."