A Royal is Born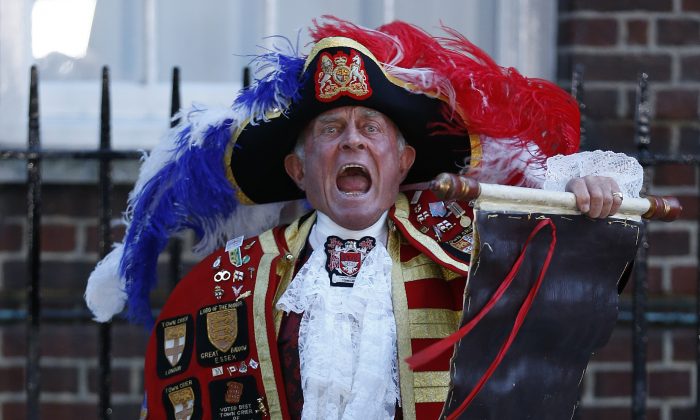 The arrival of a new royal baby imbued the pomp and pageantry of Buckingham Palace with an extra sense of history Monday as thousands of reporters, Londoners and tourists awaited the most anticipated birth announcement in years.
Patient well-wishers held a 12-hour vigil, many of them craning for a better view and a photograph of the palace gates, where the official bulletin announcing the birth was posted on an easel. Grown men rode on friends' shoulders. Others used step ladders.
Outside the hospital where the Duchess of Cambridge gave birth to the boy, a man dressed as a town crier in traditional robes and an extravagant feathered hat shouted the news and rang a bell.
The car carrying the announcement drove from the hospital to the palace, where it was greeted by a crowd shouting "Hip! Hip! Hooray!" and singing "For He's a Jolly Good Fellow" while waving Union Jack flags.
David Etrillard, visiting from France, said the French "look at Britain with interest because we have no monarchy so it's great for us. I'm so happy it happened while me and my family are on holiday here."
The baby boy will be third in line to the throne behind Prince Charles and Prince William and is likely to be monarch one day.
The birth announcement on Buckingham Palace letterhead was brought out for public inspection on the easel by Badar Azim, a footman with the royal household, and Ailsa Anderson, the queen's press secretary, before being taken inside.
The easel was previously used to announce William's birth in 1982. The framed sheet of paper suddenly became the target of a thousand camera flashes when a sea of people thrust their smartphones through the railings. Hours after the initial announcement, crowds were still surging forward to get near the easel.
They no longer wield political power, but Britain's royals are unsurpassed as celebrities and cultural icons.
"They're sort of the celebrities of the world," said Anne Frey, a beautician from Madison, Wis., watching the daily changing-of-the-guard ceremony with her husband.
"We can tell our kids one day that we were here when it happened," said Jill Muencz, a tourist from Cleveland, Ohio. "It's fantasy. We don't get to experience all that" as Americans.
The birth of a future monarch added to British sports successes at Wimbledon, the Tour de France cycling race and in the Ashes cricket competition.
Few Britons were willing to go as far in their royalism as Terry Hutt, a carpenter from Cambridge in eastern England, who camped outside the hospital for 12 days, sleeping outside the hospital on a bench covered with a Union Jack blanket.
Hutt, who is proud to have met every royal from the late Queen Mother on, said he was doing his bit for Britain by camping outside the hospital in his red, white and blue Union Jack suit, holding flags and congratulatory banners.
"To me, the royal family play a very, very important role," he said. "Visitors from all over the world haven't got a king and queen. It's a plus for us."
As London commuters rushed past the hospital to work, Pascal Faure, a maintenance contractor originally from South Africa, stopped to snap a picture on his phone for friends at home and in Australia.
"It's part of their heritage, I guess, their culture," said Faure, who claimed his own tenuous royal connection: "Apparently my third cousin once removed is Chelsy" Davy, Prince Harry's former girlfriend.
He also had more insight than most into the 5,000-pound ($8,000) -a-night private wing where the child was born. He fixed the air conditioning there last week — a good thing, too, as Monday was expected to be the hottest day of the year in London.
The outpouring of affection for the royal infant is a sign of how thoroughly Britain's royal family has rebuilt its image since the low point that followed the death of Princess Diana in a car crash in 1997. Diana had been popular, glamorous and — in the eyes of many — badly treated by the royal "Firm."
Sixteen years on, support for the monarchy is riding high after William and Kate's 2011 wedding and last year's Diamond Jubilee celebrations for Queen Elizabeth II's 60 years on the throne.
For non-Britons, the emergence of an attractive young generation that includes William, Kate and soldier-socialite Prince Harry has given the clan a mix of glamour and celebrity that is hard to resist.
"We like to pretend we have a king and queen," said Maddie Cruse, from Helena, Montana, as she stood outside the palace. "Since we don't have a king and queen, we borrow yours."
Complete Coverage
Prince George rocked on his horse that the Obamas sent him as a gift when he was born, as the U.S. President and First Lady visited the royals for dinner on April 22.

British tree worker Jim Schembri was in the middle of work when he found himself pinned on the ground by a branch that had suddenly fell on top of him.

Three members of the royal family as well as a number of people who serve them got their portraits taken for an upcoming exhibition. British photographer Hugo Rittson Thomas arranged and took the shots, showing members of the royal household from several angles at once. Wearing formal grab, the people stand out against a stark […]

The Queen reflects on 100 years ago today, in 1914 during WWI, when German and British soldiers met in No Man's Land for an unplanned Christmas truce.

Kate Middleton, the Duchess of Cambridge, had an ultrasound during her 12-week pregnancy checkup and, according to a tabloid report on Thursday, she'll be having a girl. The same report said that she recently collapsed and was discovered on the floor by an assistant. Middleton, 32, had a checkup with royal physician, Dr. Alan Farthing, in mid-October, […]

Prince William and Kate Middleton have been on a "babymoon" in Scotland for the past few days, and it was apparently at the behest of Queen Elizabeth II, who wanted the couple to stop fighting, according to a report on Monday. A gossip website claims that the couple has been separated from one another, with Kate […]

Kate Middleton, the Duchess of Cambridge, was linked to a security scare recently after members her royal protection squad swarmed and then surrounded a car that stopped outside of her mother's house where Kate is staying. UK father Adam De Marco told the Telegraph that armed officers surrounded his car after he tried to change a flat tire […]

Prince William has been extremely supportive of his wife, Kate Middleton, as she deals with a difficult pregnancy, according to reports. Meanwhile, there's been rumors that the royal couple has been fighting. Kate, the Duchess of Cambridge, has been bed-ridden with Hypermesis Gravidarum, a complication that arises in some pregnant women. "It's been so difficult, […]

Queen Elizabeth was given an incredible belated 80th birthday present — a carriage made with gold, jewels and even wood from Isaac Newton's famous apple tree.

Young Prince George's birth certificate was released by the royal Clarence House on Friday. On it are a few interesting details: Prince William, or His Royal Highness Prince William Arthur Philip Louis, or the Duke of Cambridge, signed his name "William."  Princess Catherine Elizabeth, or Her Royal Highness, or the Duchess of Cambridge, didn't sign […]

Royal baby George's birth certificate has been revealed by the Clarence House, the royal house of the United Kingdom. Among the facts shown on the certificate is the occupation of George's mother Kate: "Princess of the United Kingdom." In 1982, there was no box filled in for Diana's occupation, according to BBC correspondent Peter Hunt. […]

Prince William's last name: Is it the same as his baby's?  George Alexander Louis was born to Prince William and Catherine, Duchess of Cambridge, on July 22. Though George has three names, none of those are his last name. Prince William's last name is Mountbatten-Windsor, but the name is rarely associated with him, because of […]

The royal baby's surname is unclear at this point, but it could be Mountbatten-Windsor. Prince William and Duchess Catherine typically don't use the surname, because of the titles before their first names. George V in 1917 declared that Windsor be the surname for all descendants in the male line of Queen Victoria, other than female […]

The royal baby of Prince William and his wife Catherine, Duchess of Cambridge, was named George Alexander Louis.  "The Duke and Duchess of Cambridge are delighted to announce that they have named their son George Alexander Louis," said the Clarence House via Twitter. "The baby will be known as His Royal Highness Prince George of […]

Royal baby meets world: Here are some photos of that special moment in the life of new parents—taking their baby home for the first time—and of the unique moment of unveiling, so to speak, of a little baby who has attracted huge interest.

Princess Kate and Prince William exited the London hospital with the royal baby boy in arms on Tuesday, amid throngs of media photographers.

Royal baby news was ubiquitous in the United States on Monday, but surveys have shown American interest pales in comparison to Commonwealth nations.

On June 21, 1982, after 16 hours of labor, Princess Diana gave birth to Prince William, first heir to the British throne to be born at a hospital.

As per tradition, the birth of Britain's royal son was announced by town crier. The rest of us heard the good news in a more modern way—via Twitter.