"My heart burst the first week that we had the homeless showers ministry in our church parking lot," Deborah (Debbie) Gunning told The Epoch Times.
"A sad young man entered the shower, and when he came out his first words he said after it was 'I feel like a human being again.'"
It was during that moment when Gunning gained confidence that God had her in the right place.
To her friends, Gunning is the prime example of the perfect volunteer.
The retired 71-year-old Oceanside, Calif., resident has been serving her local homeless community since 2018 on top of attending and serving her church at Calvary Chapel on Sundays and running a weekly bible study.
"Debbie goes beyond the call of duty as she helps in various positions at the Bread of Life Ministry, which is part of the Bread of Life homeless outreach," her friend Alicia DeJoy told The Epoch Times.
"[She] is kind and does not look for attention as she handles everything with humility."
In her efforts to love on her local homeless community, Gunning found herself helping on a weekly basis with mobile shower programs that serve the Northern San Diego homeless community, along with serving at ReStore—a thrift shop connected to the San Diego Rescue Mission, a non-profit homeless shelter and recovery center.
"A lot of times when the people come there, they may be in their own world and that's okay. You don't know who's accosted them, you don't know what they lost, and they're so dejected that they think don't matter. They think that if they were gone, they would be not missed, so we're trying to give them hope!" she said.
For Gunning, she credits God with giving her the idea to serve the homeless through fiction literature that ignited her heart for a new adventure.
"I read a series of three novels, and it was about this woman that lived in the very top at the penthouse and through a divorce and unethical dealings with her husband she ended up with her mom and her two boys in a shelter," Gunning shared.
"And it got me thinking about that because when her mom passed later on in the books, she took that inheritance money and bought a rooming house with a few apartments in it where she could her people that were in her situation."
"I thought that would be so cool to do something like that, but you can't do something like that on a shoestring budget in California. And you know it was a thought that spurred, and I still wanted to do something to work with the homeless," she added.
Even during the pandemic, Gunning never gave it a second thought not to serve the homeless.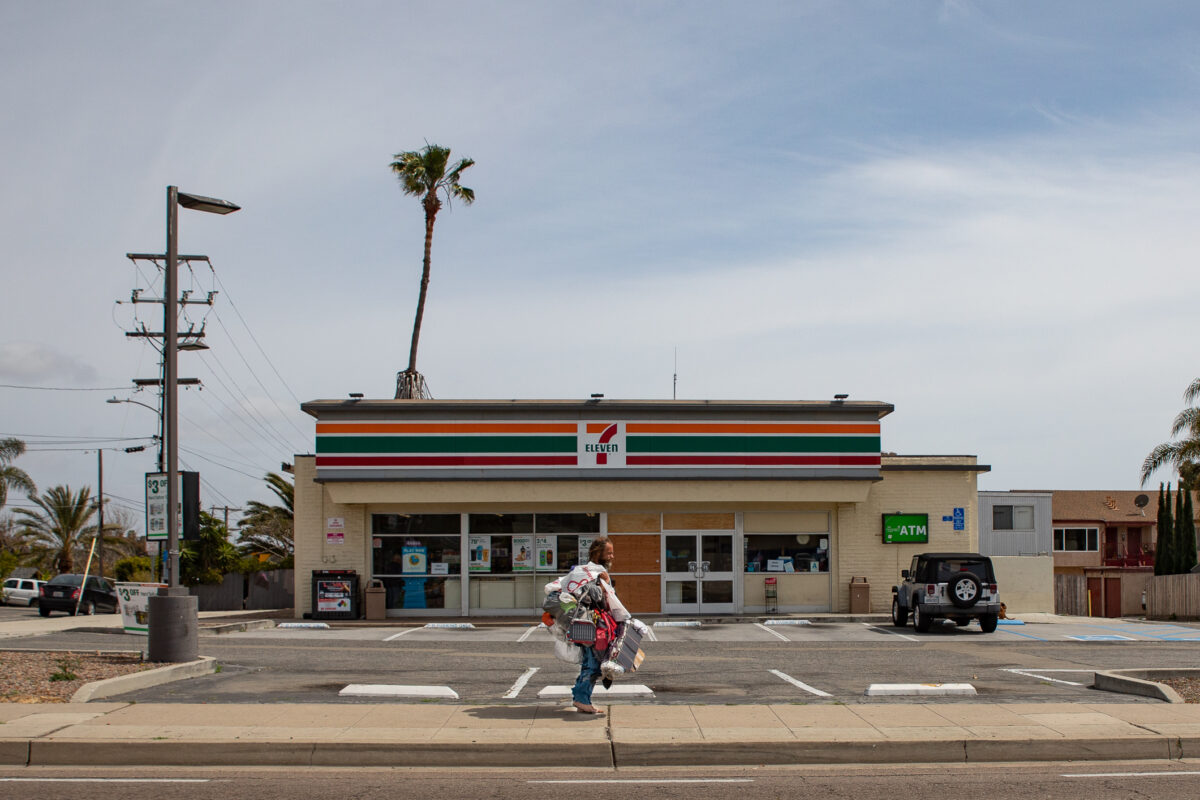 "I think that this COVID stuff was a trigger point in some ways," Gunning said.
"There has been always a fair amount of homelessness in Oceanside, especially because of our warm climate, but I think that when more and more people couldn't make ends meet out there, there have been more living in cars or doing things they maybe never ever thought they'd ever find themselves doing".
In her ministry work, Gunning notices that patience is necessary to make connections with the homeless community and build relationships. On one occasion, a man she attempted to connect with weekly at the mobile shower ministry took her by surprise and opened up to her.
"I asked him how it was going, and he kind of look up a little bit more than usual and said he was having a good day," Gunning said.
"And then he went on and told me about his family. He had two boys; one of them he'd been able to touch base with but the other one he couldn't, and that there were some things he had to fix before he could. And I prayed with him and encouraged him in his rough moment that God's had him and that he'll help him through this."
Gunning credits her family, church, pastors, and those she volunteers with utmost gratefulness as she shares the blessings in her life and her service.
Her advice?
"I think when an opportunity presents itself to do something; step forward and do it. Just do it!" she encouraged others.
"I don't want that to sound like the Nike commercial…" she chuckled.
"But when in doubt, go for it because God's got you, no matter what."