9 Free Things to Do This Weekend in NYC (Sept. 7–8)
September 6, 2013 1:44 pm Last Updated: September 6, 2013 1:51 pm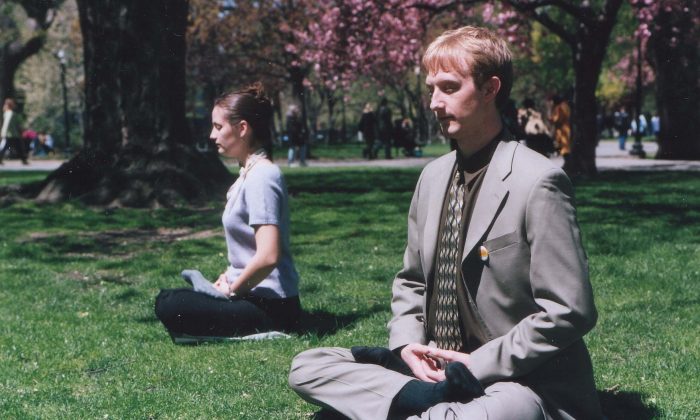 NEW YORK—It's back to school time for the kids, but there's plenty of educational events suitable for anyone in the family this weekend, all free of charge. The Brooklyn Navy Yard Center at BLDG 92 offers free admission with unique views of Manhattan. Meanwhile the Birding for Families event provides access and a guide at the most populated natural bird habitat in the city—North Woods, Central Park.
1. Falun Dafa Meditation
Saturday and Sunday 9 a.m. – 11 a.m.
Central Park
Relax and rejuvenate during a free, two-hour session of Falun Dafa meditation in the heart of the buzzing NYC. Falun Dafa (also called Falun Gong) is an advanced self-cultivation practice of the Buddha School based on the principles of Truth, Kindness, and Tolerance.
Location: Enter Central Park from the north entrance at Columbus Circle and turn right after crossing the roadway. The group meets on the sloping lawn facing the roadway
More information: Call 646-436-9262. Other practice sites in New York. 
2. Lower East Side Opening Night: Art + Fashion
Sunday 4 p.m. – 8 p.m.Orchard Street
A night of art and fashion in the trendy Lower East Side will include fall receptions at over 40 galleries and a block party with live music and a 'Looks of the LES' fashion show.
Location: between Broome & Grand
3. The Tempest
Saturday and Sunday 8 p.m.
Delacorte Theater, Central Park
Enjoy a Shakespeare classic under the stars as part of the free Shakespeare in the Park project that runs all summer long at the Delacorte Theater.
Location: 81st Street and Central Park West
4. BLDG 92
Saturday and Sunday 12 p.m. – 6 p.m.
Brooklyn Navy Yard Center
Discover the former shipbuilding complex that offers free admission into the building with unique Manhattan views. For history buffs, tours of the Brooklyn Navy Yard are offered by bike and bus. Tours cost about $30/person.
Location: 63 Flushing Av. at Carlton Av.
5. Bagel Bark
Saturday 7:30 a.m. – 9 a.m.
Wollman Rink, Central Park
Bring your dog to this free event for dog-lovers who can mingle with other dog-lovers and discuss how the community can play a vital role in maintaining the park a friendly place for everyone. Refreshments and doggie biscuits will be provided by Le Pain Quotidien.
Location: 59th Street and Central Park S.
6. Invasive Pigments
Saturday 8 a.m. – 6 p.m.
Queens Botanical Garden
This series of watercolor and map-like paintings explore the migration and proliferation of weeds in tandem with human migration. Artist Ellie Irons used the pigments from the invasive plants to create the portraits. (Free with garden admission.)
Location: 43-50 Main Street
7. Fête Paradiso
Saturday 10:30 a.m. – 6:30 p.m.
Governors Island
The world's first traveling festival of vintage French carnival rides and carousels made its debut on Governors Island. The collection includes rare museum-quality attractions from late 19th and early 20th centuries like carousels, flying swings, and a pipe organ.
Location: Governors Island
8. Birding for Families
Sunday 10 a.m. -11 a.m.
North Woods
A fun and educational family event that allows access to New York's richest bird habitat. The tour is guided by the New York City Audubon Society and a Conservancy Discovery Guide. Binoculars provided; limited to 20 participants.
Location: Charles A. Dana Discovery Center (5th Av. and Central Park N)
9. Motorexpo
Sunday 11 a.m. – 5 p.m.
Brookfield Place, lower Manhattan
Manhattan's business district is set to be transformed for the annual Motorexpo that will bring displays of the latest vehicles from many of the world's leading motor manufacturers.
Location: 250 Vesey St.