September 6, 2022
American Thought Leaders
Live chat
Expand
Excess Mortality Doubled for Americans Aged 35 to 44: Edward Dowd on New Society of Actuaries Data
A former Wall Street analyst and BlackRock portfolio manager, Edward Dowd has been analyzing excess mortality data from the CDC and from insurance companies with his partner, Josh Stirling, an insurance analyst. Excess mortality or excess deaths refers to the number of deaths from all causes above what would be expected under normal circumstances.
Earlier this year, the CEO of a major life insurance company said death rates among working-age Americans had gone up 40 percent from pre-pandemic levels. A recent report by the Society of Actuaries now reinforces this alarming data, Dowd says.
"In the 25 to 34 [age group], they saw 78 percent excess mortality in the third quarter of 2021. They also saw, in the 35 to 44 age group, 100 percent excess mortality," Dowd says.


Dowd said he and Stirling looked at data from the CDC and arrived at similar numbers: "The age cohort from 25 to 44, which we call the millennials, experienced an 84 percent rise of excess mortality into the fall of 2021—August, September, October—and the rate of change was just dramatic. So they're running around 40, 50 percent in the summer, and then this parabolic spike move up into the fall," says Edward Dowd.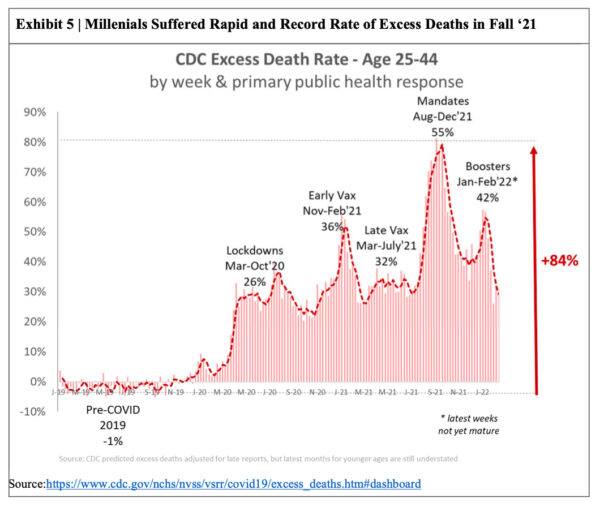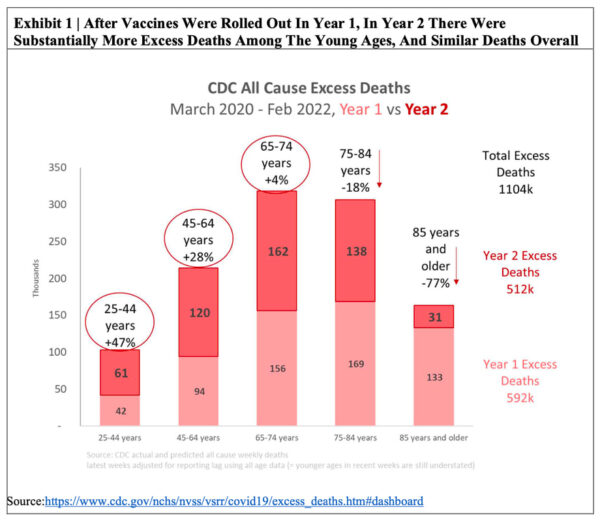 Dowd is the author of the upcoming book, "'Cause Unknown': The Epidemic of Sudden Deaths in 2021 & 2022."
Subscribe to the American Thought Leaders newsletter so you never miss an episode.
From Our Sponsor: Why Now Is the Time to Buy Gold & Silver with Goldco. Call 855-973-0470 for your FREE Wealth Protection Kit Today!
* Click the "Save" button below the video to access it later on "My List."
Jan Jekielek:
Edward Dowd, such a pleasure to have you on American Thought Leaders.
Edward Dowd:
Thank you so much, I appreciate you inviting me on.
Mr. Jekielek:
You've been doing a lot of work crunching numbers related to COVID over the last year, and specifically related to this metric of all-cause mortality. At the beginning of the year, you came up with some data from funeral homes and from insurance companies, and you were seeing some significant changes. Please tell me about what you found back then, and then we'll bring things up to present.
Mr. Dowd:
Sure, no problem. My journey began really in February, March of 2021, when the vaccine program was rolled out. I started hearing anecdotal stories about deaths and injuries. Being a former stock picker and portfolio manager for BlackRock and having been on the sell side, that piqued my interest. I'm into pattern recognition. Then, the mandates came along in summer/fall of 2021 and I started to join anti-mandate rallies on Maui. Through that, I was eventually able to meet Dr. Malone and become associated with him. I told him that I suspected that something was possibly going on with the vaccine.
I told him that I would investigate insurance company and funeral home results, and that I would monitor them, and then we would see if anything interesting or strange came up. And sure enough, in January of 2022, we got the first inkling that something was potentially very wrong. OneAmerica CEO, Scott Davidson, was on a chamber of commerce call and he wasn't aware that a reporter, Margaret Menge, from City View, Indiana, was following this chamber of commerce. He mentioned that in the second half of 2021, all-cause mortality, especially among working age members, had risen to a stunning 40 per cent.
And just to put a frame around that, a 10 per cent increase in excess mortality for this working age group would be from like a once-in-a-200-year flood. 40 per cent was just off the charts and to understand why this is so significant is that it was from the group life business, and group life is a specific insurance business. It's not individual policyholders, it's the people that work for corporations. I'm sure many of you have been employed in different corporations. When you onboard with the corporation you sign your healthcare plan, and then you sign a death benefit that's given to you basically for free. It's anywhere from a 50,000 to $200,000 policy. 
If you're not married, you assign your parents as the beneficiary, or if you're married, it's your spouse. So, when we onboard and sign these things, we never expect to collect. In the second half of 2021, Scott Davidson sent off this warning signal, and his company, which is a $100 billion insurance company, experienced this incredible rise in deaths and claims. Fast forward to February when the insurance companies start reporting, and I started to see similar results from other companies. Dr. Malone got me onto Steve Bannon's War Room podcast, where I started to talk about this.
I said that I wanted to be a lightning rod for this issue, which meant I wanted help from people that had knowledge or anything to contribute. One person immediately contacted me that weekend. He's going public now, and he's going public on his own time frame. His name is Josh Sterling, a former number one ranked insurance analyst on Wall Street. He worked for Bernstein, which is a very well-known research equity shop. He was on the street for seven years, and he agreed to help me analyze the insurance results.
Mr. Jekielek:
This is really fascinating. For the benefit of our viewers, I want you to clarify what 40 per cent all-cause mortality actually means.
Mr. Dowd:
40 per cent is similar to the fatalities you get from actual physical warfare. It's not something that happens in normal peace time. In 2020, when COVID was raging through the country, we saw that mostly older Americans died. In 2021, COVID was still going on, the vaccine rollout had occurred, but we saw a shift from older Americans to young, working age people, who in 2020 weren't affected by COVID to the same degree as they were in the second half of 2021. This is an amazing statistical anomaly that just does not happen in the normal course of business and daily life.
Mr. Jekielek:
Just in practical terms, there is a baseline death rate, and this is a 40 per cent increase from that. That's why you're calling it similar to wartime.
Mr. Dowd:
To fast forward a bit, Josh started to look at CDC data. The CDC data as presented on their website was lumped into all ages. What he was able to do was take the data, download it, and find the ages of the deaths. So, he was then able to create age cohorts. Because he has actuarial training, he created a baseline from 2015 through 2019.
That is how you calculate excess deaths. You must have a baseline to compare them to. What he found, and what I found in analyzing the data with him was something very alarming. The age cohort from 25 to 44, which we call the millennials, experienced an 84 per cent rise of excess mortality into the fall of 2021, for August, September, and October. The rate of change was just dramatic.
They were running around 40, 50 per cent in the summer, and then this parabolic spike moved up into the fall. Then, it tailed off and settled back down. But an 84 per cent rise in excess mortality for that age cohort represented about 61,000 Americans who perished from March of 2021 to February of 2022. 
61,000 deaths is almost the same as the Vietnam war casualties we experienced over a 10-year period where 58,000 Americans died. So, something happened. In my opinion, it's from the vaccines. That can be debated. I'd love to debate it with anybody. The problem is there doesn't seem to be any interest in debating this issue, nor am I allowed to talk about it on certain platforms. All we are asking for is the ability to bring this tragedy to light, and then discuss why it is occurring.
Mr. Jekielek:
Can you please give me a bit of your background? Obviously, you're someone that is fascinated by numbers. You have been digging into numbers for a long time. You've been using them to predict trends on Wall Street. How did these particular data sets become your fixation?
Mr. Dowd:
Sure. I'm a Wall Street analyst. I started my career at HSBC Bank. I was an institutional fixed income bond salesman, and I learned all about the capital markets, bonds, currencies, and how capital moves around the globe. I went back to business school at Indiana University, and I wanted to get into equity portfolio management. I graduated from there and went to Donaldson, Lufkin, and Jenrette, which was a well-known research equity shop and investment bank. I was an electric utility analyst.
I spent two years there as a junior analyst doing the usual 80-hour work week. I parlayed that into a job up in Boston where I became a technology analyst on what's called the buy side, managing money for other people. I did a really good job calling the dot-com peak.  I then parlayed that into a BlackRock portfolio management job, where I was for 10 years picking stocks and analyzing companies. We took our initial assets under management from 2 billion to 14 billion via good performance and acquiring shares from others.
Mr. Jekielek:
When you got this challenge from Dr. Malone, was the idea expressly to see if the mandates themselves were having an impact on all-cause mortality?
Mr. Dowd:
No, I went in with an open mind. I had a suspicion, because of the anecdotes and being into pattern recognition. When you pick a stock, you don't have all the information available. A lot of the great stock picking that occurs is when people have a hunch. You see a trend, the trend isn't noticeably recognized by most everyone else, you buy the stock, and then you do more work. 
Over time, as your thesis gets proved out, you either make a lot of money, or you're wrong and you sell the stock for a loss. Let's imagine this trend was a stock. And let's say I wanted to buy this trend. I would buy the trend in January at the first signal from Scott Davidson. Then, I would do more work, which is what we did. We didn't know what we would find, but what we found actually made us even more confident in our thesis.
Mr. Jekielek:
Just recently, the Society of Actuaries published a data set that shows very similar results. Please tell me about this.
Mr. Dowd:
Sure. That's a great point. So, we made these claims. And I get it, they are from a former BlackRock portfolio manager and a former insurance analyst. We have credentials, we're bona fide, but essentially we're two guys on the internet making a claim. Okay, that's fine. The problem we had was that no one wanted to talk to us about it, or  really wouldn't allow us to get it out on other platforms. 
Fine. That's the way the world is today. Then, two weeks ago, one of my insurance insiders, who's a very senior actuary at a large insurance company and happens to think that we're correct, pointed us to the Society of Actuaries Research Institute report that was published two weeks ago.
They did what's called a group life survey where they rolled up about 80 per cent of the revenues of the industry and looked at some all-cause mortality data. She pointed me to table 5.7, which is on page 23 of this report. This chart is pretty amazing. It almost exactly foots to our number from the CDC data. Now, remember the CDC data is just deaths, and this data is claims. They broke it down into two age groups, 25 to 34, and 35 to 44. In the 25 to 34 age group, they saw 78 per cent excess mortality in the third quarter of 2021. In the 35 to 44 age group, they saw 100 per cent excess mortality. We combined those groups and our number was 84 per cent. So directionally, we are right. The number we have is pretty much between those two numbers. 
What's great about this is that these are two different data sets. We did the CDC data, and this is group life insurance claims. But in their report, they're not coming to the same conclusions that we are. And that's understandable. I get it. Actuaries are not the bravest of people. I've talked to actuaries, and they need more data to definitively point to what I think it is. But the ones who have discernment and common sense are pretty much of the opinion that Josh and I are 100 per cent right. But what we do need is more data from the government, which they are not providing. If they did, the link would be there, 100 per cent.
Mr. Jekielek:
What do they say in that report? Is there any suggestion as to where this might be coming from? Cataclysm is a good word to describe 100 per cent excess mortality in a prime working age cohort.
Mr. Dowd:
They said it's long COVID, it's increased suicides, increased drug overdoses, and missing medical screenings from the lockdowns. Now, I don't agree with that, and I'll tell you why. I know there was an event that occurred in the third quarter of 2021, the corporate mandates and executive order mandated by the Biden administration for companies with over 100 employees. We saw a rate of change, a slope of the line into the 84 per cent into the third quarter that was alarmingly fast and large. It went from 50 per cent to 84 per cent in three months.
My logic is this. Not everyone decided in a three-month period to start committing suicide, overdose on drugs, or miss cancer screening treatments. The temporal movement in the all-cause mortality into what we call the mandate event does not suggest those three things. Now, are they occurring? Sure. Are they responsible for all 61,000 deaths that we've talked about? No. A large percentage of those are potentially due to something else. We can't prove it 100 per cent. Logic and deductive reasoning would suggest this needs to be talked about, and it's not being talked about.
Mr. Jekielek:
You always need to do a lot of predictive work in your field, because you're actually trying to tell people what to buy, what to sell, and how to assess the market at a given point. So, your thinking makes sense to me.
Mr. Dowd:
Correct. One thing that people need to understand is that Josh and I are Wall Street guys in the way that we think. When we were on Wall Street we competed against other smart, bright people. We would make predictions without verification using deductive reasoning. The news would eventually prove us right, either in their earnings report or with the trend being confirmed.
Mr. Jekielek:
But you weren't always right, correct?
Mr. Dowd:
Not always. And when you're wrong, you sell. But the point is this, if you wait for the news, you miss the opportunity to make money. Because once everyone figures it out, the opportunity is gone. Josh and I have a saying, and there's a saying on Wall Street; be right, be early and be loud. That is what we're doing with this endeavor. Josh and I have never been more convinced that we're correct than we are right now. Ever since February, the data that keeps rolling in has only confirmed our suspicions, which are not good at this point.
Mr. Jekielek:
Of course, the question is what is causing this. Are there any other ideas that are being postulated, aside from vaccine injury and lockdown effects?
Mr. Dowd:
Long COVID is mentioned a lot. I've talked to a number of doctors about long COVID. There is no clinical definition for long COVID yet, which is suspicious. There's a reason why they haven't really defined it, because once you define it, then you could point to other different injuries from vaccines. So, long COVID is not being defined. The other thing I'd like to say about long COVID is that it wouldn't all happen in the third quarter, in a three-month timeframe. And I want to make another point. SOA basically took excuses that were previously made about the CDC data that we discovered. And mind you, a lot of the data that we discovered did make its way around the insurance industry, because we made sure of it.
In April, Josh sent 100 letters to the CEOs and 50 state regulators talking about the CDC data. We invited some of them onto calls, and we only had about 25 participants. So, the insurance industry was aware of this, and they were aware of the counter-arguments. If you think about what a group life policy is, a group life policy is for someone who is employed. They tend to not be drug users. They tend not to be super unhealthy and suicidal. I could understand some of the arguments when it was just the CDC data, but these group life policy people are employed, and tend to have higher health profiles. That's why these policies were so profitable for so many years. You're going to give someone a $200,000 death benefit, knowing that there's a 99 per cent chance they're not going to die while they are employed.
Mr. Jekielek:
Some of this group missed cancer screenings. Very early on we were discussing this on the show with a number of experts and we were expecting some significant results. The question is, how quickly would you see those results? Because cancer tends to be something that's progressive. Another issue is suicide from people being locked down, alone, and isolated. You can imagine the suicide rate of professionals going up substantially as well. So, there is a case to be made here.
Mr. Dowd:
Correct. But the profile of the people they give these group life policies to is generally healthier than the general population. I feel like they punted on trying to talk about what was causing this by using arguments that were for the CDC data of the general population. These guys are smart. They price these policies knowing that the people that they're giving these policies to are much healthier.
Mr. Jekielek:
Okay, understood. I'm going to quote from something you recently posted on Gettr. You said, "Just a reminder that Pfizer failed the all-cause mortality endpoint in their absurdly short 28-day trial." Let's focus on what this endpoint is. What are you trying to say here?
Mr. Dowd:
What is not really well understood is that when you go and do clinical trials for new drugs, there are all sorts of endpoints you test for. One of the biggest ones is all-cause mortality. Again, it doesn't have to be scientifically proven that the death is from the product. It just has to say, "Statistically speaking, if the product ends up causing more death in the product group versus the placebo, then the risk reward isn't there to justify the approval." I was not aware that they had failed this endpoint until October of 2021, when a friend of mine in the biotech industry told me about a FOIA request that had dropped. So, I went and got it.
I looked at the actual document and sure enough, in the 28-day trial, 23 per cent more people died in the vaccine group than the placebo group. And I asked Eric, "From your experience on Wall Street, what would normally happen if this endpoint was missed by a single-product company?" He said, "If a product is not approved, the next day the stock would be down 80 per cent." This is typically what happens with FDA approvals. So, not only did they ignore that, they hid it from us and focused on the endpoint, which was effectiveness, which has turned out to be a lie.
Mr. Jekielek:
Sorry, what do you mean by "the endpoint of effectiveness being a lie?"
Mr. Dowd:
The endpoint they tested for, and that was in the reports when they made all the fanfare for that was that it was 95 per cent effective in protecting you against getting COVID. But that turned out to be absolutely false. People who are vaccinated get COVID all the time. So that 95 per cent number has turned out to be just a complete bald-face lie. And that's empirically proven all over the place right now.
Mr. Jekielek:
Yes. They turned the endpoint into reduced illness.
Mr. Dowd:
So originally, the endpoint was you're not going to get COVID or transmit it. Then it turned into, "Well, you're not going to get hospitalized." By the way, there's no study or data on that. In my humble opinion, that is just a talking point, and a marketing point. It's meaningless to me.
Mr. Jekielek:
Recently, you have also been looking at this UK excess data, especially for young age groups. Please tell me about this. You put up a chart that is pretty stunning.
Mr. Dowd:
Yes. I've formed a new partnership with some PhD physicists in Portugal. We're starting a hedge fund. But, like me, they're also concerned about what's going on, and they have used their skillset to analyze the UK data. And this was their idea. They are currently seeing excess mortality in the UK running 10 to 20 per cent as of today. And it had been for a while. This age group took up the vaccines later than everybody else, because the approvals came later. But what they discovered was that in 2020 and a large portion of 2021 before the vaccine rollouts, their excess mortality was actually going down.
It was going down prior to this anyways. But it accelerated a little bit because the lockdowns actually stopped the moving around activity of that age group. You have to remember that the biggest single cause of death for this age group is accidental. And sure enough, they've shown that when the vaccines begin to roll out, the slope of the excess mortality line starts to rise for this age group. It's stunning. This is a group of individuals that doesn't typically overdose on drugs, commit suicide, or miss cancer screening treatments. That's why I applaud them for thinking about this and looking at this data, because in my mind it's a smoking gun.
Mr. Jekielek:
It is a very stark change and it makes perfect sense that this all-cause mortality would go down under a lockdown type regime, because for this age group accidents are the primary cause of death. And then suddenly, you get this mystery factor coming in.
Mr. Dowd:
Correct. And it started happening in late 2021, and it's continuing in 2022.
Mr. Jekielek:
And just for the record, you're not shorting Pfizer stock or anything like that, are you?
Mr. Dowd:
No. I made an announcement when I started this, that I would not be involved in making money off of this, primarily because I knew that potentially I would be creating news and I didn't want anybody coming after me for anything. For me, making money off this tragedy is not my idea of ethical behavior, so I'm not doing it. I'm not shorting any of these drug makers.
Mr. Jekielek:
And the other thing that I learned from Robert Malone was that it's you and a few others based in Hawaii that came up with the Malone doctrine, which I thought was a very thoughtful document.
Mr. Dowd:
Yes. Thank you. When Dr. Malone was here, he gave a speech about what was wrong at the FDA and these other institutions. The idea came to us that we're not going to be able to change those institutions from the inside. We have to declare another hill on which to fight. And the hill we decided to plant our flag pole on was the hill of integrity. The idea around this doctrine was to declare independence from institutions that lack integrity. If they want us to adhere to these edicts and decisions, they have to do the following things. One of the 10 points of the Malone doctrine is to provide all the data that's being used to make decisions.
Share all conflicts of interest. Do not engage in censorship of ideas. This is just normal Americans trying to reframe the debate and say, "We are independent from your decisions if you don't do the following ten points." Granted, it's just a piece of paper, but pieces of paper once implemented and spread across the world can have power. Right now it has no teeth, but over time, we're hopeful that as this comes to light and institutions are razed and rebuilt that the Malone doctrine will be incorporated into many, many different institutions.
Mr. Jekielek:
It just struck me as the basic common sense of what you might expect from anybody that's working for the public good, especially a government body.
Mr. Dowd:
Correct. But something else has happened, obviously. This corruption at the FDA, in my humble opinion, has been there forever. This COVID issue brought it to light. I call it the institutional imperative. That's something Warren Buffet and Charlie Munger talk about, where in corporate America, the agents of the company, the CEOs and the C-suite run the company for their own benefit, rather than for that of the shareholders. That's how a lot of fraud, greed and corruption happens in corporate America. Well, let's talk about the institutional imperative in government agencies. Clearly over time, the FDA became beholden to pharmaceutical companies, primarily because half their budget comes from pharma in the form of fees.
That's 50 per cent of their budget, maybe more. And now coming to light are all the patents and partnerships and the revolving door. You're at the FDA for five years, you do some favors for pharma and then you end up with a cushy job making seven figures. This happens over time and it becomes institutionalized. The people in the FDA are not bad people, but they see how other people succeed. It's a slow, insidious process and that's how institutions get corrupted. I saw it in corporate America. I saw it in some of the great frauds, like Enron and WorldCom. It becomes normalized. Corruption becomes normalized and people don't see it on a daily basis, but they're in it.
Mr. Jekielek:
Why is it called the Malone doctrine then?
Mr. Dowd:
Because we've made a bet that he was going to become a spokesperson for this freedom movement in healthcare and around the globe. Basically we said, "You're the guy with the brand, and we think you could probably best promulgate this." He was very touched that we gave it to him. But it's not about the four of us who wrote it. It's about the idea of the Malone doctrine. It's not about taking credit for it, it's about getting it adopted. This was a gift to Dr. Malone, and Dr. Malone is going to make it a gift to the world, and hopefully over time this gets adopted.
Mr. Jekielek:
I understand that you're putting all this research that you've done into a book form.
Mr. Dowd:
That's correct. I was approached by Gavin de Becker and Tony Lyons of Skyhorse publishing. We wanted to examine the anecdotal evidence that seems to be growing every day of very fit young athletic people across this country and the globe dropping dead on the field and right after athletic events. Then, I'm going to go into my thesis as to what may be causing that and providing metadata, insurance data, CDC data, and other data that points to what I think and believe is the cause, which is the vaccines.
Mr. Jekielek:
Any final thoughts as we finish up, Ed?
Mr. Dowd:
Let me just say this. Where are we? It's August 30th, 2022. You don't have to agree with my conclusions, but I think you're going to see what I'm talking about being debated more and more as time goes on. Because we're seeing really, really adverse health effects starting to materialize. Excess mortality is still running at 20 per cent, well above where it should be with the pandemic being officially over and everyone declaring victory. We also are seeing disability uptick tremendously. We've looked at the U.S. Bureau of Labor statistics and disability surveys which they do monthly, and it was running around 29 to 30 million for the last five years prior to 2021.
We've seen an additional three to four million Americans declare they're disabled. Again, this is not tied to a claim or a doctor's note; it's self-identification, and it's a survey. We think this has massive implications for the labor market and inflation. This is a crisis of epic proportions that no one seems to be talking about. At the very least this should be acknowledged and there should be investigations all over the country to try to figure out the silent killer. I think I know what it is, but there's not even a discussion about it.
Mr. Jekielek:
Edward Dowd, it's such a pleasure to have you on the show.
Mr. Dowd:
Thank you so much. I appreciate you reaching out to me.
Mr. Jekielek:
Thank you all for joining Edward Dowd and I on this episode of American Thought Leaders. I'm your host Jan Jekielek.
–
The Real Story of Jan. 6 Documentary(102 Minutes, Color)
"The Real Story of Jan. 6," a documentary by The Epoch Times, reveals the truth that has been hidden from the American people. While a narrative has been set that what took place that day was an insurrection, key events and witnesses have been ignored, until now.
BUY  DVD: https://www.epochtv.shop/product-page/dvd-the-real-story-of-january-6, Promo Code "Jan" for 20% off.
–
Follow EpochTV on social media:
Twitter: https://twitter.com/EpochTVus
Rumble: https://rumble.com/c/EpochTV
Truth Social: https://truthsocial.com/@EpochTV
Gettr: https://gettr.com/user/epochtv
Facebook: https://www.facebook.com/EpochTVus
Gab: https://gab.com/EpochTV
Telegram: https://t.me/EpochTV