The crowds are thick around the Rector's Palace, the magnificence of that 15th-century baroque and renaissance structure seemingly under siege from the crowds. In the harbor, several ships sit at anchor, their orange tenders rolling through the blue waters toward shore, bringing more and more tourists. They fill the shops, and the courtyards, the colonnade of the palace packed, the al fresco tables nearby, all full up.
And yet—just a few steps takes me away from it all. Dubrovnik may be a mecca for seasonal visitors, but it's also a city with plenty of ways to get away. Fleeing the hustle and bustle, I make a couple turns, winding onto a small passageway, old stone steps climbing an incline, this solitude not more than 90 seconds from the dull roar on the main squares. And immediately I'm surrounded by the city, as it's existed for centuries, laundry strung above, plants and flowers blooming in windows, shutters open, the sounds of home life emanating into the alley.
Croatia attracts its fair share of visitors, who come by both land and sea. This small, Adriatic nation—which gained statehood after fighting a war of independence in 1991—boasts beaches and mountains and urban wonders. With its own distinct culture, it brings together culinary and cultural traditions from its historical neighbors as well—Rome, Venice, and others. And it rewards those who search, away from the crowds, for everything it has to offer. Here are five of the finest places to tour.
Dubrovnik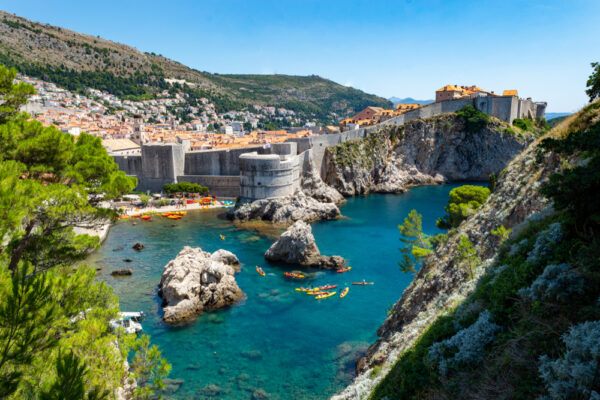 Set on the mountainous border with Montenegro and, in ordinary times a major port of call for cruise ships, Dubrovnik is Croatia's most famous city, and one of the top destinations throughout the Mediterranean. Its popularity is well-deserved. A major port of maritime trade since medieval times—once Byzantine, then Venetian, and for centuries a free city, Dubrovnik's old quarters very much reflect the wealth that, for centuries, flowed through here from the sea.
And for avid viewers of "Game of Thrones," several locations around the city will look familiar—Dubrovnik served as stand-in for the powerful King's Landing, capital of the Seven Kingdoms. Its Old City has also been a UNESCO World Heritage Site since 1979, the organization recognizing a number of elements that make a stroll here so enchanting—Gothic, Renaissance, and Baroque fountains, palaces, churches, and monasteries. Start at the city walls, white limestone buttresses, parts of which have protected the city since the 600s. Then proceed along the Placa, the main, polished thoroughfare that connects the main city gates and divides Dubrovnik. And include stops at a series of sites—the Rector's Palace, the Cathedral of the Assumption of the Virgin Mary, the Franciscan Church and Monastery, and the Sponza Palace, a building that somehow came through the 1667 earthquake.
Zagreb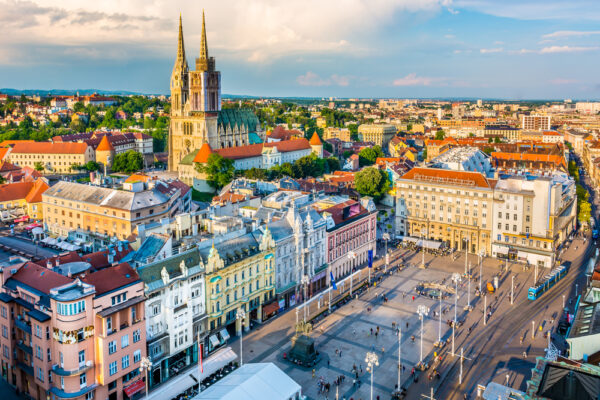 Before my first visit, I expected the Croatian capital, with its harsh-sounding name, to be all grays and browns and filled with socialist realism. It's not. Home to about a million people (some one-fourth of the country's population), the city has Roman roots, and its oldest districts date back about a thousand years. Take a walk through Zagreb's oldest hilltop neighborhoods. Like Buda and Pest in Budapest, Kaptol and Gradec (which collectively form Upper Town) developed parallel to each other for centuries. Each has separate institutions and personalities. Walk the cobblestones in both, from the cathedral in the former, to the tiny shops in the latter, then descend to the broad boulevards of the 19th-century Lower Town.
And don't miss the Museum of Broken Relationships. Strange and fascinating, this small space, located in an Upper Town palace, takes otherwise meaningless items—a hairdryer, a lock of dreadlocks, a sailor's cap, a single stiletto shoe—and adds the narrative. Drawn from donations around the world (including Japan, Spain, Israel, and the United States), each was central in a break-up, the true-life stories often heart-wrenching and deeply involving.
Istria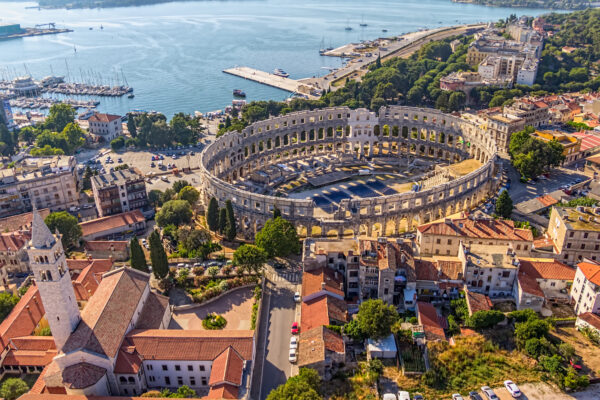 Forming the extreme southwestern corner of Croatia, this broad peninsula (which is shared with Italy and Slovenia) draws sun-seekers to the large resorts that line its three coasts. But you'll be richly rewarded for exploring the interior. Home to hilltop villages and restaurants with truffle-laden menus, a trip to this often-overlooked region is both beautiful and delicious.
Visit plunging cliffs, waterfalls, and a 10th-century castle at Pazin. At Motovun, climb to the top of the 800-foot hill to explore inside the walls of this fortified, former Venetian town—the Gothic and Romanesque buildings inside are now home to galleries, small hotels, and truffle-forward restaurants (the surrounding forests are where most of the Istrian truffles are found). Then head back to the coast, to seaside Pula, and its 1st-century amphitheater, where 20,000 spectators once gathered to watch the gladiators.
Rab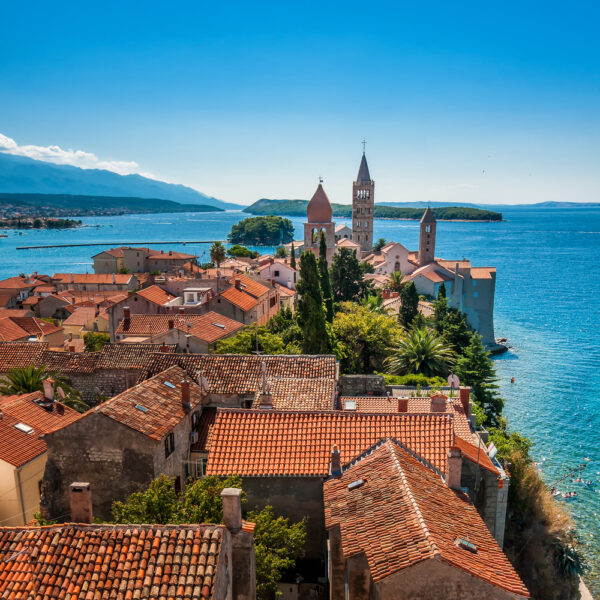 Croatia's coastline is dotted with more than 700 islands, so you have your pick of seaside getaways, from, say, a homestay in a tiny, tucked-away village to luxuriating in a large, full-service resort. The island of Rab is a short ferry ride from the mainland (or a very short flight from Zagreb), and offers a nice balance. About 14 miles in length, Rab has a little of everything, from windswept solitude on the northeastern side, to verdant oak forests crisscrossed with hiking trails, on the opposite end. Plus you can walk the distinctive old town, defined by four bell towers.
And beaches, of course. Paradise Beach is a half-moon of sand stretching for more than a mile, all of it a kaleidoscope of colorful umbrellas and loungers, encompassing warm, calm, shallow water. You'll find ice cream shops and other tourist-friendly attractions close by. Or enjoy the view of old town, and then the sunset, Pudarica Beach. And if you're ready to island-hop again, just board another ferry—two more islands, Krk and Pag, are right nearby, each with beautiful beaches of their own.
Split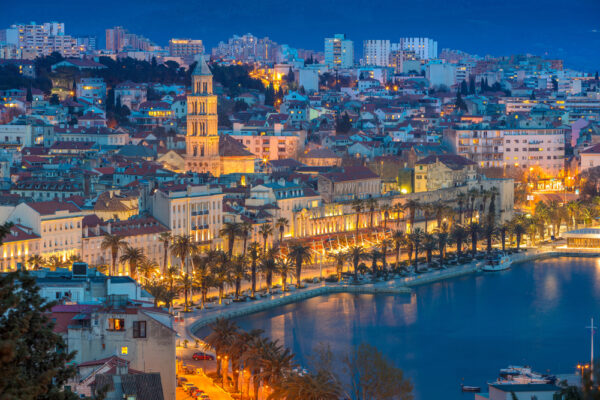 The largest city on the Dalmatian Coast and the second-largest city in Croatia, Split spreads out along the Adriatic, its palm-lined promenade inviting evening strolling along the aquamarine. Here, Diocletian's Palace is the undisputed highlight, a fortress built by the Roman Emperor Diocletian, who was born nearby. He poured incredible resources into the project, bringing in marble from Greece and Italy and even sphinxes from Egypt.
Today, this 4th-century complex is the heart of Split's old town, and a UNESCO World Heritage Site. Enter through the Golden Gate, Iron Gate, Silver Gate, or Bronze Gate to see ancient wonders such as the Temple of Jupiter and the Peristyle (the columned central square). But the maze of streets and passages here also hosts cafes and restaurants and bars that dance into the night. Like Dubrovnik, things can get very busy in the peak tourist season—but, here again, you can easily get away. Take a breath, and a few steps, and find your way into the quiet, to walk amongst everyday life in the real Croatia.
Toronto-based writer Tim Johnson is always traveling, in search of the next great story. Having visited 140 countries across all seven continents, he's tracked lions on foot in Botswana, dug for dinosaur bones in Mongolia, and walked among a half-million penguins on South Georgia Island. He contributes to some of North America's largest publications, including CNN Travel, Bloomberg, and The Globe and Mail.