(WARNING: THIS ARTICLE CONTAINS GRAPHIC CONTENT)
There are plenty of tragic stories out there involving children who have gone through life-threatening scenarios, and this one is no less horrific. However, it does have a very happy ending.
When a 3-year-old toddler, named Nadeem, was innocently playing with his friends on the third floor of a building in Uttar Pradesh, India, on April 8, he had no idea what was about to happen.
Nadeem toppled from the building, falling 30 feet (9.1 meters)—and was impaled on a metal pole. He had skewered himself on the 6-foot (1.8-meter) pole, landing in the fetal position. The rod had pierced his left thigh, penetrated through his abdomen, and was sticking out of his upper back.
A nearby worker, Pankaj Parma, witnessed the horrifying incident and rushed to the boy's aid. Being an electrician may have been of great help, as he was able to cut part of the protruding rod off. Nadeem was then rushed to King George Hospital, 5 miles away.
Extreme care was going to be needed in removing the rod. One hour after Nadeem arrived at the hospital, which was at 4:45 p.m. that day, emergency surgery was performed. During the three-hour procedure, Nadeem's left thigh and abdomen had to be cut open to remove the rod.
Toddler, three, gets impaled on a 6ft-long rod after falling 30ft from building – and survives https://t.co/D9D7H5ChOt

— The Sun (@TheSun) May 20, 2019
"Initially, we did not know which internal organs had been punctured by the rod, and as such pulling out the rod would have been detrimental to his life," Dr. Samir Mishra, one of the doctors focused on saving Nadeem's life, told The Sun.
"As a result, we had to cut open his thigh and left abdominal side to remove the rod," Dr. Mishra said. "Only during the surgery, it was noticed that the rod had passed just 2 cms (three quarters of an inch) away from the liver, but the diaphragm was punctured and put a hole through the small intestine."
Toddler miraculously survives being impaled after falling off of building https://t.co/99A2ZeL7GJ pic.twitter.com/dkBZI9IeGd

— New York Post (@nypost) May 23, 2019
The medical staff was relieved to discover that the rod had Nadeem's missed vital organs, as the outcome may well have been entirely different. "As luck would have it, the rod entered his body in an angle missing the vital organs including the heart, before exiting from his upper back," Dr. Mishra explained.
Nadeem spent two weeks recovering in the hospital and was discharged on April 22. Having made a full recovery, he is now out and about playing with his friends, just as if nothing unusual has happened. All in a day's play, but he certainly has the scars to show for it.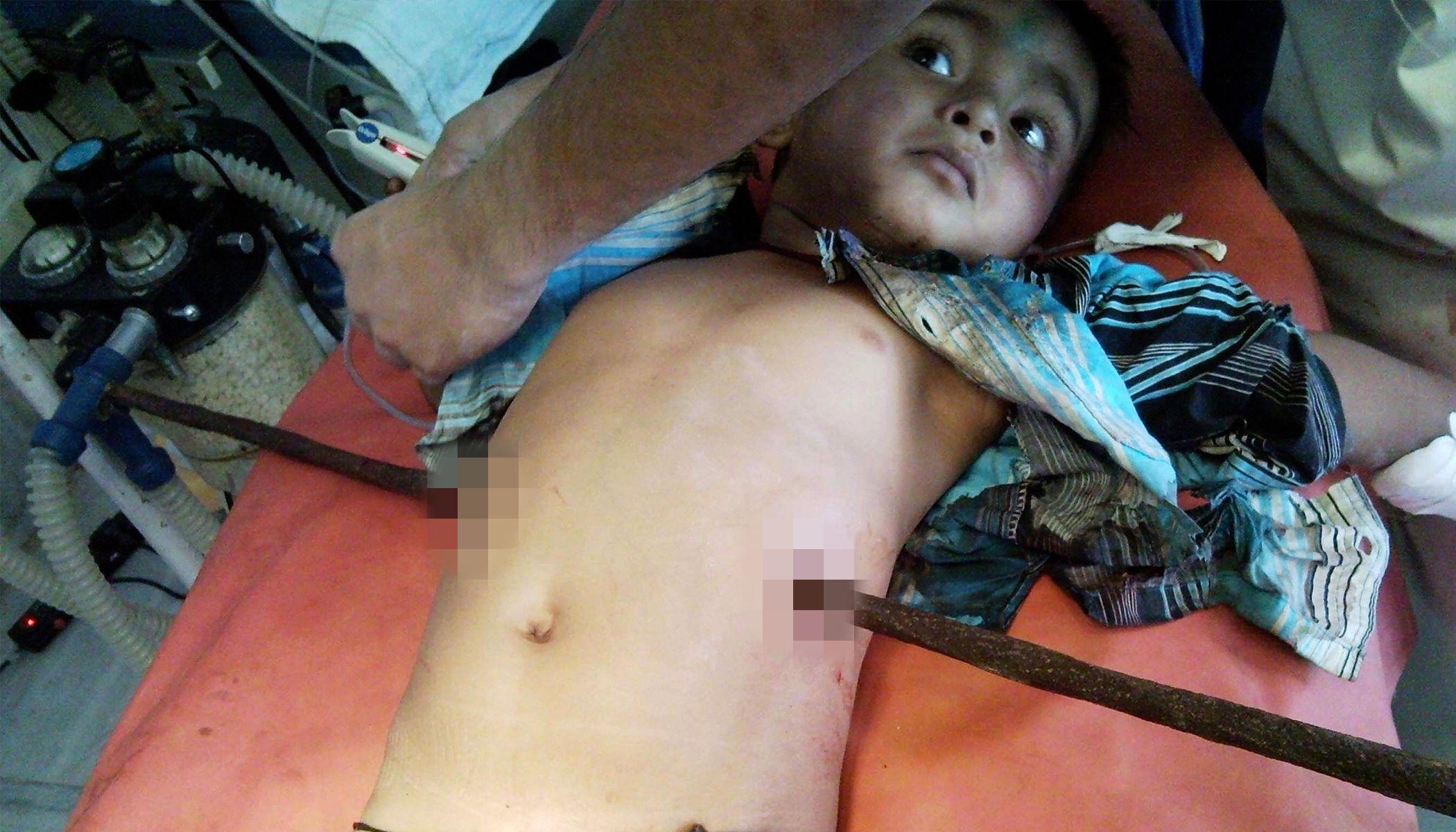 In another similar incident in India in 2009, Mihir Kumar, then aged 6, was playing on the roof of his house in Ranchi, India, when he slipped and fell off, becoming impaled on a 5-foot (1.5-meter) metal pole on a building site next door.
The rod entered one side of his rib cage and exited the other side. He was rushed to Rajendra Institute of Medical Sciences, and the rod was removed in a three-hour operation.
According to The Telegraph, one of the operating doctors, Dr. Sandeep Agarwal, said Mihir had miraculously escaped any major internal injuries.