After witnessing a possible rape attempt unfolding in front of their eyes at a restaurant, three friends knew that they had to speak up and act quickly to save a young woman from being drugged by her date.
On an evening in May 2016, three friends, Sonia Ulrich, Marla Saltzer, and Monica Kenyon, were enjoying themselves at Fig, an upscale restaurant in Santa Monica, California. Just then, Monica caught sight of something odd happening.
Thank you, from all of us, for your shares, your love and your support. Because of YOU we will be on the Today show and…

由 Sonia Ulrich 发布于 2016年5月29日周日
Sitting across from Kenyon was a man who had taken out a little black vial to drop something into his date's glass while she was away.
"That guy just put something in her drink," she exclaimed to Ulrich, who later recalled the unexpected incident on her Facebook page.
After witnessing this, the squad of three knew they had to quickly put their heads together to come up with a plan. Ulrich immediately decided to go to the bathroom in order to warn the woman about the episode.
After a brief chat, Ulrich discovered that "they had known each other for a year and a half. They worked together."
When Ulrich returned to her table, Kenyon described what she witnessed earlier, with more details.
"He pulled her glass toward him, kind of awkwardly, then he took out a little black vial. He opened it up and dropped something in."
She added, "Then he tried to play it cool, like checking his phone and hiding the vial in his hand and then trying to bring it back down slyly," mentioning that the man apparently saw her looking at him.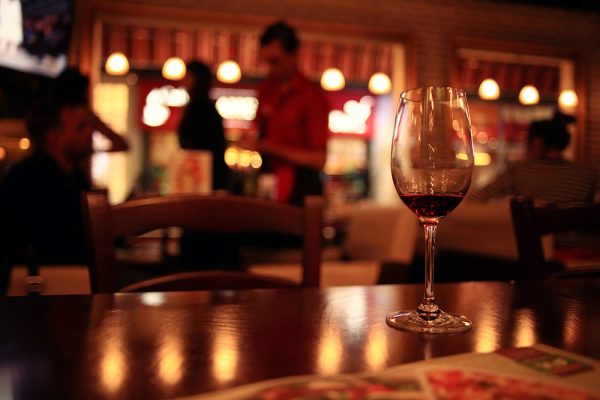 Within a minute after they told a waiter what had happened, the manager went over and allowed the girl to order sparkling water, before coming over to the friends' table to tell them that he had informed the security.
Meanwhile, the poor woman sat across "one of her best friends" for another 40 minutes, knowing he was going to drug her. During that time, Saltzer "noticed him several times chinking his glass to hers to get her to drink" while she "played it cool."
Once they finished their dinner and tried to pay, the waiter told the man that the computer was down in an attempt to stall time.
Eventually, the police arrived to take him away, and the friends noticed that the man didn't ask why and didn't seem surprised.
The girls were also informed by the head of security that they had reviewed the CCTV footage after being notified.
"They got him on tape," Ulrich wrote. "They had proof of him drugging this girl. They took the glass away as evidence."
Once the man was taken away, many people at the restaurant came up to the girls to express their gratitude for what they had done.
"The crazy thing, though, afterwards, is people from all over the dining room were coming over and thanking us," Ulrich told ABC7 Eyewitness News. "And they all had stories of it happened to them or their sister or their roommate."
"That was the really amazing thing—how many people sincerely thanked us because they had a personal experience with this type of thing," Ulrich added.
Sharing this story on her Facebook page, Ulrich hopes that it will inspire others to follow their actions.
"I really wanted people to know that if they say something, it can make a difference," she told ABC News.
As for the man, he was charged with administering a drug and assault with intent to commit a sex crime, WTSP reported.
It's a good thing that the friends happened to witness this and prevented a dangerous situation from occurring. Kudos to the three superwomen for speaking out and also to the restaurant for taking swift action.
Watch the video: