From the weeks-long protests against COVID-19 mandates that gridlocked the nation's capital and border crossings, to proposed pieces of legislation such as the expansion of medical assistance in dying and internet regulation, 2022 saw a number of important developments that will continue to unfold or have ripple effects in 2023.
Here are some of the top Canadian issues that made the news in the past year and are worth following in the year to come.
Internet Regulation
In 2022, the federal government introduced various pieces of legislation to regulate online content in the name of combating hate and "disinformation."
Bill C-11 and C-18 are currently moving through Parliament, and consultation work has been done on a future bill to reduce "online harms."
Bill C-11, the Online Streaming Act, which will amend the Broadcasting Act, has passed the House of Commons and is in third reading in the Senate, and will likely become law next year.

One of the main concerns raised about Bill C-11 has been that it would give the Canadian Radio-television and Telecommunications Commission (CRTC) the power to regulate online content produced by private citizens, despite the government saying user-generated content will be exempt. The Senate committee that reviewed the bill has approved a number of amendments including one that excludes user content from CRTC regulation. Those amendments still need to be voted on by the full Senate.
The Online News Act, Bill C-18, seeks to compel social media giants to strike ad revenue agreements with Canadian media companies. The bill has passed in the House of Commons and is at second reading in the Senate.
The government says this bill is necessary to sustain media outlets financially and preserve a free press.
Critics, however, say the bill was lobbied for by major media outlets and that it won't make media more free but rather dependent on Big Tech.
In efforts to reduce what it calls "online harms," the government has mandated a panel of experts to help frame future legislation, maintaining that "disinformation" has "grown to become one of the most pressing and harmful forms of malicious behaviour online."
Focus-group research conducted by the Privy Council Office in February 2021 found that most Canadians did not want the government to regulate the internet.
The progress and discussions of these bills will be something to watch for in the coming year.
Emergencies Act Inquiry
The Public Order Emergency Commission hearings took place in the fall, with dozens of stakeholders and experts testifying on the Liberal government's invocation of the Emergencies Act in February to clear cross-country protests and blockades.
The commission was established according to a subsection of the Emergencies Act that requires an inquiry to be held to probe the circumstances that led to the act's declaration and the measures taken to deal with the situation. The government additionally mandated the commission to focus on the protesters and issues such as "misinformation and disinformation."

"Although these topics have been identified as worthy of attention, it is the mandate that has been given to us by Parliament that drives the commission's work," Commissioner Paul Rouleau said on Oct. 13.
While the hearings shed much light on a host of areas—such as revelations that the Emergencies Act was not needed to secure tow trucks and that security agencies didn't view the protests as a threat to national security—the federal government chose to keep a key item hidden from the public and the commission.
This relates to the initial legal advice on which Attorney General David Lametti and the Justice Department based their decision when they invoked the act. Lametti implied during his Nov. 23 testimony that this advice wouldn't be revealed.
"What I don't know, and I'm not saying we necessarily need to know, is what was the belief of those who made the decision as to what the law was? And I guess the answer is we just assume they acted in good faith in application of whatever they were told. Is that sort of what you're saying?" Rouleau asked Lametti.
"I think that's fair," replied Lametti, who claimed solicitor-client privilege a number of times during the proceedings.
Now Rouleau is racing to deliver his final report to Parliament by Feb. 20, in which he will declare, according to his findings, whether the use of the Emergencies Act was justified.
China Policy
Several significant China-related developments occurred in 2022, many of them with deep implications for Canada's security.
After many years of waiting and assessing, the Trudeau government decided to follow its allies in the Five Eyes intelligence alliance to ban telecommunications giants Huawei and ZTE from Canada's 4G and 5G wireless infrastructure due to national security concerns.
However, Canadian companies already using Huawei and ZTE equipment have been given a long time frame to remove it from their networks—until June 2024 to remove 5G equipment and until December 2027 to remove 4G equipment.
Another China-related story that made headlines and has implications for Canada's security and sovereignty was the discovery of Chinese police stations operating illegally on Canadian soil.

Spanish NGO Safeguard Defenders revealed in September that "unofficial" Chinese police stations have been operating in at least 30 countries including in Canada. The RCMP said in October that it was investigating the matter.
Concerns related to Chinese Communist Party (CCP) interference in Canadian elections also came to the fore this year, following reporting by Global News that the CCP had provided money to candidates during the 2019 federal election.
Prime Minister Justin Trudeau acknowledged being briefed about foreign interference issues "all the time" but denied ever having been briefed about "any federal candidates receiving money from China."
Government House Leader Mark Holland said tackling the issue of foreign interference would be one of the Liberals' priorities in the new year.
On the foreign policy front, the federal government in November unveiled its long-awaited Indo-Pacific Strategy to confront challenges in the region.
The new policy identifies the Chinese regime as "an increasingly disruptive global power" and pledges to join allies in confronting Beijing on a range of issues–a rare stance for the Liberals.
The strategy recognizes Beijing's ambitions to rewrite international norms to its benefit and lays out the CCP's violations of the rules-based international order and basic human rights.
Although the strategy shows a toughened stance toward the regime, it still calls for cooperation with China on issues such as climate change policies and trade.
Some observers say that, given its approach in the past, Ottawa needs to show some credibility now if it's going to implement the strategy in the years to come while confronting an increasingly aggressive China.
"What I hear in the region over and over is we have challenges in terms of credibility," Macdonald-Laurier Institute (MLI) senior fellow Stephen Nagy said in a recent panel discussion.
It remains to be seen how the new strategy will play out in 2023.
Liberal/NDP Coalition and a New Tory Leader
In March, the Liberals struck a deal with the NDP to keep their minority government in power for a full term before the next election is required to be held, which would be in 2025.


In exchange for implementing various social programs, the NDP will refrain from siding against the government on confidence votes, such as on the budget.
NDP Leader Jagmeet Singh has threatened to pull out of the deal if the Trudeau government doesn't do more to address the current health crisis, which has seen hospitals overwhelmed and medicine in short supply.
"If we don't see action on health care, we absolutely reserve the right to withdraw our support," Singh said on Dec. 12.
The prime minister brushed off concerns about Singh's commitment to the deal in his year-end interview with TVA.
He said he doesn't expect there will be an election in 2023 and touted his coalition with the NDP as a way to "demonstrate that a progressive government—which wants to fight against climate change, move forward on reconciliation, ensure that we create economic growth which benefits everyone—can deliver."
However, parties are known to call elections if they believe they have enough support to win and extend their time in government. And although Canada just had two elections close together in 2019 and 2021, a new poll shows that nearly equal portions of Canadians want and don't want an election in 2023.
The new year will also further test Conservative's newly elected leader, Pierre Poilievre, who won the leadership vote by a wide margin.
Alberta Election
In early October, Danielle Smith won the leadership of the United Conservative Party (UCP) on the sixth ballot, becoming the next premier of Alberta after Jason Kenney stepped down.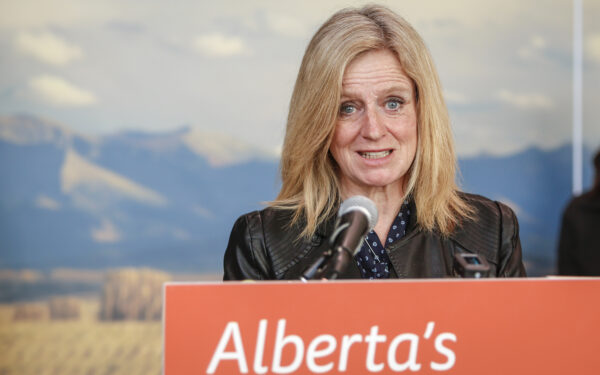 But winning among her UCP fan base is a world of difference from winning the upcoming provincial election, likely to be held in the spring, against an NDP that formed government in 2015 amid a divided conservative vote.
The 2023 Alberta election will be one to watch given the increased urban-rural split in votes, and will demonstrate whether Smith can maintain the UCP's hold on power as she tries to keep her party united and win the trust of the province.
Alberta and Saskatchewan Versus Ottawa
During the UCP leadership campaign, Smith's primary promise was to implement a sovereignty act that would provide a "legal framework to push back on federal laws or policies that negatively impact the province."
The Alberta Sovereignty within a United Canada Act, commonly known as the Sovereignty Act, became law on Dec. 15, and according to Smith, will be used in instances where federal legislation and policies are deemed unconstitutional and violate Albertans' charter rights or provincial constitutional rights.

In the same vein, Premier Scott Moe's government introduced the Saskatchewan First Act in November. It seeks to affirm Saskatchewan's autonomy and exclusive jurisdiction over its natural resources and ward off "intrusive federal policies" that encroach on the province's legislative sovereignty.
Even without the use of the Sovereignty Act, Alberta has been standing up to Ottawa on a number of issues, one of the most notable being the Liberals' firearms confiscation program.
Alberta Justice Minister Tyler Shandro told federal counterpart David Lametti in mid-December that the province would be exercising its "constitutional jurisdiction [to] protect firearms owners from an increasingly hostile federal government."
With the federal government poised to push ahead with the firearms confiscation program as well as its environmental and climate change policies, the Ottawa-versus-Prairies battle will be one to watch in 2023.
Economy
The Canadian economy started 2022 on fire with inflation just above 5 percent, robust economic growth, and a strengthening labour market. Then in March, an unprecedented series of Bank of Canada rate hikes began—400 basis points or 4 percentage points to date—to bring down inflation by cooling the economy.
The economy has remained resilient with the fourth quarter still expected to see positive economic growth, but many are predicting a recession in 2023 as the effects of higher rates fully take hold.

What might spare Canada's economy from a bad recession is a potentially less severe job loss compared to prior recessions. But ongoing challenges for policy-makers are labour shortages and mismatches between skills in demand and those available.
However, the housing market is where the effect of interest rate increases are most immediately evident. Some economists say that, with the vulnerabilities in that market, Canada's recession could be worse than that of most of its peers. Analysts are calling for a steep correction in housing, which has traditionally been a vital driver of economic growth, in 2023.
The energy sector flourished in 2022, buoying Canada's economy and stock market, with the price of oil topping US$120 per barrel at times. The demand for energy in other parts of the world is obvious—potentially reaching crisis proportions this winter in Europe—and Canada's oilpatch has been signalling its eagerness to supply energy.
However, the sector continues to deal with reduced business investment and regulatory challenges, and that may continue in 2023 given the federal government's position on oil and gas development.
Firearms Legislation
The Liberal government expanded its gun control agenda in 2022 and is expected to impose more restrictions in 2023.
The government banned the importation of handguns in August and made it illegal to buy, sell, and transfer handguns in October, both before the passing of Bill C-21 that would amend the Criminal Code, the Firearms Act, and other laws to enforce gun control.
Then in late November, the feds filed amendments to Bill C-21 to render illegal a large number of rifles, hoping to ban them along with the other 1,500 models and variants already identified as newly prohibited "assault-style" firearms. Critics, including opposition parties and First Nations, are concerned that some of the firearms to be banned under the amendments are used for hunting.

The Liberals are seeking to adopt an evergreen definition to encapsulate weapons that can fire in semi-automatic mode and accommodate a magazine, in order to pre-emptively ban the introduction of future models.
While the Liberals have opened the door to re-examining the amendments and consulting stakeholders on the issue, other messaging suggests they're still intent on banning at least some hunting rifles.
In a Dec. 19 interview with CTV News, Trudeau said he would still go after some hunting firearms because they "are too dangerous in other contexts."
The House of Commons public safety committee will be holding meetings in the new year to examine the issue.
Health Care
As is often the case in the winter season, hospitals across the country are struggling to cope with an influx of patients suffering from respiratory illnesses.
In Ontario, children's hospitals have been overwhelmed largely due to influenza and the respiratory syncytial virus, both of which hit earlier than usual in 2022.
According to statistics from the province's Acute Care Enhanced Surveillance system, children and teens have been going to Ontario hospital emergency departments at a rate of up to three times higher than usual.

In mid-November, the Hospital for Sick Children in Toronto said it was reducing surgeries to preserve its ICU capacity in order to deal with a surge of intensive care cases.
In 2022 the premiers jointly urged the federal government to increase health transfers to the provinces and territories. The premiers sought to meet with Trudeau to discuss the situation, but he said he wants a deal to be agreed on before holding a meeting.
Trudeau said he doesn't want to provide additional funding without strings attached, setting as a condition that the provinces must provide health data to the feds to allow comparisons to be made.
The issue of health-care access will continue to be an important one in 2023.
Immigration
Canada's population grew at a historic pace in 2022.
Statistics Canada reported on Dec. 21 that the population growth for the first nine months of the year, at over 776,000, is the largest increase for any year since the founding of the country in 1867.
The agency says the addition of 362,453 immigrants for a single quarter between July and October is the equivalent of what would normally be seen for a full year about a decade ago.

The growth was mostly fuelled by the arrival of 225,198 non-permanent residents.
In terms of permanent residents, the federal government plans to reach the target of 465,000 in 2023 and 500,000 in 2025. This does not include people coming to Canada on long-term visas or claiming refugee status.
The immigration push seeks to address labour shortages in sectors like health care, construction, and transportation, but a survey conducted in late 2022 shows that the vast majority of Canadians are worried about how the increased numbers would impact housing and government services.
Medical Assistance in Dying
In 2022, Canada became a world leader in physician-assisted suicide. This was also the year that more reports emerged of people in dire economic or medical straits applying for medical assistance in dying (MAiD) due to being unable to handle their circumstances.
Others were offered the procedure while not actually seeking it.
On Dec. 1, the House of Commons Veterans Affairs Committee heard from a veteran who alleged she was offered MAiD by a Veterans Affairs Canada (VAC) worker while in the process of trying to obtain a wheelchair ramp for access to her home.

The week prior, an anonymous veteran going by the pseudonym "Bruce" alleged on a podcast that a VAC worker casually raised MAiD as being "always an option" to him when he was struggling with PTSD and suicidal thoughts.
At least eight veterans have been offered unprompted medical assistance in dying by a VAC case worker, Conservative MP Blake Richards said during a veterans affairs committee meeting on Dec. 5. Veterans Affairs Minister Lawrence MacAulay has said that the employee no is no longer employed in the department.
Meanwhile, the government said on Dec. 15 that it is putting on hold its plan to expand MAiD to include those whose only medical condition is a mental illness. That expansion had been expected to come into force on March 17, 2023.
Emission Targets
A number of new environmental regulations announced in 2022 will likely be more entrenched in 2023, among them oil and gas emissions caps. The aim is to reduce greenhouse gas (GHG) emissions nationwide by 40 to 45 percent below 2005 levels by 2030.
On Dec. 21, Environment Minister Steven Guilbeault announced the goal to make all passenger vehicles sold in Canada zero-emission by 2035, with gas-powered passenger vehicles being phased out.
For the agricultural sector, the government's climate plan calls for GHG emissions from fertilizers to be reduced by 30 percent below 2020 levels by 2030.

And coming out of the U.N. Biodiversity Conference held in Montreal in December, Guilbeault said certain "climate action" targets outlined at the summit will be enshrined in legislation. Among other targets, they include a plan to protect 30 percent of all the world's water and land within the next seven years and another to cut in half global food waste.
Many stakeholders such as farmers' groups and provinces like Alberta and Saskatchewan have expressed opposition to the federal goals, including the ever-increasing carbon tax.
The government will likely move to further enshrine its climate policy goals in the new year, as likely as stakeholders will continue to resist.
Organ Trafficking and Harvesting
After almost 15 years and many tries, in 2022 Canada's Parliament finally passed legislation to tackle international organ trafficking, with MPs of all political stripes voting in favour of Bill S-223 on Dec. 14.
Bill S-223 will make it a criminal offence for a Canadian citizen or a permanent resident to go abroad to receive an organ taken from someone who did not give informed consent to the removal of the organ
It will also amend the Immigration and Refugee Protection Act to deny a permanent resident or foreign national access to Canada if they have engaged in activities relating to the trafficking of human organs.

The practice of forced organ harvesting from Falun Gong prisoners of conscience in China first came to light in 2006, in a report by human rights lawyer David Matas and the late former MP and cabinet minister David Kilgour.
"Bloody Harvest," which was later followed by a book of the same name in 2009, concluded that the Chinese Communist Party was implicit in forced organ harvesting from Falun Gong practitioners on a large scale, killing them in the process, to sell their body parts for profit.
After S-223 was passed, Conservative MP Garnett Genuis, who sponsored the bill in the House of Commons, said the main next steps include ensuring effective enforcement and working with the provinces "on disclosure and reporting" in order to identify cases of organ harvesting and trafficking.
The bill currently does not have a provision that mandates health professionals to report to government officials should their patients opt for transplant tourism that may result in receiving organs obtained by illicit means.
COVID Vaccination
The federal and provincial governments imposed vaccine mandates in the fall of 2021, resulting in people being compelled to vaccinate to keep their employment or access to services such as air travel and restaurants.
The decision by Ottawa and Washington to impose a cross-border vaccination mandate on truck drivers in mid-January was a bridge too far for truckers, who in response initiated the "Freedom Convoy" protests in February, which lasted for weeks.
Not long after, provinces started dropping their COVID-19 mandates and restrictions.
Around the same time, legal challenges to the federal travel vaccine mandate, which has since been dropped, were filed.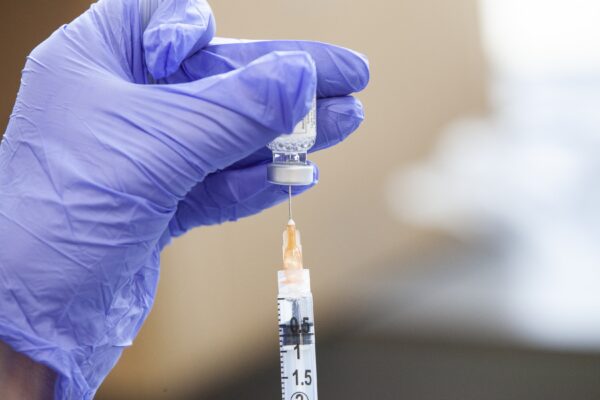 Thousands of pages of court documents, as reported on by The Epoch Times in a series of articles, have offered a number of revelations about Ottawa's mandate.
For example, it emerged in court testimony that Health Canada didn't recommend the implementation of a mandate, and the government knew that the risk of in-flight transmission of the virus was low and didn't have a good idea of what the impact of vaccination would be in preventing it.
In addition, the court heard that the mandate was used to drive uptake, that it created acute staffing issues in the transportation sector, and that the vaccines would have never been approved had they shown their current level of effectiveness.
As time has passed, more data and studies have emerged on the efficacy and safety of the vaccines, such as a Dec. 1 report by the U.S. Food and Drug Administration showing that the Pfizer vaccine has been observed to cause blood clots in some cases.
Major Crime Incidents
As the hearings into the April 2020 mass killings in Nova Scotia took place this year, other tragedies that shocked Canada include the mass stabbing in Saskatchewan that left 11 dead and 18 injured, and the killing of several police officers in the line of duty.
Major crime incidents have gone up in major cities such as Toronto, while drug addiction and homeless encampments continue to plague cities like Vancouver. In October, a Vancouver police officer was fatally stabbed by a homeless man in a local park.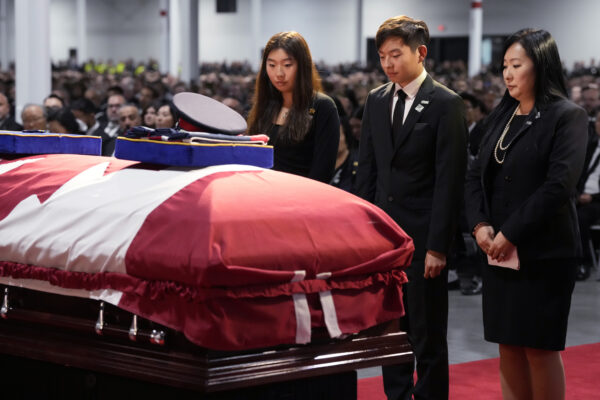 In Toronto in 2022, the transit system saw assaults, stabbings—one fatal—and shootings. A man was shot dead outside one station, while a woman was lit on fire aboard a Toronto Transit Commission bus and later died.
On Dec. 17, a 59-year-old man who lived in Toronto's shelter system died after being "swarmed" by eight teenage girls ranging in age from 13 to 16. The girls each face a charge of second-degree murder.
Canada's national homicide rate reached a high in 2021 with 788 homicides, having increased for a third consecutive year, and almost one-third of the killings were gang-related, according to Statistics Canada.
The issue of crime and dealing with the increased violence will continue to be an important one in 2023.