2014 Ford Transit: The Same Size as Your Business
No Matter What Size It Is
April 18, 2013 5:43 pm Last Updated: April 22, 2013 11:31 am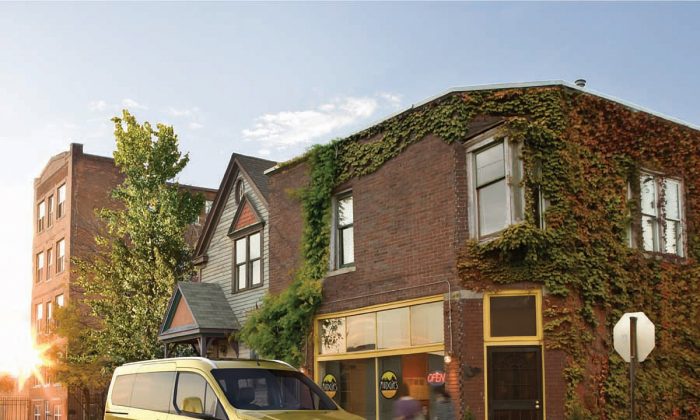 Ford recently unveiled the latest generation of the Ford Transit family, the full-sized Ford Transit and smaller Transit Connect. 
The Transit has been a staple commercial vehicle in Europe for nearly 50 years. It's so popular that the word "transit" is a synonym for "van" in England.
The tiny Transit Connect was introduced to Canada with great success in 2010, becoming popular fleet vehicles for companies like Canada Post and Bell. The new Transit family will offer business owners and fleet managers a genuine preponderance of options and sizes.
EcoBoost Engines – Ford's new engine option uses direct fuel injection and turbo to increase torque, horsepower, and payload, while improving fuel economy by 25 percent. 
Transit has three engine choices: a 3.2L inline five-cyliner turbo diesel, standard 3.7L V6 with optional CNG/LPG (Compressed Natural Gas/Liquefied Petroleum Gas) prep kit, or the 3.5L EcoBoost.
The smaller Transit Connect has either a 2.5L DOHC 4-cylinder or 1.6L EcoBoost engine, predicted to get 30-plus mpg, which is expected to end up around 7.8 L/100 km in the Canadian certification system.
Available in Small, Medium, and Large: The 2014 Transit full-sized cargo van will be available in three body lengths, two wheelbases, three roof heights, and in van, wagon, chassis cab, and cutaway variations.
At its largest size configuration, the Transit has 14,045 litres (496 cubic feet) of space, double the volume of the old ESeries van making it possible to deliver in a single van, what used to require two vans, or two trips. 
Transit Connect looks distinctive and cute, great for a large number of small-sized deliveries each day. The 2014 will have an estimated 7.8 L/100 km, and payload of 726 kg (1,600 lb), plus you can get 7-seats that easily fold flat.
Workshop on Wheels: The tallest Transit will allow even a six-foot-five inch person to stand upright and work in the van. Add to that upfitted modifications, like those seen here done by Ford Approved Modifier Farmbro, and you can take your whole business mobile! Use an Approved Modifier so you don't void your warranty and get all the custom fit racks, bins, drawers, or shelves you need.
People Mover: If you need a shuttle bus for your business, or you need a van to haul things that can quickly convert to transporting people, you can try a 7-seat Transit Connect Wagon. The larger Transit will come with 8, 10, 12, and 15 passenger seating options.
Your work vehicle is your business card!
"For small business trying to reflect professionalism Transit Connect offers great styling" says Jack Palazzolo, VP of Marketing at Ford Canada. So be sure to wrap it with your logo.