In a tragic turn of events, North Ogden mayor Maj. Brent Taylor lost his life in early November 2018, in an "apparent insider attack," while serving with the Utah National Guard in Afghanistan. Grieving the loss of the hero, patriot, and loving father, North Ogden community members came together to honor Taylor in a special way on Veterans Day.
Earlier in January 2018, Maj. Brent Taylor took a year of absence from his post as North Ogden mayor to volunteer for a NATO mission in helping train members of the Afghan National Defense and Security Forces.
Tragically, on Nov. 3, 2018, he was shot by one of the Afghan commandos he was training. He died at the age of 39.
His death came as a shock to many people in Utah and across the United States of America.
Senator Orrin Hatch wrote on Twitter: "Brent was a hero, a patriot, a wonderful father, and a dear friend. News of his death in Afghanistan is devastating."
Hatch on the death of North Ogden Mayor Brent Taylor:

"Brent was a hero, a patriot, a wonderful father, and a dear friend. News of his death in Afghanistan is devastating. My prayers and love are with Jennie and his 7 young children. His service will always be remembered." pic.twitter.com/UHHbhTciYo

— Senator Hatch Office (@senorrinhatch) November 3, 2018
On the morning of Veterans Day in 2018, a local group known as "Follow the Flag," along with friends, law enforcement officials, and supporters, woke up before dawn in preparation of a touching tribute for Maj. Brent Taylor.
The more than 140 volunteers from North Ogden gathered at Weber High School to carry a 400-pound (approx. 181-kg) giant American flag, called "Big Betsy," up the mountain.
What does the scene of 100+ people together carrying a giant #americanflag up #coldwatercanyon look like? Hard to say when your eyes are full of tears! Glad I was able to capture this special morning! What an amazing community that has come together to pay respects to a great man, Mayor Brent Taylor. There were many in this party who knew him well. He is loved and missed. And for those other many veterans and active duty who are serving across the world, We Love You! We Respect You! We Appreciate Your Service!!!! #veteransday 2018

Posted by Jake B. Butler on Sunday, 11 November 2018
Upon reaching their destination, the volunteers hoisted up the massive 78 x 150 foot flag above Coldwater Canyon in Utah.
The striking flag flying above the canyon and visible from North Ogden and beyond, was put in place to honor Taylor, to give some comfort to his surviving wife and 7 kids, aged 13 years to 11 months, as well as to spread a message.
"He was humble, and just an amazing example of how to serve your community—and do it without ego," Kirk Chugg, a friend of Taylor who took part in the flag's placement, said, according to Team RWB. "He encouraged us to look around and see what you could do for one another, and then serve each other in that way."
The massive flag was flown in memory of not just Taylor, but all veterans.
"Brent would want this flag flown for more than just him," addressed Chugg during the solemn event. "He was that kind of man. So we're flying this for everybody who has ever served our country."
"It's nothing short of amazing," North Ogden City Councilman Phillip Swanson told the Standard-Examiner.
Speaking to FOX 13, Chugg said: "It was the coolest thing that I'd ever witnessed. At the very moment the flag was going out, those were the words going through my head: 'By the dawn's early light.' That's when I felt Brent the most."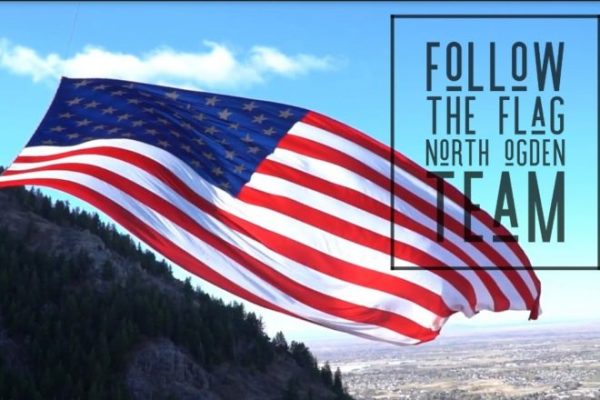 Needless to say, the special flag tribute meant the world to the Taylors.
During the vigil held on Sunday night at North Ogden Amphitheater, Taylor's wife, Jennie Taylor, said, as Deseret News reported, "(I'm) so full of love for the beautiful flag that flies in that beautiful canyon."
"We have been truly amazed at the outpouring of community, military and national support," Jennie Taylor wrote in a Facebook post.
Maj. Brent Taylor was laid to rest in North Odgen—"the city he so dearly love"—on Nov. 17, 2018, at the Ben Lomond Cemetery.
Utah Governor Gary Herbert said in a statement, "He didn't need to go to Afghanistan this year, but he saw that his country and the people of Afghanistan needed him, so he willingly stepped away from civilian life and put himself in harm's way to protect the freedom of others."
Rest in peace, Maj. Brent Taylor.
Thank you for your service and sacrifice to serve for the common good. Your patriotism and willingness to serve will be remembered by many for a long time.