More than 120 million Americans are expected to cast ballots in the 2022 midterm elections before Election Day polls close on Nov. 8.
When the smoke clears Nov. 9—and, in some places with close races, in the days after—what is likely to emerge is a reshaped legislative playing field in Washington and in state capitals across the country heading into 2023.
On the midterm ballot are 34 seats in a U.S. Senate now deadlocked at 50-50, three dozen tossup seats in a U.S. House where Republicans need five seats to gain chamber majority, and 36 governor elections.
As of Nov. 7, more than 42 million voters had already cast vote-by-mail ballots or voted early in-person, reports the U.S. Elections Project at the University of Florida.
That's two million more than those who voted early in 2018, but nowhere near the 101 million who voted early in 2020, two-thirds of the 154 million total turnout. 
More than 122 million people voted in the 2018 midterm elections. Prognosticators are uncertain if the 2022 midterms will match or exceed the 2018 record turnout.
What is certain is turnout will determine winners and losers. The candidates, committees, and parties that generate the most compelling calls to action on issues that most animate voters will be the ones that advance.
That realization has Republicans envisioning a "red wave" in taking control of the Senate and racing to a significant majority in the House. 
Republicans have uniformly hammered Democrats on their associations with President Joe Biden, whose approval rating lingers just above 40 percent, and their culpability in supporting Democratic policies they say have led to a 40-year-high in inflation. 
Those gas-and-groceries issues resonate with voters. In polls and surveys, voters across the country repeatedly and overwhelmingly said inflation and economic uncertainty were their primary concerns. 
Crime and immigration also ranked highly among the concerns. Republicans campaigned against Democrats for allegedly being weak on crime and responsible for the chaos on the border.
Republican voters were excited about advancing the parental rights movement, expanding school choice, and enforcing election integrity initiatives with an enthusiasm reflected in polls that forecasters say presage a motivated turnout.
Democratic candidates received a boost in the wake of the Supreme Court's reversal of Roe v. Wade. But, eventually, that momentum faded as a motivational issue in the face of soaring prices for gas and food.
Another Democratic campaign theme that apparently fell flat, at least in polls, was a "threat to Democracy" claim many party candidates lodged against their GOP opponents, especially supporters of President Donald Trump's election fraud claims. Few voters identified that as a factor in deciding how they cast their ballots.
The 2022 midterms may not produce a turnout record, but it is likely to set a new standard for campaign spending in any election. 
The total cost of state and federal midterm elections is projected to exceed $16.7 billion, according to an OpenSecrets analysis published Nov. 3, which would top 2020's record of $14.4 billion.
The breakdown is $8.9 billion for federal candidates and political committees, and $7.8 billion for state and local candidates and committees. 
That $8.9 million easily exceeds 2018's midterm federal campaign spending record of $7.1 billion, but falls below OpenSecrets' forecast of $9.3 billion in 2022 federal campaign spending.  Republicans spent $4.3 billion on Congressional campaigns while Democrats spent $3.9 billion.
State candidates and committees for governor, Secretary of State, state attorney general, and 6,279 state legislature seats across 46 states, and for 133 ballot measures across 37 states, will raise a projected $7.8 billion, according to OpenSecrets, which would eclipse the estimated 2018 midterm spending record of $6.6 billion. 
Here's an Election Day scorecard of races to watch.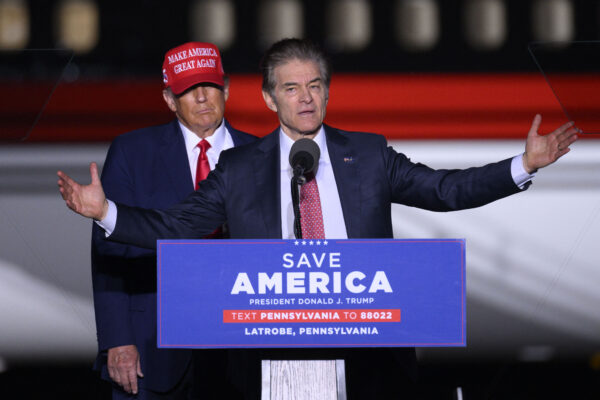 Senate
The Senate is split 50-50 between the two parties, with Vice President Kamala Harris holding the tie-breaking vote. On the ballot are 34 of the chamber's 100 six-year seats.
Seven of the 34 races are described as competitive. In four—Arizona, Nevada, Georgia, New Hampshire — Democratic incumbents are engaged in nip-and-tuck reelection bids. 
Sen. Ron Johnson (R-Wisc.) is the only Republican Senate incumbent facing a stiff challenge, while in Pennsylvania and Ohio, candidates are seeking to succeed retiring GOP senators. 
On Nov. 7, poll aggregator and analytics website FiveThirtyEight's forecasting model showed the GOP had a 54 percent chance of winning the Senate majority, compared to 46 percent for Democrats. 
RealClearPolitics projects Republicans will control the Senate with 53 seats compared to 47 for Democrats. 
Until early November, the models projected Democrats would retain control of the chamber.
Ohio—Former President Donald Trump hosted a rally in Dayton for Ohio Republican Senate candidate J.D. Vance and a field of other Republicans on Election Day Eve, Nov. 7.
A venture capitalist and author of The New York Times best-seller "Hillbilly Elegy," Vance is opposed by Democrat Rep. Tim Ryan (D-Ohio). They are vying to replace retiring Republican Sen. Rob Portman (R-Ohio).
FiveThirtyEight gives Vance 87-to-13 odds to win.
Pennsylvania—Trump was in Pennsylvania last weekend to stump for Senate Republican Senate candidate Mehmet Oz and GOP gubernatorial nominee Doug Mastriano.
Meanwhile, former President Barack Obama was in Pennsylvania to campaign for Democratic Senate candidate John Fetterman and governor candidate Josh Shapiro.
Fetterman, who is Pennsylvania's lieutenant governor, and Oz, who is a Trump-endorsed surgeon turned celebrity talk show host, are vying to replace retiring Republican Sen. Pat Toomey.
For several months after suffering a stroke before the primary, Fetterman avoided public events and media interviews, but orchestrated a social media campaign against Oz as an affluent carpetbagger from New Jersey who is out of touch with Pennsylvanians.
Fetterman had a double-digit lead in polls during the summer. Momentum began to shift when GOP-aligned groups poured millions of dollars into ads that focused on Fetterman's progressive stances on criminal justice. 
In recent weeks, polls have indicated a dead-heat or Oz with more support. FiverthirtyEight gives Oz 57–to-43 odds to win.
Because Pennsylvania elections officials cannot open VBM ballots until after Election Day polls close, the results of this race may not be affirmable for several days.
Georgia—Sen. Raphael Warnock (D-Ga.), who won an abbreviated Senate term in January 2021 representing Georgia that gave Democrats a nominal chamber majority, is embroiled in a contentious race against Trump-endorsed Republican Herschel Walker, a first-time political candidate who gained acclaim as a football standout at the University of Georgia and then the USFL and NFL.
In the five most recent polls to be released, Walker has held the lead in three and has been tied with Warnock in two. FiveThirtyEight's poll aggregator gives Walker a 1 percentage point lead and 63-to-37 odds of winning.
Arizona—Incumbent Democrat Sen. Mark Kelly, who once held significant leads in polls, is now in what is shaping up to be a nip-and-tuck reelection bid against Republican challenger Blake Masters.
On Nov. 4, Emerson College Polling released a survey showing Masters with a 48 percent to 47 percent lead over Kelly. In that same poll, 52 percent of voters said they think Kelly will win while 47 percent believe Masters will prevail.
A separate poll released on Nov. 4 from the Marist Institute of Public Opinion indicated that Kelly had a 50 percent to 47 percent advantage over Masters.
Elected in a 2020 special election to fill the seat of the late Republican Sen. John McCain, Kelly is a retired astronaut and the husband of former Democratic U.S. Rep. Gabby Giffords.
Masters is a venture capitalist who is an outspoken Trump supporter and adamantly believes the 2020 presidential election was stolen from the former president.
Nevada—Incumbent Democratic Sen. Catherine Cortez Masto (D-Nevada) and Republican challenger Adam Laxalt have never been more than a few percentage points apart in polls in a race that is likely to live up to its "toss-up" classification.
In a match-up of former Nevada attorney generals, FiveThirtyEight gives Trump-endorsed Laxalt, the son of former Sen. Pete Domenici (R-NM) and grandson of former Nevada governor and Sen. Paul Laxalt (R-Nevada), 51-to-49 odds to win.  
Cortez Masto replaced the late Sen. Harry Reid, who led the Democratic caucus from 2007-17. In 2016, she edged Joe Heck in one of the few battleground states that Democrats held. Former presidents Bill Clinton and Barack Obama have been in Nevada stumping for her.
Cortez Masto's campaign has raised more than three times of what Laxalt's has.
New Hampshire—Republican Senate candidate Don Bolduc has made strides in polls but is facing an underdog battle against first-term incumbent Democrat Sen. Maggie Hassan.
Hassan, who won her seat in 2016 by one-tenth of a point in 2016, held an 8.5-point cushion in summer polls. By early November her lead shrunk to 2.2 percent. FiveThirtyEight gives Hassan 72-to-28 odds to win reelection.
Wisconsin—Two-term Republican Sen. Ron Johnson (R-Wisc.) is facing a stiff challenge by Democratic Lt. Gov. Mandela Barnes but is expected to survive.
Barnes has never led in polls or surveys although the candidates were roughly tied in late September. FiveThirtyEight gives Johnson 91-to-19 odds to win.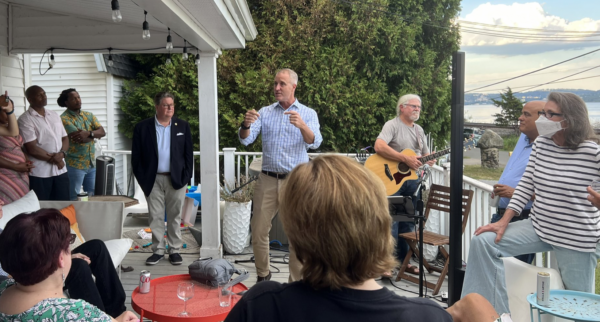 House
All 435 two-year seats in the U.S. House of Representatives are on the ballot. Heading into the midterms elections, Democrats hold a 220-212 majority with three vacancies. Republicans need to gain five districts to win a chamber majority.
Post 2020 Census reapportionment favored the GOP in seeking to flip the House with six mostly-red states gaining seats—two in Texas, one each for Colorado, Florida, Montana, North Carolina, and Oregon. Seven mostly-blue states—California, Illinois, Michigan, New York, Ohio, Pennsylvania, West Virginia—lost seats. 
According to Ballotpedia, about 37 districts, less than 9 percent, are defined as "battleground" races where an incumbent or a party could lose a seat. Of those, 28 seats are held by Democrats, seven by Republicans, and two are newly-created seats after the 2020 census.
RealClearPolitics gauges 228 seats leaning, likely, or solidly Republican, 174 similarly poised to go Democratic, and 33 as toss-ups. Most of the toss-up seats currently belong to Democrats.
Here is a scorecard roundup of key congressional district (CD) races on Nov. 8 ballots:
New Hampshire CD 1—Two-term incumbent Democratic Rep. Chris Pappas (D-NH) faces Republican Karoline Leavitt, a former assistant press secretary in the Trump White House and later as director of communications for House Republican Conference Chair Rep. Elise Stefanik (R-NY)
Real Clear Politics says CD 1 leans Republican, with it having gone for Trump over Biden by 1 point in 2020. The Cook Political Report calls the race a toss-up. FiveThirtyEight gives Pappas 65-to-35 percent odds to win.
New York CD 17 and CD 18—Democrats are favored in these lower Hudson Valley districts but Republican candidates could pull off upsets.
CD 17 pits Rep. Sean Patrick Maloney, Democratic Congressional Campaign Committee (DCCC) chair, against Republican state Assemblyman Mike Lawler (R-Pearl River), a former New York Republican Party executive director.
Maloney is a five-term incumbent who represents CD 18 now but chose to run in CD 17 after redistricting because it appeared to be an easier path to reelection.  
That has proven to be a miscalculation with the DCCC having to spend a lot of money saving this "safe" seat and Maloney calling in former President Bill Clinton to stump with him.
The Cook Political Report and Real Clear Politics reclassified the race as a toss-up. Lawler has led in polls—all Republican-funded—from anywhere from 2 percent to 8 percent but FiveThirtyEight gives Maloney  70-to-30 odds of winning.
Running to succeed Maloney in CD 18 is Rep. Pat Ryan (D-N.Y.), a former Ulster County executive, who assumed the state's lame-duck CD 19 seat in September after scoring an upset Aug. 23 special election victory over Dutchess County Executive Marc Molinaro, the GOP's 2018 gubernatorial candidate. 
Molinaro is favored to succeed Ryan in his Nov. 8 election against Democrat Josh Riley in the "new" CD 19 on Nov. 8. 
Ryan's Aug. 23 special election victory in his closely-watched battle against Molinaro buoyed Democrats' hopes of blunting, if not reversing, a projected "red wave" that would deliver Republicans House and Senate majorities in 2023.
Ryan rode reaction to the U.S. Supreme Court's late-June reversal of Roe v. Wade to his CD 19 win, stressing his support for access to abortion. 
Ryan, a U.S. Army Iraq war veteran and West Point graduate who was elected Ulster County executive in 2019, faces Republican state Assemblyman Colin Schmitt (R-New Windsor).
A real estate agent and sergeant in the Army National Guard, Schmitt has connections and name-recognition in Orange County after serving as New Windsor Town Supervisor. Ryan's roots are in Ulster County..
Both candidates tout internal polling that indicate they are either winning or within striking distance of a winning a close race. Schmitt's campaign cites a September BK Strategies survey that found Ryan holding just a half-point lead while Ryan's campaign reports its early October internal polling gave him a 7-point lead. 
Ryan is the favorite in CD 18. On Oct. 26, the Cook Partisan Voting Index (CPVI) said the race "leans Democrat," meaning there is a significant Republican presence in the district, but it favors Democratic candidates. FiveThirtyEight rates Ryan's odds of defeating Schmitt at 71 percent.
New Jersey CD 7—Two-term incumbent Rep. Tom Malinowski's (D-NJ) is the underdog in his Nov. 8 rematch against Republican Tom Kean, Jr., who came within 1 percentage point of unseating him in 2020.
As newly constituted, CD 7 now has 30,000 more Republicans than it did in 2020 when Kean, the grandson of former U.S. Rep. Robert Kean (R-N.J.), and son of former Republican Gov. Thomas Kean, Sr., lost to Malinowski by less than 5,300 votes.
As of Nov. 2, the Cook Political Report and Larry J. Sabato's Crystal Ball rate CD 7 as "leans Republican."  Inside Elections with Nathan L. Gonzales rates the Kean–Malinowski race as a "toss-up." 
Virginia CD 2 and CD 7: Two-term Rep. Elaine Luria (D-Va.) faces Republican challenger state Sen. Jen Kiggans (R-Virginia Beach) in the first-ever congressional election between two female combat veterans in the "tossup" CD 2 race.
In nearby CD 7, two-term Rep. Abigail Spanberger (D-Va.) is also in a "tossup" nail-biter in her reelection bid against Prince William Board Supervisor Yesli Vega, a sheriff's deputy who led Republican Gov. Glenn Youngkin's Latinos for Youngkin campaign.
The GOP has targeted Virginia's CD 2 and CD 7—as well as CD 10, where underdog Hung Cao is giving Rep. Jennifer Wexton (D-Va.) cause to sweat—in its goal to flip the Virginia congressional delegation's 7-4 Democratic majority into a 6-5 or more Republican advantage on Nov. 9.
North Carolina CD 13: Incumbent Republican Rep. Tedd Budd (R-N.C.) is running for the Senate. Democratic State Sen. Wiley Nickel, a criminal defense attorney, and Trump-backed Republican newcomer Bo Hines are seeking to succeed him.
Nickel is a veteran political operative, having worked for Al Gore's campaigns in the 1990s and in the White House during Barack Obama's presidency. Hines, at 25 would, would be one of the youngest members of Congress if elected. He played football for a year at North Carolina State before transferring to Yale and playing there too.
Since late October, polls show Nickel leading with an aggregate rate of 42.6-to-41.8 percent but FiveThirtyEight gives Hines 77-to-23 odds of winning.
Georgia CD 2—Incumbent Democrat Rep. Sanford Bishop (D-Ga.) is the dean of the state's congressional delegation, having represented this southwest Georgia district for 30 years.
But he's being challenged in seeking a 16th term by Republican Chris West, an attorney and real estate developer, whose campaign benefited from post 2020 Census reapportionment that made CD 2 more accommodating for GOP candidates,
RealClearPolitics rates the district a toss-up. Two most recent polls of likely voters, one by Insider Advantage and the other by Trafalgar Group, show Bishop up by 3 and 4 points, respectively, both within the margin of error. 
Ohio CD 9—Incumbent Democrat Rep. Marcy Kaptur (D-Ohio) is the longest-serving woman in House history and is likely to win a 21st term on Nov. 8, but Republican challenger J.R. Majewski, an Air Force veteran and nuclear power plant manager, could pull off an upset.
As with other races, it is projected to be close because how reapportionment reshaped the district, adding Republican-leaning rural areas in northwest to a longtime Democratic stronghold around Toledo.
The Cook Political Report has CD 9 leaning Democratic. But RealClearPolitics, which calls it a toss-up, notes that in the 2020 presidential race, voters here favored Donald Trump by almost 3 points over Joe Biden. FiveThirtyEight gives Kaptur 76-to-24 odds of winning. 
Michigan CD 3—John Gibbs ousted Republican Rep. Peter Meijer (R-Mich.), one of 10 House Republicans who voted to impeach Trump, in a primary upset. 
Now he needs to defeat Democrat Hillary Scholten, a Grand Rapids attorney, in the GOP primary or this could be a red seat flipped blue.
Gibbs was one of the Republican candidates supported in the primaries by Democrats who pegged them as extremists and thus easier to beat in November. The Democratic Congressional Campaign Committee spent $435,000 promoting Gibbs over Meijer.
RealClearPolitics rates this race, in a district Biden carried by 11 points, as a toss-up. Cook's has it leaning Democratic, and FiveThirtyEight gives Scholten 57-to-43 odds of winning.
Iowa CD 3—Democratic incumbent Rep. Cindy Axne (D-Iowa) is being challenged by Republican state Sen. Zach Nunn in a district that reapportionment made more accommodating for Republicans.
Axne won her first two elections despite not getting more than 50 percent of the ballot. That was before the addition of Republican-trending rural counties to the south and Southeast of Des Moines. 
Nunn has been leading in polls with the Nov. 7 FiveThirtyEight aggregate showing him up 46.4-to-44.3 percent. FiveThirtyEight gives Nunn 58-to-42 odds of winning.
Kansas CD 3: Two-term incumbent Democrat Rep. Sharice Davids (D-Kansas) is being challenged by Republican challenger Amanda Adkins in a rematch of their 2020 contest.
But this is a new CD 3 after post 2020 Census redistricting that gave Republicans a better shot at winning in the metro Kansas City district. The redistricting moved rural areas into the district while breaking up urban neighborhoods that were part of Davids' base.
Davids is among four Kansas congressional  incumbents running for new two-year terms in the 2022 midterms. She is the only Democrat and the only one not projected to win convincingly on Nov. 8.
Texas CD 15—This 80-percent Hispanic south Texas district pits two Latina women, Democrat Michelle Vallejo, a Columbia grad supported by progressives, against Trump-endorsed Republican Monica De La Cruz.
The district is now represented by Rep. Vicente Gonzalez (D-Texas), who defeated De La Cruz by just  6,588 votes in 2020. After redistricting, Gonzales is opting to run in CD 34 against fellow incumbent Rep. Mayra Flores (R-Texas) in one of only two clashes between sitting reps nationwide.
De La Cruz led in early polls but recent surveys have the race even. FiveThirtyEight gives Vallejo 54-to-46 odds of winning.
Nevada CD 1, CD 3, and CD 4—The National Republican Congressional Committee has identified these three Last Vegas-area districts now represented by Democrats as flippable, especially after redistricting made two of the districts more accommodating for GOP candidates.
In CD 1, the formerly deep blue inner Las Vegas district which has only elected one Republican in the 40 years, six-term Democratic incumbent Rep. Dina Titus (D-Nevada) is being challenged by Republican Mark Robertson, a retired 30-year US Army veteran, certified financial planner, and UNLV adjunct professor in finance.
CD 1's new boundaries now stretch east and south of Las Vegas, doubling the district's number of registered Republicans to nearly 110,000. What had been a 2-to-1 Democratic voter bulge has been scaled back to single-percentage points.
Polls have Robertson leading, including by 12 percent in one survey, but FiveThirtyEight gives Titus 53-to-47 odds of winning.
In CD 3, two-term incumbent Democrat Rep. Susie Lee (D-Nevada) is being challenged by April Becker, a Las Vegas real estate attorney, 
As with CD 1, analyses of CD 3 have been steadily shifting red since 2020, with what had been a "likely" or "leaning" Democratic district now rated as a toss-up by the Cook Political Report and by Larry J. Sabato's Crystal Ball, among others.
Polls show Becker leading by up to 4 percentage points. FiveThirtyEight, however, gives Lee 62-to-38 odds of winning.
In CD 4, two-term incumbent Rep. Steven Horsford (D-Nevada) was the candidate Nevada Democrats wanted to help when the remapped CD 1 and CD 3 to include more Republican areas and shifted more blue areas into this North Las Vegas-centric district.
Horsford is being challenged by Republican Sam Peters, a retired US Air Force Major and owner of a Las Vegas insurance firm.
Polls have Horsford leading by up by 3 percentage points. FiveThirtyEight gives Horsford 87-to-13 odds of winning.
Oregon CD 5—Progressive Jamie McLeod-Skinner upset incumbent Rep. Kurt Schrader (D-Ore.) in the Democratic primary and is taking on Republican Lori Chavez-Deremer, a former mayor of the Portland suburb Happy Valley.
RealClearPolitics rates the race a toss-up. The Cook Political Report classifies it as leaning Republican. Joe Biden won the district by 9 points in 2020. McLeod-Skinner has recently gained in polls but FiveThirtyEight gives Chavez-Deremer 58-to-42 odds of winning.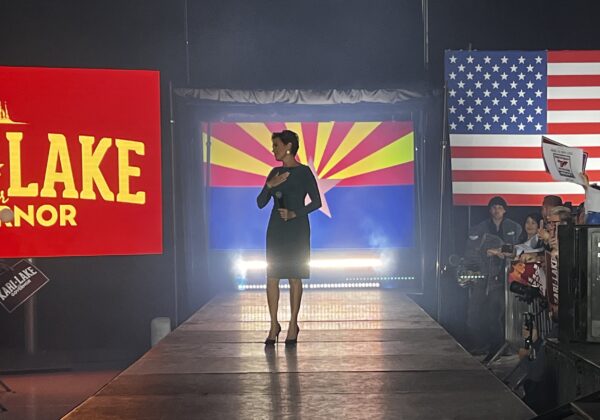 Governors
In 36 governor elections, 28 incumbents are seeking reelection. Sixteen of the 36 governor seats are held by Democrats with four of them engaged in "tossup" reelection races. Twenty are held by Republicans with three seats—all open—either likely to be lost to Democrats or engaged in toss-up elections.
Arizona—With Republican Gov. Doug Ducey term-limited, Trump-endorsed Republican Kari Lake is taking on Secretary of State Democrat Katie Hobbs.
The Real Clear Politics (RCP) average of polls in the race had Lake, a longtime anchor for Fox's Phoenix affiliate, ahead by 4.2 percentage points in early November. Hobbs has raised $5 million to Lake's $3.8 million, according to Transparency USA.
Michigan: Trump-endorsed Republican challenger Tudor Dixon is polling within the margin of error in her contested race against Democratic incumbent Gov. Gretchen Whitmer. 
Whitmer, who has raised five times more cash than Dixon, according to campaign finance tracker Transparency USA, had led by double digits throughout the summer. However, Whitmer's most recent RealClearPolitics average shows a 3.3-point lead in polls taken through Oct. 29, and the political website now rates the race a toss-up.
Pennsylvania—Republican challenger Doug Mastriano continues to trail in polls to Democrat Josh Shapiro, who has overwhelmingly outspent him. While no major poll has shown Mastriano ahead, the race tightened in late October, and Shapiro's lead in the RealClearPolitics average of polls is 6.7 points.
New York—Republican challenger Rep, Lee Zeldin (R-N.Y.) is mounting a surprising race against incumbent Democrat Gov. Kathy Hochul.
Hochul's lead in the RealClearPolitics average was 12.4 percentage points in early October, but closed to 5.3 points even before the debate. Zeldin had raised far less than the $45.8 million claimed by Hochul's camp but has reportedly seen millions flowing in from outside sources late in the race.
Nevada—First-term Democratic Gov. Steve Sisolak is being challenged by Republican Joe Lombardo, who is Clark County Sheriff.
While polls are indecisive, Sisolak has a significant funding advantage. According to campaign finance reports filed with the Nevada Secretary of State's Office, Sisolak's campaign out-raised Lombardo's by more than 50 percent. 
Kansas—Incumbent Kansas Democrat Gov. Laura Kelly will need to survive Republican Attorney General Derek Schmidt's bid to unseat her to move onto a second term in Topeka.
Kelly's campaign reported to the Kansas Secretary of State Office's Elections Division (KED) on Oct. 31 that it had raised more than $7.7 million, a record for a Kansas gubernatorial campaign and approximately double what Schmidt collected.