An elderly couple from England made a surprising discovery of a letter, believed to have been written by a schoolgirl over 50 years ago, predicting the future, and some of the points stated stand accurate to this day.
Peter Beckerton, 67, works as an upholsterer in Peterborough, Cambs. In February this year, he found a handwritten note at the back of a three-seater second-hand sofa that he was refurbishing for a client.
Upon reading it, he was amazed and handed it over to his wife, Rosa, 66, who decided to share it in hopes that she would find the unnamed author who would now be 62 if she is still alive.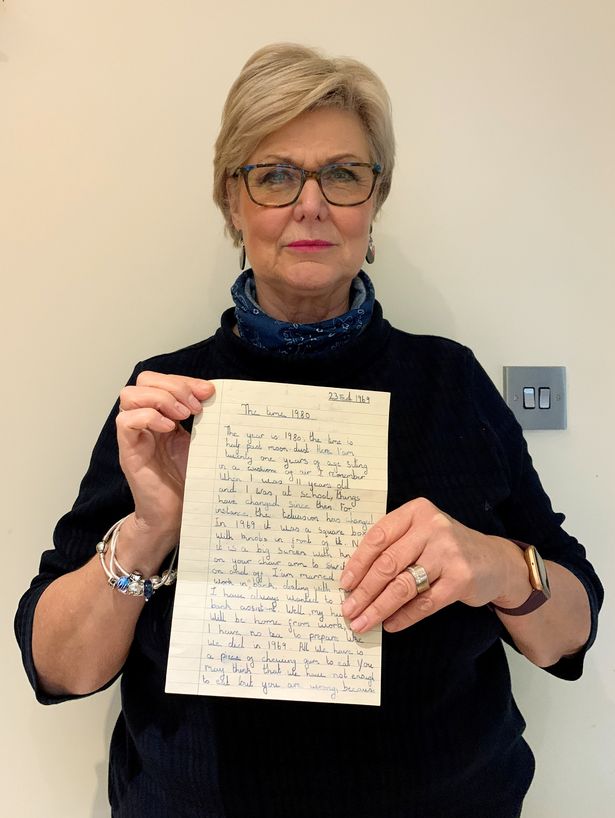 The letter, which was written in simple English, is believed to be part of a school project because it has a teacher's correction and comment in red ink, according to The Metro.
In the letter, which dates back to Feb. 23, 1969, and is titled "The Time 1980," the girl predicts the changes that would happen in the future in an interesting way.
"I remember when I was 11-years-old and I was at school, things have changed since then. For instance, the television has changed," she writes in the letter. "In 1969, it was a square box with knobs in front of it. Now it is a big screen with knobs on your arm to switch it on and off."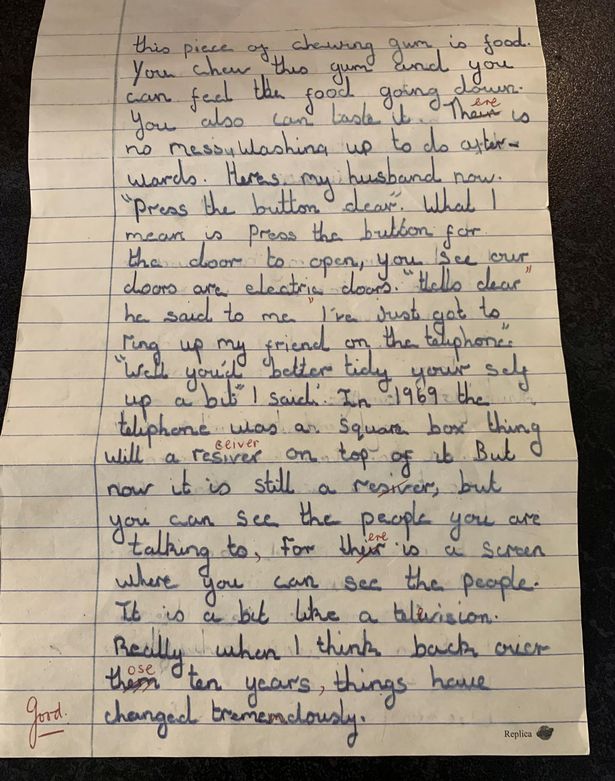 She then proceeds to predict that she would be 21 and married already, working in a bank, as she always wanted to work as a bank assistant and deal with money.
The then-preteen also describes a far-fetched reality which states that, unlike in 1969, there will be no tea to prepare for her husband—who was still not back from work—because there will be chewing gum that serves as food.
"You may think that we have not enough to eat, but you are wrong because the piece of chewing gum is food. You chew the gum and you can feel the food going down. You can also taste it," she wrote.
The girl then goes on to predict the emergence of electric doors where, at the press of a button, the doors would open and close.
Talking about the advent of technology, she accurately states the evolution of ancient telephones to include a live video feed, writing: "In 1969 the telephone was a square box thing with a receiver on top of it. But now it is still a receiver, but you can see the people you are talking to, for there is a screen where you can see the people. It is a bit like a television."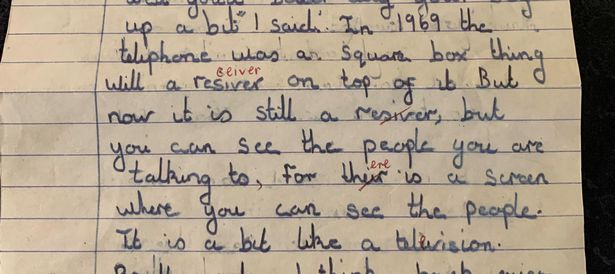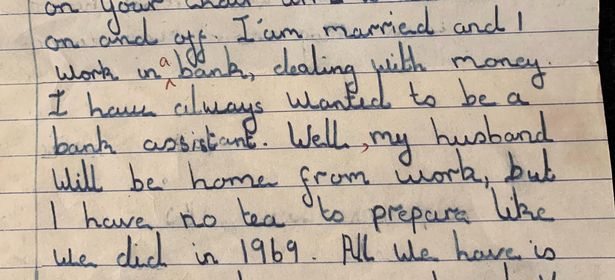 The author concludes the letter with a statement of amazement at how much things have changed in just 10 years.
Most of the girl's predictions have since actualized and have become today's reality, ranging from the introduction of video calls, which is much like today's Zoom, to evolving of the television and the emergence of electric doors.
Amazed by the discovery, Rosa said: "My husband has found all sorts of rubbish down the side of sofas and furniture before, but never anything as interesting as this."
Share your stories with us at emg.inspired@epochtimes.com, and continue to get your daily dose of inspiration by signing up for the Epoch Inspired Newsletter at TheEpochTimes.com/newsletter