It was such a touching moment when the rescue of a little girl, the "Katrina girl," and her family made the headlines around the world during the deadly Hurricane Katrina.
On Aug. 23, 2005, Sgt. Mike Maroney of the U.S. Airforce plucked LaShay Brown and her family from their rooftop, which was their only "ground" to stand on, amid the severe flooding caused by Hurricane Katrina.
It was this most relieving moment when the 3-year-old LaShay gave her pararescuer a big hug of appreciation. LaShay's mother comforted her daughter at that moment, saying, "It's OK. We're safe. Don't worry." It was an unforgettable moment in time that was captured on camera, becoming a famous award-winning photograph.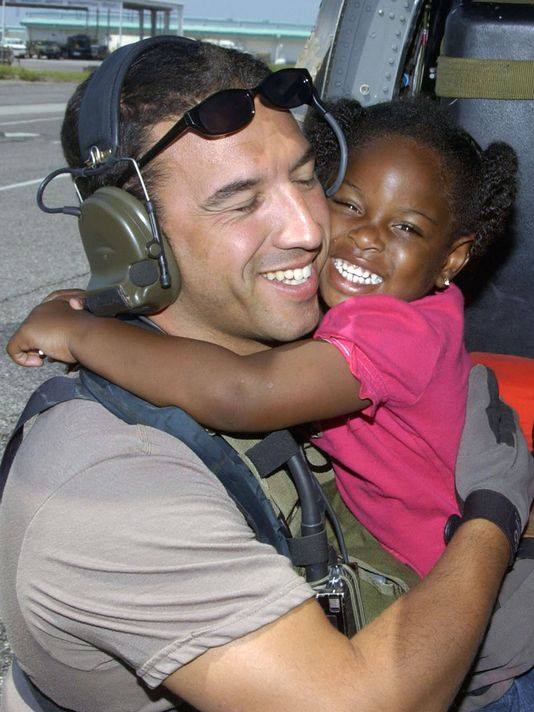 Hurricane Katrina was not only the costliest hurricane, with an estimated damage bill of $150 billion, but one of the five deadliest hurricanes in the history of the United States, resulting in over 2,000 deaths.
Since that fateful day, Maroney, who had been suffering from post-traumatic stress disorder, always carried the photo with him, even during times of duty in Iraq and Afghanistan, as the photo gave him hope.
Speaking to The Post, Maroney said, "It had been such a rough week, when she wrapped me up in that hug, I was in la-la land. Nothing else existed. I was just loving that hug."
"If not for her hug and smile that day, my life would probably be a lot different," said Maroney, in an interview with WLOX.
As the 10th anniversary of the catastrophic hurricane approached, Maroney wondered how the little girl was going and launched a social media campaign in attempts to locate her.
"I would love to get another hug and see how she's doing," he said. "I'd love her to know that there isn't a day I haven't thought of her."
REUNITED. Master Sergeant Mike Maroney with LaShay Brown, whom he saved during his rescue efforts after Hurricane Katrina.

由 GovX 发布于 2017年7月17日周一
Finally, 12 years later, Sergeant Maroney, who's in his 40s, and LaShay, 14 years old now, were reunited on the set of The Real in September 2015.
Upon their reunion, Maroney tearfully told LaShay, "That small gesture, it helped me through bad days and dark days."
"You have a beautiful smile and it stuck with me," he continued. "So I'm indebted to you. You rescued me more than I rescued you."
Maroney has since visited the Brown family in Mississippi on many occasions, even giving LaShay swimming lessons, and has spoken to LaShay on the phone often.
"He's more like family than a friend," LaShay told WDSU.
These visits by Maroney inspired LaShay to join the Junior Reserve Officer Training Corps or (JROTC), a pre-training program supported by the United States Armed Forces at Bay High School in Waveland, Mississippi.
LaShay told PEOPLE: "It was very interesting and a challenge, and because I had never done it before. I knew if I joined I would have help from Mike along the way if I needed it, or was confused about anything."
In March 2018, the JROTC hosted a military ball, and LaShay invited Maroney to escort her.
"It would be nobody else that could bring me here, and it would be more special to him," LaShay said.
"I'm going because I would do anything to repay the hug to LaShay and her family. They mean as much to me as my own," Maroney said.
"I am proud of her no matter what she does and will support her in everything she does," said Maroney. "I think she understands service and I believe that she will do great things no matter what she chooses."
Maroney plans on retiring from the Air Force soon. He continues to support LaShay and hopes to mentor other youth who are also interested in joining the armed forces.
You may also want to watch this video
Woman walks along path. Then she does double take & yells when she sees this man reading paper